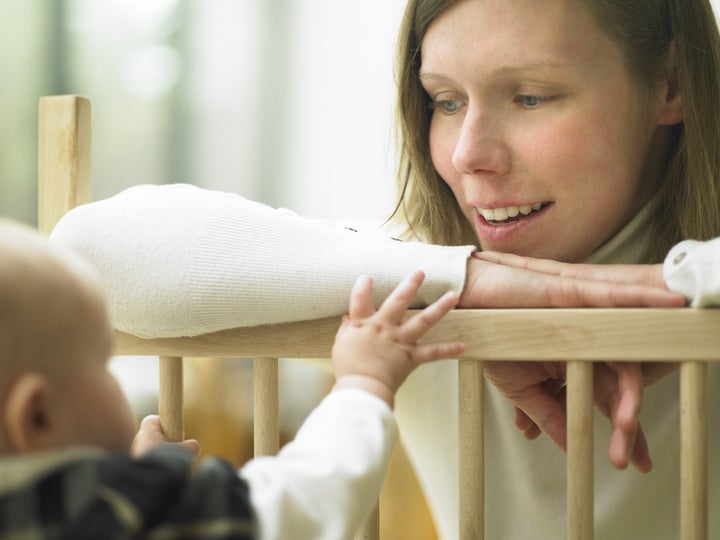 Do you feel special when you're pregnant? Well, step aside, Lady, because a baby is here and people love babies.
The dilemma that comes with having this little rock star in your home now is that billions of people will want to come visit it. Some will be helpful, some will not.
So here are a few handy tips I've picked up along the way so you're able to show your magnificent little miracle off to the world like Simba in The Lion King.
Don't let anyone stay with you that you can't cry in front of or you can't tell to "shut up"
There may be a few people that offer to stay with you when the baby comes. This can be a Godsend or a sh!tshow. Really think about that person and how much you want them to see behind the curtain. You may be too tired to delicately say, "I know she's not latching properly, but I'm just trying to get the hang of it," and instead say, "See off? You need to f#ck right to it!"
Decide carefully about who you want to be around 24/7 when your inner filter isn't working at full capacity.
People love to see the baby immediately. That, or they feel obliged to see the baby immediately. Either way, try to spread them out as much as you can so you can get settled and enjoy everyone's company long after the fanfare typically dies down. Try not to book too far in advance either, you seriously may feel great the day after you give birth and feel like a back alley crack whore by week two.
Go to people that you think will overstay their welcome -- don't have them come to you
Sometimes, this really isn't their fault. I was one of these people before I had kids because I had no idea how tiring a newborn can be. I would sit there gabbing on about some new bar I'd been to while staring into the vacant doll-like eyes of my best friend holding her newborn. I'm sure she wanted to tell me to shut my cake hole and get the hell out of her house, but just didn't have the energy.
These are the people you should meet for a coffee or go to their place.
First of all, newborns are very portable because they eat, sleep and poop and that's about it, so take advantage of this window when you can cart them anywhere and they don't care. Secondly, it's all on your terms when to pull the chute and you won't have to drop the little hints that go unnoticed. By the way, some of these single people, elderly uncles, etc. are fantastic to be around because they are often just as self-absorbed as a newborn and it's strangely refreshing to talk about something other than babies sometimes.
Some people are just itching to help when you have a baby and you know what? Let them. These people are like damn border collies and if you don't give them a task, they get destructive and are liable to chew the leg off a chair or worse, start throwing stuff out. Let them do dishes, tidy up, clean the bathroom, take out the garbage, take your other kids to the park, whatever. Don't want them seeing your gross underwear? Throw it in your closet and let them deal with the rest of the pile.
Just leave *your* to-do list out and if they ask if they can help, just point them to it and tell them to help themselves if they feel like it. Not everyone is comfortable around babies but really want to help, so give them the satisfaction of doing something for you and just enjoy it and thank them profusely so they don't start installing a sprinkler system.
Remember the first point? That kind of applies to visitors as well. If they aren't the kind of person you can lose it in front of, then have a buffer person with you to entertain or deflect if you need to pull a batsmoke. Just have these people over when your partner, close relative or friend is around in case you need to excuse yourself for an hour to cry on the bed for no particular reason (I did this... twice).
Partner plays the bad cop
If you think you're second string to the baby, just imagine how your partner feels. This is his chance to shine because I can gua-ran-tee you that there will be some tricky situations when visitors come; like the cousin that announces he's just getting over the flu in passing conversation while holding your 3-day-old infant. Or the great aunt that insists that the baby needs to be brought out in a snow storm to meet her bridge club. Or the nephew that drops by and could "really go for a sandwich."
Dad (or partner, or sidekick), it is your job to step up and say, "Oh, hell no." You know why? Because everybody thinks a protective father is cute and everybody thinks a protective mother is nuts, so do everybody a favour and unhinge.
This is also a perfect opportunity for an Al Pacino impression.
As my friend's Jamaican grandmother used to say, "Don't come wid you two long han". Which loosely translated to don't show up empty-handed. Most visitors like to bring something whether it's a gift, flowers, etc., but food is always such a great thing to receive when you're tired and just learning the ropes with a baby and people are usually more than happy to help. (If you're dealing with people who think you should be honoured with their presence -- see point 3.)
Have them pop it over or sit down and share it with them, either way, they get a baby fix and you get some lasagna. I say win-win.
Treat it like an Out-of-Office Reply*
Sometimes people think it's nice to pop in to see how a new mother is doing if they haven't had an immediate response to a message they left an hour ago. This actually isn't too bad for the people you can tell to "shut up" because you can tell them if it isn't a good time and their feelings won't get hurt. For the rest of the population, it is not cool to arrive unannounced at a new parents front door because there is no telling what kind of Stephen King nightmare is going on that day.
To avoid these awkward moments, I like to treat it like a vacation notification. Change your voicemail and your email to let people know you're kind of off the grid. It may seem like a no-brainer to you, but some people feel the need to constantly "check in." Just have an auto-reply that says, "Thanks for your email (call). We're just getting the hang of parenthood so forgive us if it takes a little longer than usual to get back to you. Don't worry, we're just fine and loving every minute of it."
I know this may be a little over the top and may feel like the equivalent of adding the dog's name to Christmas cards (I love that actually), but it's an easy way of letting them know they've been heard.
*Obviously, if you're alone and live in the woods in wolverine country, disregard this advice and be grateful someone is checking to make sure the cat isn't eating your corpse.
Do you think Aunt Kelly is going to be a problem? Get your responses thought out NOW or start laying the groundwork NOW. If you think she's going to show up on your doorstep the day you give birth then start telling her the story of a co-worker's mother-in-law that showed up the day she gave birth and how awful it was and how you're so lucky that your family just gets that you need a couple of days to settle in. Get an email ready saying, "Aunt Kelly, we can't wait for you to see the new baby! I'm just getting the hang of it so can I give you a call when I come up for air so you can come over and meet her?" then hit *send* when she fires off the first email.
Does Aunt Kelly still show up? Does your Mother-in-Law that you've never met fly in from the Ukraine and set herself up on your couch? Does your sister drop in everyday to tell you about the disgusting brunch she had or everything about her wicked pilates instructor?
Roll with it and save your energy like a solar street light on a dimming switch. Ask Aunt Kelly to hold the baby while you go have a shower. Say "Diakuju" when your mother-in-law makes dinner, then go lie down with the baby. Tell your sister she needs a f#cking punch in the throat then apologize and blame it on your hormones while savoring the good vent.
The best thing you can do with visitors, a new baby, and I suppose life in general, is just roll with it.
Even though you are now regarded as the remaining husk that brought this precious, perfect gift into the world -- you will be asked how you feel as a courtesy but no one gives much of a sh!t how you are now, so try not to ramble -- it's still your show, honey. So remember, choose your visitors wisely and enjoy the little star that everyone wants to see shine.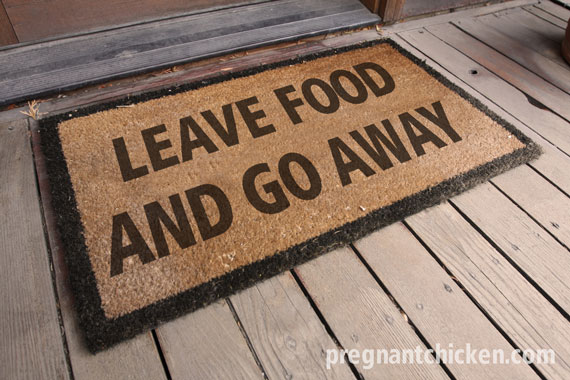 Related