The day before he is to receive an Honorary Oscar, British film historian Kevin Brownlow will be in Los Angeles doing what he loves best -- watching, and talking about the movies.
However, in this instance, those movies will be his own.
On Friday, November 12th, Brownlow will introduce two of his rarely screened early works at the Egyptian Theatre in Hollywood. The double bill includes It Happened Here (1965) and Winstanley (1975). Brownlow directed each of these "indie films" early in his career as a filmmaker.
Though each was shot on a shoestring budget -- each stands as a singular and notable achievement in the history of film.
Today, It Happened Here (93 minutes) would be labeled a work of alternative history. But in its day -- just 20 years after the end of WWII, it was seen as an unsettling and even provocative piece of speculative filmmaking. In it, directors Brownlow and Andrew Mollo imagine what England would have been like if Germany had invaded and occupied the country at the beginning of the second World War.
Brownlow first developed the concept for the film in 1956, while still a teenager. He turned to Mollo, a 16-year-old history buff, to help with design. Mollo, who went on to become a leading military historian and film consultant (Doctor Zhivago, The Pianist), became his collaborator. The film was in the making for eight years, and the Guinness Book of World Records has called it the longest ever production schedule. Along the way, the struggling young filmmakers received help from the likes of directors Stanley Kubrick and Tony Richardson.
Brownlow's attention to detail and bold use of real-life fascists and Nazi sympathizers make this a riveting work of high-concept story telling -- cinéma vérité meets period drama. Because of its unsettling story and troubled history, It Happened Here has not been properly seen in its unedited form for decades.
Brownlow and Mollo continued their effort to reshape the way movies look at history in Winstanley (95 minutes), a portrait of Gerrard Winstanley and his attempts to start a commune in Surrey, England in 1649. (Winstanley and his band of proto-socialist followers were known as the Diggers; their attempt at group living was eventually suppressed.)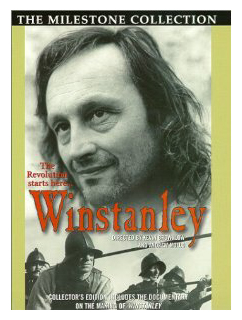 In Winstanley, Brownlow and Mollo once more strove for period authenticity, and this, combined with silent film techniques they employ give the film a quality "simultaneously realistic and otherworldly -- it's like a science fiction film set in the past instead of the future."
It is worth noting that Brownlow has authored two books which tell the remarkable stories behind the making of each of these films. How It Happened Here was first published in 1968, but had long been out of print. In 2007, the UKA Press in England reissued it with an introduction by film historian David Robinson. Winstanley: Warts and All was published by the UKA Press in 2009, some 34 years after Brownlow had completed the manuscript. [Both It Happened Here (1965) and Winstanley (1975) are available on DVD through Milestone.]
The American Cinematheque-sponsored Kevin Brownlow double feature on Friday, November 12th at the Egyptian Theatre is set to start at 7:30 pm. More info at www.americancinematheque.com/
Thomas Gladysz is an arts journalist and author. His interview with Allen Ginsberg on the subject of photography is included in Sarah Greenough's "Beat Memories: The Photographs of Allen Ginsberg" (National Gallery of Art, 2010). And recently, he wrote the introduction to the Louise Brooks edition of Margarete Bohme's classic novel, "The Diary of a Lost Girl" (PandorasBox Press, 2010).
Calling all HuffPost superfans!
Sign up for membership to become a founding member and help shape HuffPost's next chapter