I first met Margaret Russell a little over 20 years ago when I was hired by Hachette to launch Elle Décor into the North American market. I invited her to tea at the Carlyle Hotel in Manhattan and remember well her vitality. I described our task at hand as running a marathon. I knew then as I knew when the announcement came that she was to be the new editor in chief of Architectural Digest that she would be more than ready for the task.
In the time I have known her, she has never once slowed in her pace. In fact, in just an amazingly short period of time Margaret has "renovated" the design magazine that many once referred to as the bible of design, the grand dame of design. Like all of us, it needed updating and refreshing. She, along with the talented staff she has put in place, has kept the essence of the magazine while giving it an energy that is contagious, wanting us to look for more. And more we will soon be seeing as she puts her vision to the web component of AD and then focuses on other areas of branding that are so essential in today's marketplace.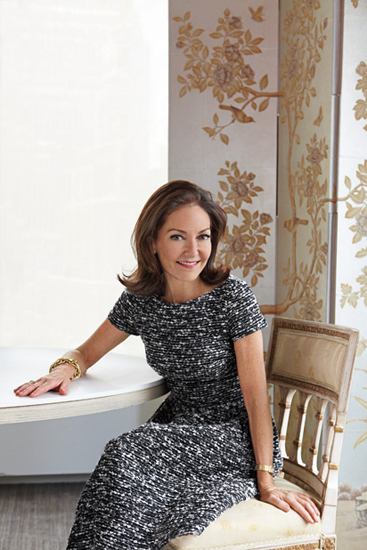 Editor in Chief Margaret Russell took over AD just a few months ago and has already given the magazine new life.
Photography by Joshua McHugh; Makeup by Margret Avery; Hair by Arsen Gurgov/Louis Licari Salon
BLD: How would you position Architectural Digest (AD) with the other shelter magazines?
MR: In editorial terms, Architectural Digest is an iconic international brand, one that has long been considered the leading authority in the fields of design and architecture. We provide our readers with exclusive access to the most sublime places and most intriguing people in the world. And there's not an ounce of self-promotion in this statement since I was only recently named AD's editor in chief; I've inherited an extraordinary business that my predecessor, Paige Rense, built over 35 years. The other major difference? Nearly half of our readers are men; AD is not a girly magazine.
BLD: You were involved with Elle Décor for a very long time and were there during its growth. What was the challenge there compared with the challenge at AD?
MR: It was a unique opportunity to help launch Elle Décor, and to nurture its growth for two decades; everything I learned there helped to prepare me for AD. Honestly, the past few years were so deeply punishing for magazines--the experience of producing Elle Décor's design books, re-creating its website, and working with publisher Barbara Friedmann to drive the magazine back to profitability in 2010 was just invaluable.
BLD: How are you increasing the market share for AD?
MR: As we continue to celebrate the AD 100--the creative talents who have been integral to this magazine's success--we're embracing a wide range of architects and designers, engaging new readers on multiple platforms. By the end of the year, AD will offer a digital edition, a reconceived website, and signature iPad apps.
BLD: What do you want people to know about you? About the AD brand under your direction?
MR: Oh, please; I'm a middle child: it's always all about AD, it's not about me. My role is to honor the unique DNA of the brand, as I invigorate the editorial content and increase its relevance.
BLD: How will it be different? The same? What is your stamp on the brand? Writing style/Visual presentation?
MR: Simply put, we're adding light and fresh air to the interiors we feature. We're commissioning all our own film, and an editor is on-site to produce every photo shoot. AD has always worked with celebrated writers and experts in the field, and this will continue. Plus, last fall I was told to create my dream team, and I certainly have: Everyone on staff was hired to work on AD as a fully integrated magazine--both print and digital--which is a remarkable opportunity for all of us.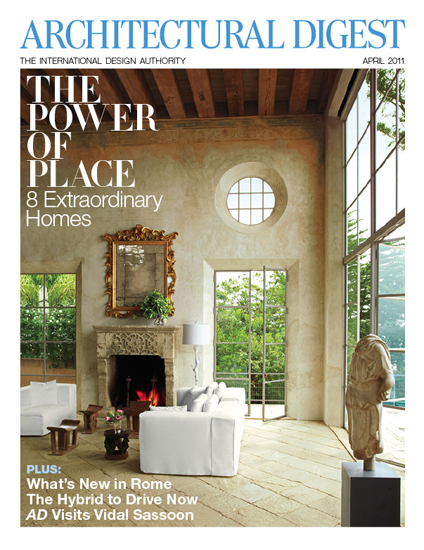 April Cover Photography by Miguel Flores-Vianna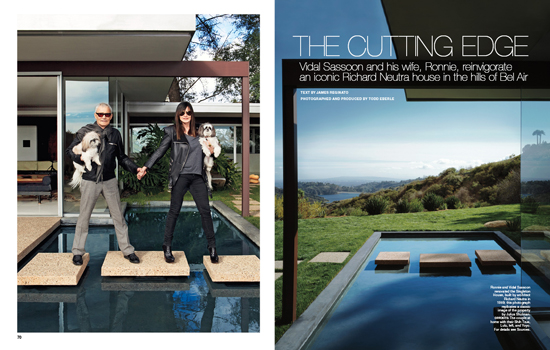 Vidal and Ronnie Sassoon at home in California.
Photography by Todd Eberle.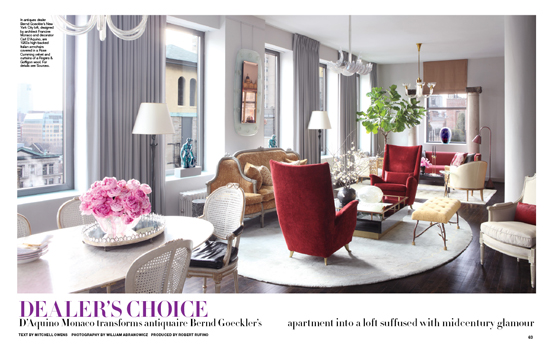 The talented design firm of D'Aquino Monaco created a restful and elegant home for antiquaire Bernd Goeckler. Photography by William Abranowicz.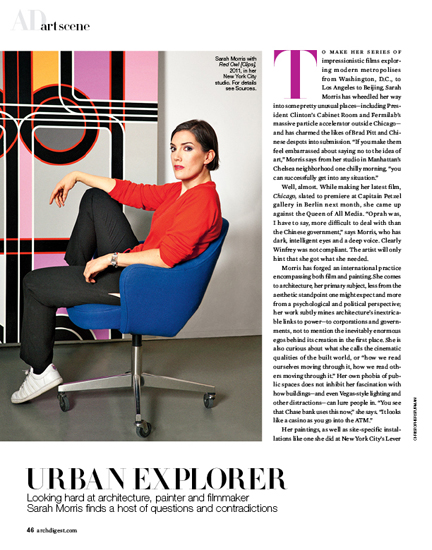 Photography by Christopher Sturman.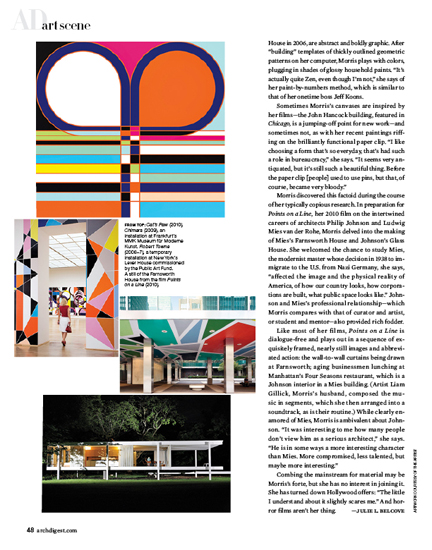 Artwork by artist Sarah Morris.
The world of art instilled with new vitality will be a vital part of the refreshed AD.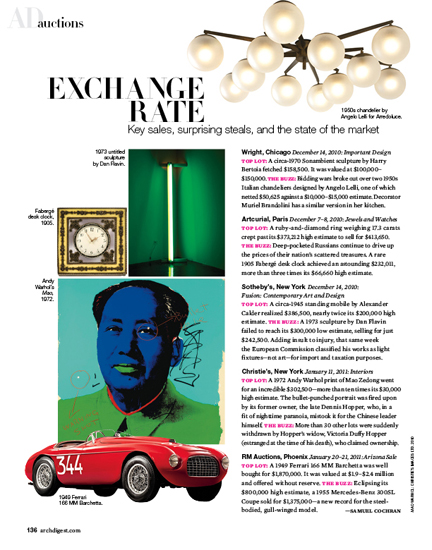 Antiques in their newly energized format will continue to be a part of AD.
Warhol's Mao courtesy of Christie's Images Ltd., 2010.
BLD: The AD show is coming up. Will you be talking at it? Will any of your editors be talking at it? Will it be different than in past years?
MR: Yes, I'll be giving the keynote at the Architectural Digest Home Design Show, and I'm looking forward to walking the show with my editors; this year's list of exhibitors is amazing. Also, anyone can sign up for complimentary decorating advice from a shortlist of top interior designers in AD's Designer Consultation area. The program is sponsored by Gilt Home; go to gilt.com/archdigest to register for a time slot. I'm not allowed to, but I wish I could.
BLD: Do you have a favorite design style even though you cover all?
MR: I'm a modernist at heart, but I'm fascinated by all of the decorative arts, as well as fine art and antiques. One of the best things about being a design editor is being immersed in all styles of design, and AD covers every aspect of architecture and interior decoration all over the world; it's breathtakingly inspiring.
BLD: How would you describe your personal style? In fashion? In décor?
MR: I love fashion and I appreciate the artistry and vision of designers, and I'm a pragmatist in both what I wear and how I live--it's form and function. I wear mostly Prada and Calvin Klein and just started wearing Jason Wu. And I think Ralph Rucci is a genius.
I've recently started to look for a new apartment, which has forced me to analyze how I want to live: At the very minimum, I need sunlight, loads of bookshelves, and gargantuan closets.
BLD: On a personal note, where do you go to escape...mentally? Physically?
MR: I find work to be a pleasure, so I don't really need to escape, but I do love being in Amagansett, on Long Island, and gardening is my therapy.
BLD: Do you have a favorite possession?
One of my favorite things is a small sign in my office that says THINK. It belonged to my father, who passed away when I was a teenager. He was an assistant general counsel at IBM, where I recall nearly everything was emblazoned with the mantra "THINK" at one time. Whenever I lose focus at work, I simply glance over to that sign to snap back to reality. It's so simple, really: one word, THINK.
Personally, I have always had a proprietary feeling towards AD as I spent seven years at the magazine. It is wonderful to see the new energy that is instilled in this grand dame. Margaret has not run a marathon; she has done a sprint!

Calling all HuffPost superfans!
Sign up for membership to become a founding member and help shape HuffPost's next chapter