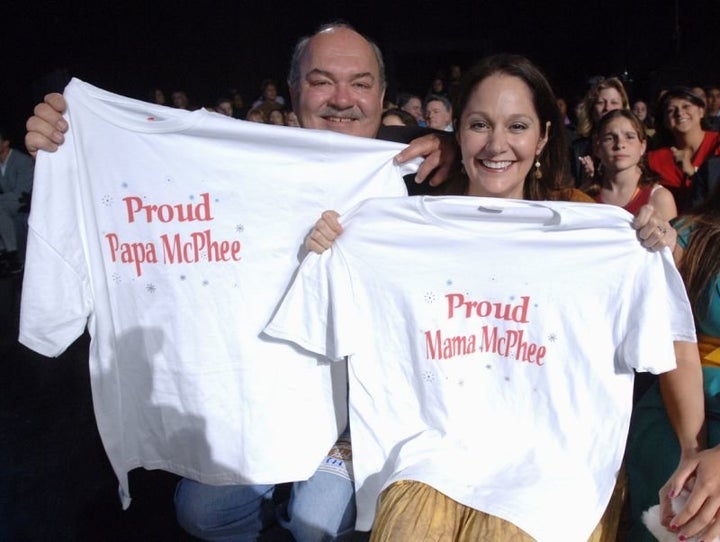 The 34-year-old star's father, Daniel McPhee, has died, she told fans in an emotional Instagram post.
"I can't believe I'm even writing this," McPhee wrote, sharing a photo of herself and her late father. "But it is with heavy heart that I share that my sweet sweet Papa left this earth yesterday morning. We as a family are completely heartbroken and devastated. He was my biggest fan, my biggest champion, always telling me to 'Give em hell kid!' He was so kind and caring and made sure we knew how much he loved us.
"Not sure my heart will ever be the same. I'm so sad he missed my broadway debut. But when I return to the stage next week I hope he can watch it in peace and from up above. Thank you to all my friends who've been so loving and supportive these last 48 hours. I love you Papa. I already miss you so much. This hurts."
The news comes just days after McPhee apologized to fans for missing performances of the Broadway show "Waitress," in which she is currently starring, due to a "family emergency." A cause of death for McPhee's father, who was a TV producer, hasn't been revealed.
McPhee's post has received messages of condolences from stars like Kaley Cuoco, Sara Bareilles and Brooklyn Decker. In the comments, the "American Idol" and "Smashed" alum also thanked a former colleague of her dad's for sharing his fond memories of the man.
"He was an amazing guy," she responded. "I miss him so much."
More from Yahoo Entertainment:
Popular in the Community