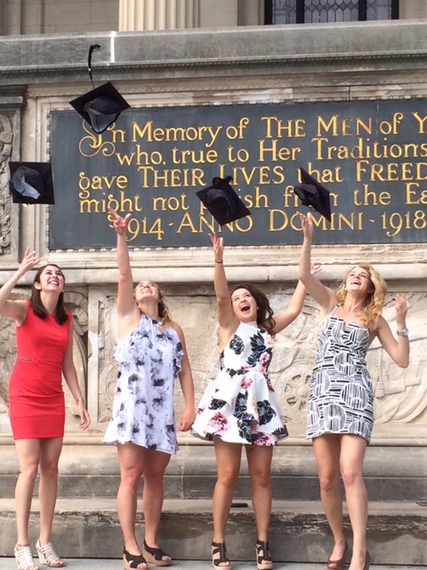 As the final notes of "Pomp and Circumstance" fade into the distance and the reality of an uncertain future dawns, I offer my firstborn daughter and all newly minted college graduates a few words of advice. Although I could have listed 20 or even 100 tips, I will keep it short at 5.
1. Don't miss this moment.
You did it. You graduated college. For the past 16 years of school you've been focused on getting here -- and now you're here -- in the real world. Take a moment, get off the hamster wheel, and give yourself permission to pause, even celebrate. Look around at the world, gaze at the sky, linger. Transitions as big as this one are special; don't miss the freshness of this experience by diving directly into the next phase too quickly.
2. Stay open to possibility.
It's often said that youth is wasted on the young. The reason we say this is because young adults (and yes, I was a young adult once) are often in such a rush to prove themselves to the world by getting the big job or the higher degree that they speed by the fabulous opportunities to simply explore and experiment. Take advantage of the opportunities to live in different places and contribute in new ways. All too soon you may find yourself settling into a specific line of work, a relationship, or even a mortgage. Now is your time to check out the world and explore your passions.
3. Study the masters.

Success leaves clues. Follow people in your sphere of influence. Explore their journeys and recognize that there is seldom a straight path to mastering a vocation or succeeding in business. Humble yourself and look to the past for clues to your future success. Recognize that even though the internet didn't always exist, brilliant people have been around for millennia.
4. You can always change course.
The great news is your future is not set in stone. These days you can change professions as easily as you change your hair color if you're willing to be flexible. Keep your commitments to those who give you a paycheck every week but also keep in mind that life is fluid and, if you are called in a different direction, you have the choice to change your path.
5. Be a life long learner.
Interesting people are enthusiastic about life. They remain curious late into life. Stay engaged in current events and expand your worldview. Keep a list of your interests and the books, movies, podcasts, and websites that are recommended by interesting people you meet along the way. Even though you didn't get to take that art history class in college or learn about graphic design, there's still time. Keep learning.
There is so much to experience in life after college. Lift your head up from the path you think you should be on and notice the brilliant paths all around you. Connect with the people you share this planet with and be open to your future, as it will continue to change before your eyes.
And so, my dear daughter and those who have turned the dorm room key for the last time, don't fret. Adults really do have a good time. We continue to laugh and play. We continue to learn and love.
The world is yours. May your journey be all that you want and more.
Calling all HuffPost superfans!
Sign up for membership to become a founding member and help shape HuffPost's next chapter