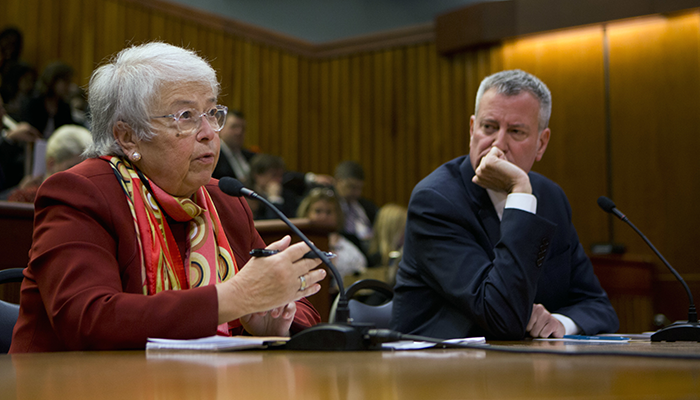 In 2013, Bill de Blasio was elected mayor of New York City on a program that included a promise to abandon his predecessor's policy of closing "struggling" schools. Instead of closure, a "Renewal" approach would improve school performance through heavy investment of money and support. Last month de Blasio was reelected Mayor with the same promise. This month his school chancellor, Carmen Fariña, announced the Department of Education would close 14 schools and mysteriously reorganize six others.
The schools will be closed or transformed because of a combination of low standardized test scores, enrollment, graduation rates, and attendance, chronic absenteeism, and poor classroom instruction and school leadership. DOE officials insist the school closings are actually part of the initial Renewal School program.
Because of his initial promises, de Blasio combined the school-closing announcement with a declaration of "success" – 21 RISE schools will graduate out of the Renewal program. Yet despite genuine statistical improvement at these schools, their students continue to perform significantly below city averages on standardized test scores. Fariña apparently had enough school "success" and two days later announced she was retiring.
The DOE promises it will work with each student impacted by the changes to ensure they can attend a higher-performing school next school year, but why would anyone believe their educational promises? The DOE, Farina and de Blasio also fail to explain a number of things about the new program.
(1) How will closing schools make things better?
Thirty-six percent of the students at the Coalition School for Social Change in East Harlem are students with disabilities; almost all are Black of Hispanic; and 100 percent are from poor families. The dropout rate is at least 25 percent. The school, which opened in 1993, was one of the first experimental small schools created in an earlier wave of school reform. How will transferring these students to nearby struggling, but slightly higher performing schools, significantly improve their lives and education?
Brooklyn Collegiate: A College Board School is another 100 percent minority, 100 percent poor family, school, this time on the border of the Crown Heights and Brownsville sections of Brooklyn. About one-fourth of its students have special needs. In November, the New York Times reported that its four-year graduation rate had fallen while it was in the renewal program. Graduation rates also fell at New Explorers High School, High School for Health Careers and Sciences, and Holcombe L. Rucker School of Community, other schools that are being axed. All of these schools were created during earlier school reorganization plans under previous mayoral administrations. How is this "reform" any different?
(2) What will be done to help students and their families, other than transferring them to a new building?
About one-third of the 1.1 children and teens that attend New York City schools live in poverty. Over one hundred thousand were homeless at some point during the 2016-2017 school year. Ten percent of its registered students live on the street, in cars, in shelters, in abandoned buildings, in public housing double-ups, and in over-crowded deteriorating tenements with people they do not know. They often don't have basic food, clothing, and health care, or heat in the freezing winter and air-conditioning in the sweltering summer. Over 60 percent are chronically absent from school. Closing schools does nothing to change the conditions of their lives.
(3) What will happen to the slightly "higher-performing schools" when these under-performing students enter?
Past school closings have led to a cascading of school failure. The best example is "A Train" corridor schools in Queens. Far Rockaway High School was at the southeast terminal of the A train. A two-hour subway ride from Manhattan, drawing students from a community of high-rise public housing and crumbling former beach bungalows, with a large recent immigrant population, students who did not speak English and whose education was interrupted in the former country, Far Rockaway was zoned for failure. It stopped accepting students in 2008 and closed in 2011.
When Far Rockaway closed, students from the area were sent a short subway ride away to nearby Beach Channel High School. When Beach Channel failed, students now traveled along the "A train" corridor to John Adams and Richmond Hill. Soon those schools were in trouble as well.
There is no question that the schools slated for closing fail children. But at some point New York City, state, and national education officials must be forced to recognize that reshuffling the deck is not school reform or a program to improve the lives of students and their families.
Popular in the Community