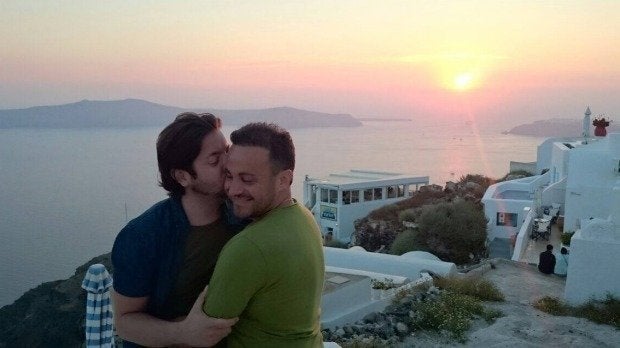 A newlywed man's accidental death in Australia has prompted renewed calls for marriage equality in the country after his spouse said he was discriminated against for being gay.
Marco Bulmer-Rizzi was on his honeymoon in Adelaide, Australia, last week when his husband, David, fell down a staircase and later died. Though both men were from the United Kingdom, where same-sex unions are legal, Bulmer-Rizzi said he was told David's death certificate would read "never married." Gay marriage isn't recognized in the state of South Australia, while some states, including New South Wales, provide legal recognition for marriage performed in other countries.
The story was initially reported in BuzzFeed, where Bulmer-Rizzi was quoted as saying all next-of-kin decisions were forwarded to David's father, despite Bulmer-Rizzi's insistence that the pair were married and that such responsibilities should lie with him.
"I was completely overlooked," Bulmer-Rizzi told the outlet. "I wasn't the next of kin. Every single question I was asked -- whether or not I wanted David cremated, whether or not I wanted David to have a service, or be washed, even the cost of the coffin they were to use -- after I gave my answer, David's father was consulted."
BuzzFeed notes that had the pair been just 200 miles east in New South Wales, there would have been no issue.
"It's disappointing some states have taken so long to do it," Croome said. "But the greater disappointment is that Australia has taken so long to achieve marriage equality. If it was passed, we wouldn't have to worry about states reforming their laws. It would be done with a single stroke of the pen. All these inequities would be removed."
Following a public backlash, the premier of South Australia, Jay Weatherill, called Bulmer-Rizzi to personally apologize and promised new legislation to recognize same-sex unions in the state by the end of the year.
Bulmer-Rizzi "said Weatherill's call had restored his faith in Australia, but that he was still surprised and disappointed Australia wasn't living up to its reputation as a tolerant and inclusive nation," Croome said.
Until then, Croome said "hundreds" of couples travel overseas, many to New Zealand, to get married. "But the real, long-term solution to this problem is marriage equality at a national level."
PHOTO GALLERY
14 Worst Anti-Gay Statements By GOP Presidential Candidates
Calling all HuffPost superfans!
Sign up for membership to become a founding member and help shape HuffPost's next chapter