Now that same sex marriage is the law of the land, engaged gay couples are going to be having some serious chats about money if they want their love to survive the ever after. Before your walk down the aisle make sure you have "The Financial Talk."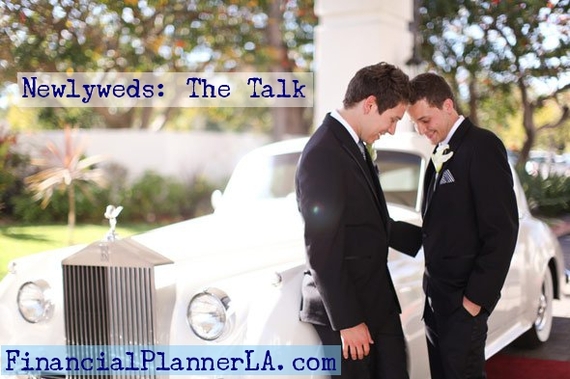 Used to be when a gay couple had 'The Financial Talk' en route to commitment, both guys were nervous as they went full disclosure on their HIV status. Whatever these happened to be, they worked out how their lives would accommodate their situations then and into the future.
Today when a committed gay couple en route to marriage has 'The Financial Talk', both guys are nervous as they go full disclosure about their financial statuses. Whatever these happen to be, you're going to want to work out in advance how your lives will accommodate your situations now and into the future.
Hear me now, ignorance of your partner's finances is not bliss and certainly not a viable ingredient for wedded bliss. Yet many couples embark on commitment in the dark about each other's salaries, spending, savings, expenses and budgets simply because they dread the idea of 'The Financial Talk'. I know, I know, 'The Financial Talk' about money is right up there with invasive medical procedures in the not-fun sweepstakes. But not unlike colonoscopies and root canals, procrastination can be harmful. Do it now before the wedding so that you and your marriage can move forward in fitness and in health.
Fairy tales vs. financial realities
OK, you've met your soul mate and can hardly believe your luck that he wants to be yours, now and forever. But one of the biggest mistakes anyone can make is getting swept up in the dream of a huge fairy tale wedding and ignoring legal responsibilities and financial realities. Rushing to say "I do!" without getting on the same page financially can lead to horrific results; debt, discord, divorce and EWSD (empty wallet stress disorder).
The issues of marriage are complex but far and away the number one topic all couples fight about most is money. Sadly, the greater the financial strain on a couple the greater their chances of ending up divorced.

Why should we have 'The Financial Talk' before the wedding?
The sooner after you two have decided to make it legal, the better. Sure, the conversation may initially be uncomfortable but it's going to a lot more uncomfortable down the line if you have to dig yourself out of debt or if you can't pay your bills because your husband just 'invested' in multiple sets of 1000-thread count sheets.
Where do we begin?
A good place to start the conversation is the astute Financial Compatibility Quiz by Jeff Motske of Trilogy Financial. Take the free quiz here:
Talk about your background, how you were raised and how relate to money. I grew up in a household with extreme savers, where I know many other people grew up with parents who didn't stop spending until their credit cards were maxed out. You want to get a sense of how each of you approaches money. What did your parents teach you about it? Spending, philanthropy, saving? Don't feel bad if you've never thought about these things before, most people haven't thought about it for themselves, let alone for a potential spouse. But it's an invaluable exercise.
What issues should we discuss and seek to reach an agreement?
Once you've taken the quiz, here are a few topics you'll want to address. Write your answers down along with the date so you revisit the document later to measure your progress.
1. What are your financial priorities as a couple?
Even if you're double income no kids, that doesn't mean you should rush and spend every penny. What do you want to accomplish? What are your financial goals? Do you want to buy a house? Retire or even retire early? How much do you need in your rainy day fund?

2. What your plans for retirement?
How and when do you want day work to become an option for both of you? Is your goal financial independence or do you plan to keep working as long as you love your job? What is your financial fall back plan if you are unable to continue working?
3. Where do you stand today?
It's great to think long term and talk big picture, but full disclosure involves the day-to-day nuts and bolts as well. This means coming clean on your credit rating, student loans, credit card debts, trust funds, retirement accounts, cosigns on outstanding loans, settlements or other debts, wills, and what, if anything, is still in the pawnshop.
4. Should we get a prenuptial agreement?
Rich or poor, the pre-nup conversation is never fun. If both of you are young and entering the marriage without much in the way of assets, you may be able to skip this. (But I tend to err on the side of caution particularly because in my hometown of L.A., finances can change spectacularly overnight. Savvy shopkeepers know that that kid in filthy sneakers and torn jeans may have just closed a $50 million picture deal.)
For sure, if there are significant assets and/or children (or pets . . . ask any divorce attorney, people fight to the death over pets as in 'Take the kids, you moron, but I'm getting the DOG!') you'll want to add the layer of protection a pre-nup gives you.
A monthly Financial Date Night? Really?
If tying the knot is in your future, or even if you are already married, commit to a monthly Financial Date Night with your significant other. The more documents you have in writing (or have at your fingertips by computer) - such as bank statements, credit cards bills, or investment statement- the better and more constructive the conversation will be. Reward yourself with a cocktail after the conversation but you might want to stay off the sauce during it.
Having regular, open and frank discussions about money and finances with your spouse will increase your chances of having a long and prosperous marriage.
On top of the bottom line
Few couples agree on every single aspect of every financial topic, of course. But sometimes the reality of how little financially a pair has in common can lead people to rethink their engagements. This is not necessarily a bad thing. If you don't see eye to eye on your future, you may be entering a doomed marriage. Don't get me wrong, you don't have to be 100% in agreement, but at least you need to share priorities and be willing to work together for your goals as individuals as well as your goals as a couple.
The sooner you get on the same page financially the better. Don't wait until the wedding date has been set; that's when you might feel pressured to not ask the tough questions or to ignore troubling information from your future spouse.
If you procrastinate and don't follow the financial roadmap on your financial plan, even the most expert guidance on the planet is irrelevant. The best advice I can give to couples is to get your head out of the sand and start building your financial lives together now, no matter how long you've been together. Consider contacting a professional who can help with your specific situation and time frame. Putting a plan in place and saving for your goals means that you won't outlive your financial resources and are well positioned to live happily ever after.
Invite to talk about 'The Talk'
I'm not nearly done with this topic yet. Do you and your financé or spouse (or anyone you know) have a particularly funny or insightful story about money disclosures and the trials, tribulations and trauma of 'The Talk'? Let me know because I'd love to hear it and I'm sure everyone else would too.

Securities and advisory services offered through National Planning Corporation (NPC), Member FINRA/SIPC, a Registered Investment Adviser. Additional advisory services offered through Trilogy Capital, a Registered Investment Adviser. Trilogy Capital, Trilogy Financial and NPC are separate and unrelated companies.
Calling all HuffPost superfans!
Sign up for membership to become a founding member and help shape HuffPost's next chapter