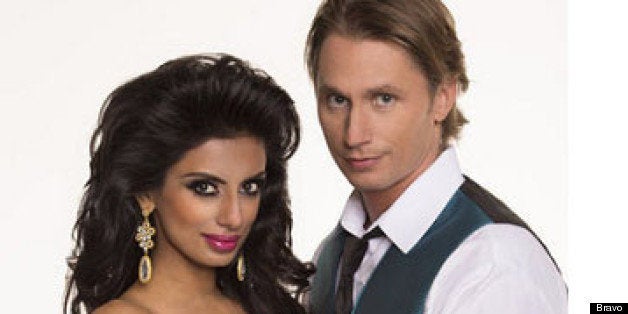 On Bravo's new reality show "Newlyweds: The First Year," premiering Monday May 6, you'll be able to watch four newlywed couples navigate their first year of marriage. One of those couples is Tina Sugandh, an Indian pop star, and Tarz Ludwigsen, president and co-founder of web start-up Pandoodle. The couple, who married in December 2011, recently opened up to HuffPost Weddings about their relationship and how being on a reality show has affected their marriage. Below, 10 things we learned about the couple.
1. Their first conversation was about steak
Tina: "It was a long conversation. I grew up vegetarian and I had just started eating steak so I was enamored of all sorts of different steaks at all places."
2. They moved in together after their first date
Tina: "We were just best friends from day one, which was really crazy. It was so easy to move in on the first date because it was like we were the same person."
3. Their dog participated in their Indian-American wedding
Tina: "When you have an Indian wedding you circle around the ceremonial fire seven times and each circle represents a different life promise. One of our dogs followed us around the circle, so the three of us I guess are married."
4. They have Hindi pet names for each other
Tina: "His name is Gandaa, which in Hindi means dirty. I wish I meant it in a sexual way, like he's so dirty and naughty, but it actually means that he's freaking disgusting."
Tarz: "My pet name for her is Pagli, and it means crazy in Hindi."
5. Being on "Newlyweds: The First Year" actually brought them closer together
Tina: "It took the cameras coming in to have us actually have a conversation. We actually spent time together because we had this show we were doing, so I'm pretty grateful for that."
6. They eat pizza together every Friday night
Tina: "Every Friday night we will each eat a medium pizza with cheesy bread and ice cream and cookies. We stop everything and just eat until we almost vomit, and it's the highlight of our week."
7. Tarz learned to read and write in Hindi, Tina's first language
Tarz: "When we were first together one of Tina's biggest fears was that I wouldn't like her culture or speak the language or like the food. So it's something I wanted to do anyway and I've always had an affinity for languages."
8. Tina wrote a song for Tarz
Tina: "It's called 'Beautiful Dream' and I gave it to him on our one-year anniversary. When we get closer to the end of the season I'll put that out for everyone to hear."
9. They have different ideas about airplane travel
Tarz: "I like to be there early, and she literally waits until they call your name. She's like, 'We don't have to be there until 15 minutes before,' and I'm like, one bit of traffic, one accident and we're done."
10. Their advice for other newlyweds is to check your ego at the door
Tina: "Do your damndest to throw your ego and jealousy out the window and get rid of it, let your guard down 100 percent, and I think it'll be a lot easier. That way you can talk through things and be honest. Ego ruins everything in a marriage."
"Newlyweds: The First Year" premieres May 6 on Bravo.
Check out 15 TV couples who make us believe in love in the slideshow below.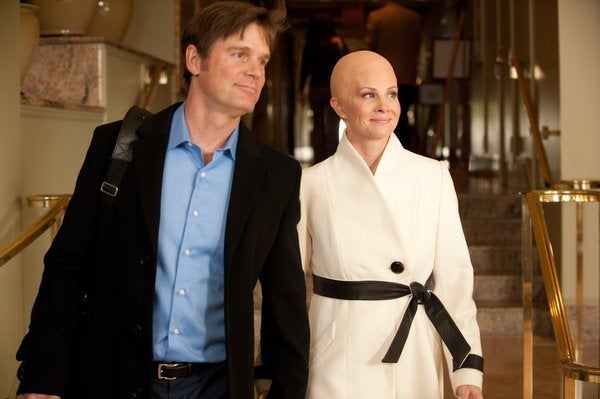 TV Couples Who Make Us Believe In Love
Related