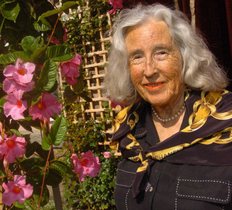 The Obamas aren't coming here to vacation, but it's fairly certain that one hundred or even fifty years ago they would have! Long and widely chronicled, despite a reputation as a tourists' trap, Newport is resonate of the romance of history. An idealic spot, it's about to
become the subject of several new books and a couple of documentaries for PBS. Filmmakers David Bettencourt and G. Wayne Miller, for example, recently began work on "Behind the Hedgerow: Eileen Slocum and the Meaning of Newport'', which will look at high society through the saga of the resort's last grande dame, Eileen Gillespie Slocum.

Filled with extraordinary architecture within a wild and windswept landscape, like the Hamptons, Newport presents a picturesque setting of great beauty.
But the real reason for its allure is that, since the close of the Civil War, for just over a century, it's been the summer home of choice among the richest and most famous Americans including the Vanderbilts the Astors and John and Jackie Kennedy.
Provided they were white, Protestant, properly deferential, immensely affluent and willing to give lots of lavish parties, newcomers were always warmly welcomed by Newport's old guard.
In a few exceptional cases, sufficient riches and connections even allowed the Catholic faith and Irish heritage of a few to be magnanimously overlooked. No less than with Europe's royal dynasties, Newport's privileged, so complexly intermarried and allied in business, represented one big extended family; poised and gracious on the surface, but often seething with all the petty hatreds and incestuous desires of competitive cousins.
Amazingly insecure, notwithstanding fabled wealth, these children, grandchildren and great-great-great-grandchildren of farmers, cobblers, milkmaids and peddlers, who had done well, modeled their lives after how they imagined aristocrats lived in the Old World.
From the continent they derived baronial houses, filled with antiques and traditional finery, built on a palatial scale. From the English elite they adopted stilted manners and a level of understatement that caused them to call their stately homes 'cottages'.
Maintaining this smart pose, similarly caused Newport's best people to dress for a picnic or to view a tennis match, as if they were, instead, about to attend a grand wedding or a garden party. Seduced by real ancestral castles with coroneted heirlooms, naturally enough, their
favorite guest-of-honor and the preferred source of husbands for their daughters, were English nobles, many of whom were on the lookout for ready cash.
Deprived of air-conditioning, American Idol, cell phones, blackberries or Internet porn, night after night, day after day, this same small, often bored group saw each other pursuing the same pursuits: golfing, riding, yachting, dancing, dining, drinking, observing and being observed. What care they took to be the best turned out, the most graceful dancer, the most skillful bridge player, the most esteemed guest or an unexcelled host. Is it any wonder that always doing the expected thing, in the conventional way, that achieving some variation in terms of exceptionalism, within bounds, was looked on as a brilliant achievement? It's hardly surprising that divorce, enabling serial monogamy, with as many as seven marriages, first became acceptable among such people.
And so it was that in the epoch when automobiles could only be afforded by their class, posh Newporters were anxious to have the fastest, most handsome, newest makes available. Ragtime bands, 'coon' singers and tableaux at the close of a ball with an adorable feasting 'pickaninny', emerging from a chariot sculpted from a watermelon', Gypsy violin quartets and Broadway or operatic stars brought in to perform for an evening, anything newly popular, was only to be expected as the means by which hostesses gained points and kept score. Retinues of dutiful servants, trained to be as unobtrusive and as invisible as possible, made it all work.
Here, my improbable friend, the community's reining sovereign, Eileen S. S. Gillespie Slocum, was born, reared, and lived, in some style, to at last die, at 92, a year ago, on August second.
No less than a Kentucky Derby winner, Eileen Gillespie was the culmination of consecutive strategic alliances. Three centuries of acknowledged aristocrats made up her pedigree. Rodger Williams, Sam Houston and General George Tecumseh Sherman, each figured in the mix. But it's Rhode Island's revered Brown family, who made piles of money first importing slaves from Africa and then exporting opium to China, who matter most.
Married at eighteen, as the second wife of widowed New York banker William Watts Sherman, Mrs. Slocum's grandmother, Sophia Augusta Brown, was to make a pivotal match. She presided over a large but sober Fifth Avenue city house, by Clinton & Russell, in New
The Sherman and Astor houses stood across for each other at 65th Street on Fifth Avenue
The Fifth Avenue residence of Cornelius Vanderbilt, II, on the plaza at 58th Street
York's most fashionable residential section just above 57th Street. Her Newport cottage, confidently nameless, designed by Stanford White, directed by his first boss,
Henry Hobson Richardson, was considered one of America's most architecturally innovative buildings at its completion in 1875. As a girl, this was the house where Mrs. Slocum's family spent their happy summers.
Mrs. William Watts Sherman & her daughters, Irene Muriel & Mildred Constance,1898
Eileen Slocum's Grandmother Sherman had been the mother of two daughters. Both would be great heiresses, inasmuch as Mrs. Slocum's great-grandmother, Mrs. John Carter Brown, at her death in 1909, was to leave her sole surviving child, Grandmother Sherman, an estimated $30 million.
In 1910, at home in Newport Irene Muriel Sherman, Mrs. Slocum's mother, wed Lawrence Lewis Gillespie, another New York banker and highly popular clubman. The following year, by the bedside of their critically ill father, the younger Sherman daughter, Mildred Constance, became the wife of Ralph Francis Julian Stoner. The 5th Baron Camoys of Stoner
Park, held one of the oldest titles in the British peerage, and was uncharacteristically a Roman Catholic.
Proficient at encouraging beneficial betrothals, Sophia Augusta Sherman had already helped to orchestrate the marriage of her husband's younger daughter. Georgette Wetmore Sherman would marry her stepmother's own younger, millionaire brother, Harold Brown. These nuptials set in motion the destiny of his ungainly and unlikely house, where Mrs. Slocum would latter live.
Designed, on the outside, by local architect Dudley Newton, it resembles an impervious medieval stronghold. Purely by chance, the appearance inside, turned out to be, felicitously, different. This resulted from a whim of the Browns during their 1892 honeymoon in Paris. They acquired an entire collection of exceptional Napoleonic furnishings, requiring their original scheme of interior decoration to be set aside.
Ogden Codman who conceived the new décor was a brilliant architect and decorator. He also descended from a clan of old and honorable New Englanders. If only distantly, Georgette Brown's family, the Wetmores, were relations.
Only a few years after his summer cottage was completed, Harold Brown would die childless, returning home, on the Atlantic steamer, Oceanic. Distressed by news of his brother John Nicholas Brown's death, days earlier, he was felled by a worsening cold, turning into pneumonia. All this was to occur less than ten years after his wedding. Inheriting Harold Brown's fortune, along with his father's $85 million, a nephew, the latest Brown to be christened John Nicholas, barely three month old, not surprisingly, was dubbed by newspapers "the richest baby in the world".
Mrs. Lawrence Lewis Gillespie
Taking an afternoon stroll at the Newport Casino, Mr. & Mrs. Lawrence Lewis Gillespie and their children, Eileen (left) and Phyllis (right.), 1922
At least one writer has characterized Mrs. Slocum's old-fashioned patrician way of speaking as "ornamented with distinctly long English vowels. But rather than being off-putting, her dulcet tones imparted whatever she had to say, somehow, with greater interest. At ninety, "still morning the death of her younger sister Phyllis, who had become Mrs. Alan Schumacher, heading the Colonial Dames and died,age fifty -six, in 19 73, Mrs. Slocum abruptly changing the subject to a happier, but a related topic, gushed, "Mother was so attractive and we adored our father. There were so many cousins to visit or play with, so much sport and adventure in Newport...I tell you, I wouldn't trade my pleasant childhood for anything in the world! "
For all its outer austerity, Mrs. Slocum's house at 459 Bellevue Avenue, behind a ruged façade, is as warm and charming internally as she was. Rich with marble and marbleized finishes, gilding and mahogany, lustrous silks and paneled walls with soft color harmonies,
her rooms are a marvel of sensuality. Supplemented by successive legacies and enlivened by the vital ephemera of family photographs, log fires, books and cut flowers, these rooms, are, indeed, a most rare remnant. They remain, in fact, a testament to all of their most recent owner's highly complicated sensibilities and sympathetic impulses. These out of the ordinary spaces represent, among many characterizations in various mediums, her most accurate, overwhelming and endearing portrait.
Popular in the Community