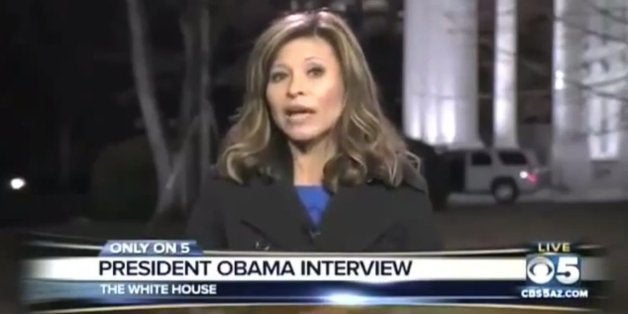 WASHINGTON -- The local news anchor who said that Jay Carney sees reporters' questions in advance of daily White House briefings is now saying that she made a "mistake."
Catherine Anaya, a KPHO anchor from Phoenix, went to the White House Wednesday as part of a group of local reporters who had been granted interviews with President Barack Obama. Anaya said the group was also given the chance to sit down for an off the record coffee with Carney and that they chatted with a number of administration officials.
Anaya's recap of the day, which she delivered in a broadcast Wednesday evening, included a statement that she was asked to provide a question to Carney in advance of his press briefing. She told viewers that this was a common practice for journalists: "So then he knows what he's going to be answering and sometimes those correspondents and reporters also have those answers printed in front of them, because of course it helps when they're producing their reports for later on," Anaya said.
Carney refuted the claim on Twitter Thursday, with several members of the White House press corps also denying there was any truth to the idea. Reporters who attend the daily briefings are not, in fact, asked to provide questions in advance.
Conservative outlets were nonetheless pounced on the alleged collusion between Carney and the reporters tasked with covering the White House. The Drudge Report splashed the story, which was also played up by Townhall and The Weekly Standard. Following the dustup, Anaya attempted to clarify her comments in a statement posted to her channel's website, and said she had made a "mistake" by expressing that her experience was that of regular White House reporters. She repeated that characterization in statements to the Talking Points Memo.
Her statement to KPHO, which has been taken down, was as follows:
It seems much had been inferred about my observations following my White House visit yesterday.

First, I did not take notes during our coffee with Jay Carney because it was off the record. But when I referenced the meeting in my live reports I did say that it was a great opportunity to talk about the challenges of his day and how he has to be so well-versed on many topics each day.

In my live report I also wanted to share my impression of my experience in getting a question answered during the briefing. I was indeed asked to provide my question in advance. Because my question was largely of local interest, I chose to save it for my interview with the President instead.

My mistake was to lump that experience with my coffee meeting reference, inadvertently giving Mr. Carney credit for that when in fact it did not come from him. I regret giving anyone the impression that it was from conversation I had with Mr. Carney.

I do not attend those briefings regularly and cannot speak directly to the process for non-visiting journalists.
None of my observations stemmed from my off-the-record meeting with Jay Carney.
Scott Davis, a senior editor at KPHO told Buzzfeed the statement was removed because it was "incomplete and not ready to be posted." As Anaya was still traveling back from DC, a fuller statement was not yet available, he added later.

REAL LIFE. REAL NEWS. REAL VOICES.
Help us tell more of the stories that matter from voices that too often remain unheard.