 News Corp. plans to welcome the newest member to its board of directors on Tuesday: the former president of Colombia, Alvaro Uribe.
For Rupert Murdoch's media conglomerate, still reeling from a phone hacking scandal, Uribe is an odd choice, many journalists and press advocates say. Under Uribe's command, Colombia's intelligence service became mired in an illegal wiretapping scandal. Several ex-intelligence agents and former aides to Uribe now face criminal charges or investigations from the public prosecutor's office, which accuses them of illegally spying on Supreme Court justices, journalists and human rights activists. Uribe, a controversial conservative leader, himself lashed out at journalists he perceived as critical during his two-term presidency from 2002 to 2010.
"It's ironic that someone who has such an adversarial relationship with the press would be elected to the board of a media company," Carlos Lauria, senior Americas program coordinator of the Committee to Protect Journalists, told The Huffington Post. "His accusations endangered the lives of local reporters."
News Corp. declined to comment on Uribe's appointment or his relationship with the press. The company did share a written statement submitted to the Securities and Exchange Commission in September, describing Uribe as a potential addition to the board with meaningful international political experience. News Corp. contacted a spokesperson for Uribe on behalf of The Huffington Post, who did not respond to requests for comment.
Uribe, a highly popular political figure, is credited with restoring security to Colombia by dealing a near-fatal blow to the FARC, Latin America's longest-lasting insurgent group. Formed in 1964, the Marxist rebels aimed to overthrow the Colombian government. The tactics they adopted, such as kidnapping hostages for years at a time and using the drug trade to finance operations, have blackened the group's name. The United States classifies the FARC as a terrorist organization.
But Uribe also polarized the country. Approaching his goal of defeating the FARC with zeal that for some bordered on the messianic, Uribe publicly painted certain journalists, social activists and human rights defenders as collaborators with leftwing terrorism when they criticized his policies.
The environment Uribe created made covering the Colombian government's half-century-old conflict even more dangerous, says reporter Hollman Morris, an investigative journalist and 2011 Harvard Nieman Fellow. Morris and his brother Juan Pablo Morris took cameras into the Colombian countryside during the years under Uribe to document atrocities.
That work involved interviewing members of the FARC -- something that infuriated Uribe. In 2009, Uribe publicly accused Morris of using journalism to be a "permissive accomplice of terrorism." Morris had interviewed four hostages in FARC captivity.
Human Rights Watch and the Committee to Protect Journalists hammered Uribe in a statement, saying the baseless accusations endangered Morris' life by opening him up to retaliatory violence.
"Every report we did, we knew we were going to be threatened," Morris told The Huffington Post. "Uribe made us into enemies of the country."
The former president repeatedly lobbed similar accusations at other journalists, activists and union leaders, according to Human Rights Watch. He has continued the pattern since leaving office.
In 2010, senior vice president and executive news director for Univision Daniel Coronell, then a columnist for Semana, a Colombian news magazine, sued Uribe for slander after being accused of ties to organized crime in a series of tweets. Coronell had penned a column implicating Uribe's sons in shady business dealings (they denied wrongdoing).
The Committee to Project Journalists' Lauria calls the intelligence service's abuses one of the "worst threats to journalism" during the Uribe administration. The DAS was like the CIA, FBI and U.S. Secret Service rolled into one, answering directly to the president.
Semana reported in 2009 that the DAS had illegally wiretapped and spied upon Colombian Supreme Court justices, journalists and other government critics. Panicked DAS agents fearing for their jobs sold off classified material to guerrillas, drug traffickers and foreign governments when the incoming administration of President Juan Manuel Santos announced two years later that it would close the agency down, Semana reported.
But DAS didn't just illegally tap journalists' phones -- it also threatened them with death, according to Semana.
Duque received the call on Nov. 17, 2004, according to Semana.
"We tried to tell you in every way we could. Now not even armored cars or lousy police reports will help you. We have no choice but to go after what you most love," the DAS agent said, going on to say he would rape Duque's 10-year-old girl, according to Semana. "Your daughter is going to suffer. We're going to burn her alive. We're going to scatter her fingers around the house."
Uribe's relationship with the press makes him a potentially eyebrow-raising addition to the News Corp. board. The company's reputation was gravely damaged last year when it was reported that its London tabloid News of the World had culled its scoops for years by illegally hacking the voicemails of celebrities, an underage murder victim and the relatives of soldiers killed in Iraq and Afghanistan. The revelation led to 50 arrests, torpedoed News Corp.'s $12 billion bid to take over British Sky Broadcasting and prompted criminal charges against eight of the defunct paper's editors and journalists.
"It's a funny thing for two people with illegal wiretaps in their recent past to be getting together," Adam Isacson of the Washington Office on Latin America said in a telephone interview, referring to Uribe and Murdoch, News Corp.'s CEO. The Washington Office on Latin America is an advocacy organization that promotes human rights.
News Corp.'s board is asking its shareholders to elect Uribe to the board of directors at the group's annual meeting in Los Angeles on Tuesday. The move could again cast light on a board that some News Corp. shareholders wanted to sue, alleging it had failed to provide the oversight needed to stop the U.K. phone hacking scandal from occurring.
Mr. Uribe brings to the Board strong leadership skills gained from his distinguished political career and service as President of Colombia. He offers the Board a valuable international perspective on political and governmental matters.
Uribe's defenders point out that the Colombian courts haven't charged him with wrongdoing in the DAS scandal, and no evidence demonstrates that Uribe gave direct orders to follow journalists, tap their telephones or threaten them with death.
"No smoking gun has emerged," said Isacson of the Washington Office on Latin America. The DAS's flagrant illegality may owe to a few overzealous leaders who overstepped their bounds in pursuit of the FARC, he added.
But for political scientist Claudia Lopez, whose research helped uncover links between Colombian Congress members and rightwing paramilitary groups, there's no need for direct evidence.
"To me it seems like inverted logic," Lopez told The Huffington Post. "The DAS is an institution that answers directly to the presidency. It should be assumed that Uribe was giving the orders."
Lopez viewed Uribe's nomination to the board of News Corp. as ironic, but drew a distinction between the media company and the DAS.
"News Corp., as far as I know, never threatened anyone with death," Lopez said. "Institutions that answered directly to Alvaro Uribe did."
Before You Go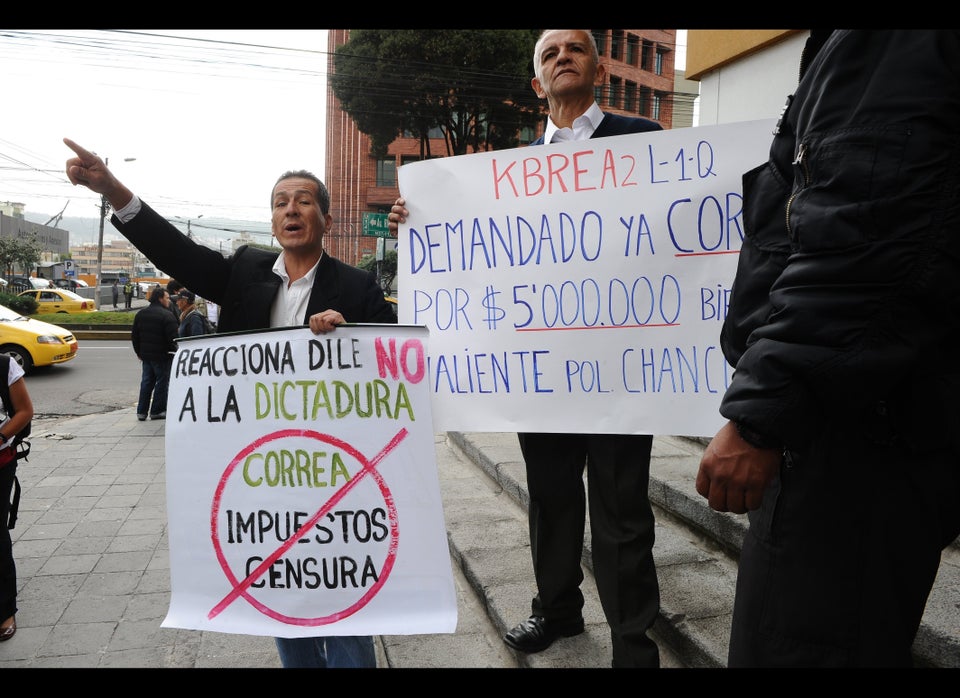 Rafael Correa Closes Newspaper
Popular in the Community