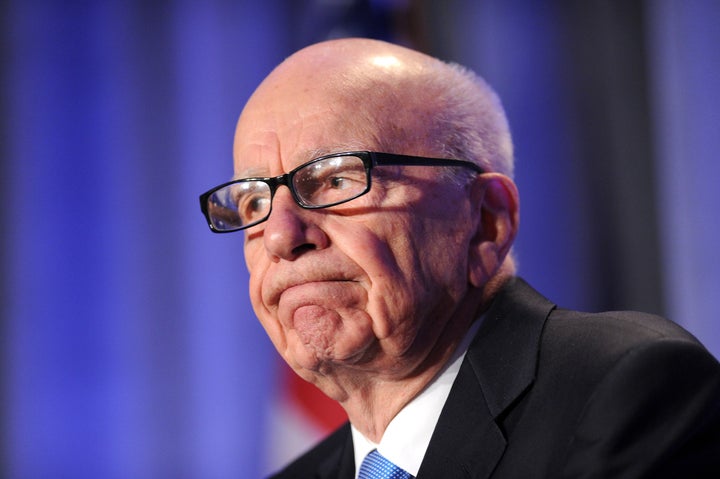 News Corp. officially announced on Thursday that it has decided to split into two. The company will divide its entertainment holdings from its publishing arm. Rupert Murdoch will be the chairman of both companies, and the CEO of the entertainment company.
It has been just over two days since news first broke that News Corp. had been thinking of dividing itself.
The move marks the end of an era at News Corp. It is possibly the most radical shift in the history of the company, as the media empire that Murdoch built on the back of a single Australian newspaper suddenly breaks apart. Murdoch is also apparently stepping away from the newspapers he has cherished more than anything else in his company. It is not known who will take control of the publishing company.
That new, as-yet-unnamed company will sweep up News Corp.'s newspaper titles in the US, Britain and Australia; the company's book and education divisions; and other, smaller, non-entertainment-related properties. The company's entertainment and broadcast titles — including its film and television studios, its holdings in satellite broadcaster BSkyB, and the Fox News channel — will form another, much larger company.
Shareholders in the current company will each be given one share of stock in the new company for every share they currently hold. The process of splitting the company will take about a year.
In a memo to his employees worldwide, Rupert Murdoch said he had "much enthusiasm and personal pride" about the move. "We will wow the world as two, as opposed to merely one," he wrote.
Later, on a conference call with investors and reporters, Murdoch said that the split was the culmination of a three-year review of the company's structure. He called it "really a very exciting day" in News Corp., and said that both companies would be "better managed" than the currently structured company.
Murdoch was asked why he had decided to break his company in two.
"I felt we were making great progress before and I think we still are," he said. "I looked around at other companies that split up and done very well. I don't want to hide the fact that I've spent my life at this and it's a very big move and a very big decision for me to say we would go forward with this." He stressed, though, that the move was "not a fait accompli."
Murdoch also rejected the notion that the splitting of the company will lead to a weakening of the print titles, which form a relatively tiny portion of News Corp.'s bottom line. Spinning them off could also make it easier to sell them down the road — something Murdoch's heirs would not be unopposed to. For now, though, the papers are staying within the family.
"No doubt there will be those nay-sayers who see the announcement as an indication of concern about the long-term potential of the publishing industry," Murdoch said. "That could not be further from the truth." He added that he expected the new company would "finally highlight the relative strength" of his publishing properties.
The abruptness of the move has been startling, especially given Murdoch's historic reluctance to part with or spin off any of his print titles. Even as shareholders and members of his own family have cooled on the newspapers, Murdoch, who was born into a newspaper family, has kept a firm hold on them.
The phone hacking scandal, however, changed everything. Though the company's stock price actually shot up in the year since the scandal broke open, the crisis scuttled Murdoch's plans to purchase all of BSkyB and led to an investor revolt, as shareholders complained about the company's corporate governance structure and called for a more independent-minded board to check Murdoch's near-total grip on the company. Only Murdoch's control of enough shares in the company kept his son James from being kicked off its board.
There has always been talk of a so-called "Murdoch discount," with many on Wall Street saying that the company's stock price would be higher if it was not bound so tightly to its leader's idiosyncrasies — especially his commitment to newspapers, many of which are unprofitable. Splitting News Corp. in two could satisfy shareholders who want nothing to do with the newspapers.
Below, read Murdoch's full memo to staff, which was obtained by The Huffington Post:

Dear Colleagues:

It is with much enthusiasm and personal pride that I share with you today's news regarding our plan to drive towards the next, transformative phase of this organization you and I have built together into one of the largest, most innovative media companies of our time.

That very size and breadth has created an opportunity to separate News Corporation into two global leaders in their own right -- we will wow the world as two, as opposed to merely one.

I believe our leadership is born out of a spirit of innovation. We have never accepted the status quo. We have always been driven by the belief that we can do better -- deliver a better product for our audiences and provide better performing businesses for our shareholders. Our success has come from our speed, flexibility and creativity in responding to changing markets, in combination with our commitment to serving our customers' needs.

Our publishing businesses are greatly undervalued by the skeptics. Through this transformation we will unleash their real potential, and be able to better articulate the true value they hold for shareholders. Our aim is to create the most ambitious, well-capitalized and highly motivated publishing company in the world, consisting of the largest collection of our news and publishing brands, as well as our groundbreaking digital education group; we will also work to create the world's top media and entertainment company, encompassing our premier broadcast and cable networks, leading film and television production studios and highly successful pay-tv businesses.

Much of our foundation already exists -- because of you. We have the creative minds. We have the assets. We have the brands. But we must realign and reorganize in this moment of opportunity so that we can heighten our focus and be faster, more nimble, and more adaptable to change. When we began this journey 60 years ago in Adelaide, we made a commitment to provide great journalism, while also entertaining our consumers. In news, information, data, literature, and digital content, no company has devoted the resources, the passion, or enjoyed the success we have. That will not change. The most important guarantee to free societies, free markets and free minds is free speech. Knowledge has changed the course of history in every society, and we believe that being a creator and distributor of information is not just the right thing to do, it's good business. The failure of other publishing companies to embrace the future has itself created opportunities for us around the world. Our publishing company will deliver on the promise of a well-informed society as we aggressively grow our business across borders and new global platforms.

On the media and entertainment side, we have a reputation for inspiring and entertaining millions of imaginations every day. We have a history of empowering truly visionary, creative talent to take chances that have redefined the landscape again and again. Today, our creative content businesses have never been stronger. Our distribution assets, globally, are on full throttle. These businesses, at the core of an independent media and entertainment entity, will innovate and grow even faster.

The most valuable commodities in the world today are information, analysis and education, with infinite potential through the growth of technology and digital platforms to accelerate the improvement of world living standards.

Today there are 30 million tablets in use in the U.S. and 75 million worldwide. In five years' time, there will be at least 75 million tablets in the U.S. and 375 million in the world. Smartphones will get far smarter and grow rapidly over the next 5 years, from 120 million active phones to 225 million in the U.S., and from 835 million to 1.7 billion in the world. These technologies will permeate all parts of life -- including education -- and it is my firm belief that these two companies will be best positioned to compete in this rapidly evolving global economy and distribute our premium content on these platforms.

Over the years, I have become accustomed to the noise of critics and naysayers...and pretty thick-skinned! Remember what they said when we started the Fox Network, Sky, Fox News and The Sun? These experiences have made me more resilient. And they should you, as well. And time and time again, we persevered, creating new businesses, new products, telling new stories, informing and educating the public in new ways -- and giving jobs to thousands more people.

I am extremely excited by this big change. It is a testimony to our entrepreneurial spirit and determination to educate, inspire and entertain millions of families across the globe.

I will personally be leading the creation of our new companies and will serve as Chairman of both organizations and as CEO of the media and entertainment company. Chase Carey will continue to partner with me on leading the media and entertainment business, by serving as President and COO. We are busy working on other important details and will inform you as they become available.

Lastly, each of you will make this possible. I will forever be grateful for your loyalty, hard work, creative thinking, and most of all, for your support in making this transition a successful one. We have much work to do as we grasp the great opportunities that lie ahead.

I cannot express how much I appreciate all of your hard work up to this point, and for the promise of your continued creativity as we lay the foundation stones for these two great companies. Each will be unified in their spirit, in their determination, and in their dedication to touching and enhancing lives around the world.

Best regards,

Rupert Murdoch

Calling all HuffPost superfans!
Sign up for membership to become a founding member and help shape HuffPost's next chapter
BEFORE YOU GO
PHOTO GALLERY
The Murdochs