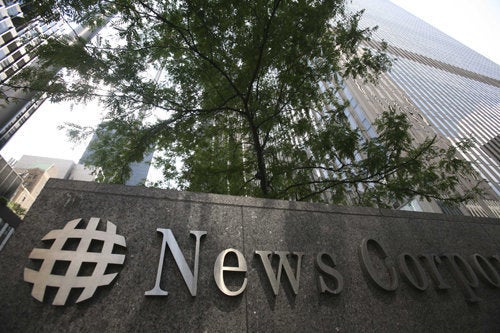 So it's not surprising that the company would want to make sure staffers are up to date on legal and ethical issues that may arise on the job. During testimony before members of Parliament last month, James Murdoch described the way in which employees are informed of the company's standards: "Every employee, every colleague around the world of News Corporation receives the code of conduct, a set of -- it's a pamphlet that has some detail in it, but it's not too much so that people read."
Last week, New York Post staffers were given hard copies of News Corp.'s latest version of the document, entitled "Standards of Business Conduct," according to a News Corp. source. The 56-page pamphlet displays the media conglomerate's extensive reach -- from newspapers (Wall Street Journal, The Sun) to cable networks (Fox News, Sky) to popular Fox television shows (American Idol, The Simpsons) -- and concludes with a shot from the Twentieth Century Fox blockbuster, Titanic.
But the "Standards" guide, just revised in May, can already use an update. The News of the World is still featured as a News Corp. outlet. And next to a photo of the newsroom, there's a blue box telling employees to contact the company's legal department with additional legal or ethical concerns -- instructions that now seem ironic, given the ongoing police investigation of rampant phone hacking. See below: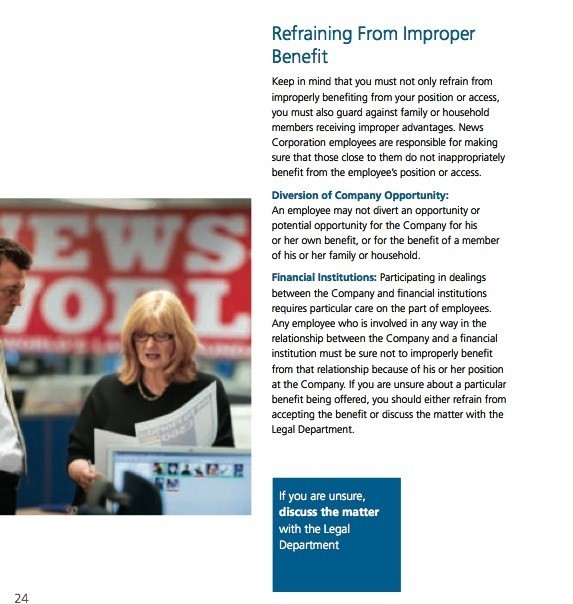 While News Corp. recently announced the formation of a management and standards committee, a New York Post spokesperson tells The Huffington Post that the new committee is focused on News International, the conglomerate's British newspaper arm, and "is not tasked with recommending revisions to the News Corp. Global Standards of Business Conduct."
"The News Corp. Standards of Business Conduct were first issued in 1996 and have been updated a few times since then," the spokesperson said. "The current update to the Standards was posted on the News Corp. web site and electronically distributed globally to employees in May. Printed copies, which take some time, are also being provided."
Wall Street Journal staffers received a hard copy earlier this summer, along with an annual Dow Jones code of conduct form. Post staffers got their copy just last week.
While there's no evidence linking the Post to the illegal interception of phone messages that occurred across the Atlantic, the paper's lawyers recently instructed staff to "preserve and maintain all documents and information" related to potential instances of hacking or paying government officials for information.
In the company pamphlet, there is a section warning against paying government officials -- a practice that former News of the World editor Rebekah Brooks admitted to engaging in and which Andy Coulson, her successor, allegedly continued. Both Coulson and Brooks were arrested in recent weeks.
Support HuffPost
The Stakes Have Never Been Higher
Related
Popular in the Community