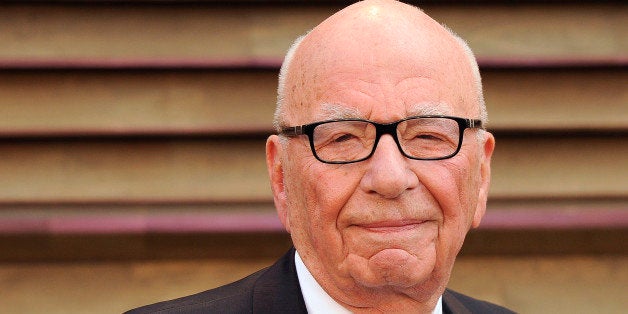 (Adds details from decision, comments, case citation, byline)
NEW YORK, April 1 (Reuters) - News Corp, its Chairman Rupert Murdoch and other top officials have won the dismissal of a U.S. lawsuit accusing them of defrauding shareholders by concealing widespread, illegal phone hacking at two of its British newspapers.
In a decision made public on Tuesday, U.S. District Judge Paul Gardephe in Manhattan said the defendants could not be held liable over statements predating the period for which shareholders sought to recoup alleged losses.
The case was based on statements by Murdoch, former News of the World editor Rebekah Brooks and others in the years after the 2006 arrest of reporter Clive Goodman and investigator Glenn Mulcaire, who were both later imprisoned for allegedly hacking the phones of Britain's royal family.
Shareholders led by Britain's Avon Pension Fund accused the defendants of making statements in press releases, interviews, conference calls, testimony to Parliament and elsewhere suggesting that the incident was isolated.
Instead, they said hacking was "widely practiced" at the since-closed News of the World and The Sun tabloids, and revealed only on July 4, 2011 when news broke that reporters had in 2002 hacked into the cellphone of Milly Dowler, a missing teenager who was later found murdered.
Shareholders said this caused News Corp shares to fall 17 percent within two weeks and scuttled its plans to buy British Sky Broadcasting Ltd. They sought to represent shareholders from Feb. 15 to July 18, 2011 in a class action.
Gardephe, however, concluded that "nearly all" of the alleged false statements predated the class period and that the defendants had no duty to correct them.
"To hold otherwise would require adopting an 'endless breach argument,' which would permit plaintiffs to circumvent the well-settled rule that defendants are liable only for those statements made during the class period," he wrote.
Gardephe gave the plaintiffs until April 30 to file an amended complaint. His decision is dated March 31.
Dennis Herman, a partner at Robbins Geller Rudman & Dowd representing the plaintiffs, did not immediately respond to a request for comment.
News Corp spokeswoman Ashley Huston and Jay Kasner, a partner at Skadden, Arps, Slate, Meagher & Flom representing the company, did not immediately respond to similar requests.
The decision came nearly a year after insurers for News Corp directors agreed to pay $139 million to the company to settle a separate shareholder lawsuit accusing the board of failing to probe phone hacking.
Other defendants in the latest case included James Murdoch, a son of Rupert Murdoch who is now co-chief operating officer of 21st Century Fox Inc and sits on News Corp's board; and former Dow Jones & Co chief executive Les Hinton.
Brooks is on trial in Britain for allegedly conspiring to hack phones from 2000 to 2006.
The case is Avon Pension Fund v. News Corp et al, U.S. District Court, Southern District of New York, No. 11-04947. (Reporting by Jonathan Stempel in New York; Additional reporting by Alison Frankel; Editing by Leslie Adler and Dan Grebl)
Calling all HuffPost superfans!
Sign up for membership to become a founding member and help shape HuffPost's next chapter