This week, the Internet was aflutter with commentary on the recently released World Health Organization (WHO) report affirming the connection between red and processed meat and cancer.
While the WHO did not comment on exactly how much meat is appropriate for a healthy diet, the news provides yet another convincing reason why we should each think about reducing the overall amount of meat in our diets. On top of the cancer connection, we know that meat consumption is also related to heart disease, diabetes and obesity. Furthermore, diets high in meat leave little room for the nutritious produce, legumes and whole grains that are clearly linked to chronic disease prevention and longevity.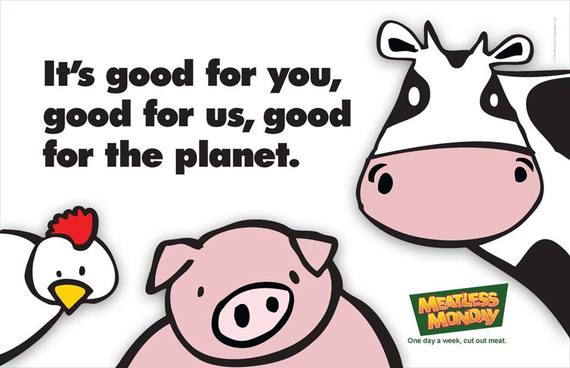 The genius of the Meatless Monday movement is that regularly skipping meat one day a week will help you reduce your overall meat intake by about 15% without making you feel like you're drastically changing your diet or giving up the foods you love. Plus, with so many delicious meatless options available for your Monday dining, you're likely to discover a new favorite you might incorporate into your diet on other days of the week, too.
Participants worldwide recognize the benefits, with over 40 countries signing on to the Meatless Monday movement. As more countries join, this simple way to execute WHO's recommendation to limit meat in our diets grows across the globe.
Author Kim O'Donnel knows just how to make vegetarian dishes appeal to the most die-hard carnivores. This recipe for shepherd's pie, which appears in her book "The Meat Lover's Meatless Cookbook" is made with lentils rather than ground beef for a vegetarian spin, but it certainly doesn't lack flavor. Give it a try this Monday!
Shepherd's Pie with Chard-Lentil Filling
Excerpted from "The Meat Lover's Meatless Cookbook" by Kim O'Donnel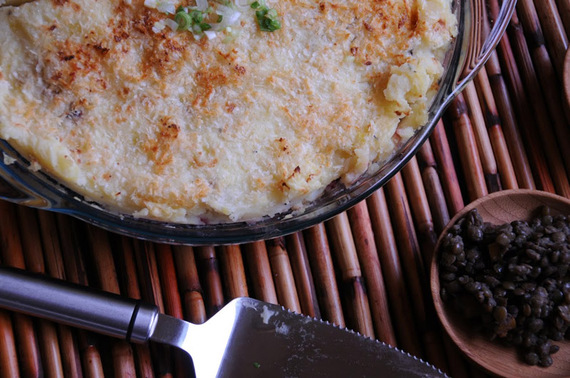 Kitchen notes: Although this is a four-pot affair, it need not feel like a three-ring circus. First item of business: Get the lentils on the stove. While they're simmering, boil the potatoes for the mashed topping. Meanwhile, work on the onion gravy, which can be made in advance, and gently reheated. On busy nights, I've made this pie without the gravy, and it's still plenty delicious.

Ingredients:

1 cup wine-braised lentils (details follow)
1 1/2 cups onion gravy (details follow)
2 pounds medium-size potatoes (4 to 5 potatoes; my favorites are Yukon Gold or Yellow Finn), washed, trimmed/peeled as needed, and cut into quarters
2 teaspoons salt
3 cloves garlic, peeled but left whole
5 tablespoons olive oil
Ground black pepper
3 to 4 cups chard (from 1 bunch), washed, stemmed, and chopped finely into "ribbons"
1 clove garlic, chopped roughly
1/4 teaspoon freshly grated nutmeg
1/4 cup grated Parmigiano-Reggiano cheese or Pecorino
Grease a 9-inch pie plate.
Fill a medium-size saucepan with 4 cups of water, and add the potatoes and salt. The water should just barely cover the potatoes.
Cover and bring to a boil. Add the whole garlic. Return the lid and cook until fork tender, about 20 minutes.
Preheat the oven to 350 degrees.
With a slotted spoon or skimmer, transfer the potatoes and garlic to a large mixing bowl and mash with a hand masher. Stir in the reserved cooking liquid as necessary to moisten the potatoes. Add 3 tablespoons of the olive oil and stir in vigorously with a wooden spoon. Taste for salt, pepper, and texture and season and stir accordingly; mashed potatoes should be smooth and well seasoned.
In a large skillet, heat the remaining olive oil over medium heat and cook the chard with the chopped garlic, until wilted, 3 to 5 minutes, regularly tossing with tongs to cook evenly. Stir in the nutmeg and season with more salt to taste, if needed. Transfer to a medium-size bowl.
Portion out 1 cup of the lentils (the rest is cook's treat), drain, and stir into the chard until well combined.
Assemble the pie: Transfer the chard mixture to the greased pie plate. Top with the mashed potatoes, and with a rubber spatula, smooth the mash so that it's evenly distributed and completely covers the surface. Top off with grated Parmigiano-Reggiano.
Place the dish in the oven and heat through, 20 to 25 minutes. During the final 2 minutes of cooking, set the oven to the broil setting to brown the cheesy-mashed top.
Remove from the oven, slice into wedges, and eat hot with a ladleful of onion gravy.
The addition of wine is completely optional; simply omit if you prefer.
1 tablespoon olive oil
1/2 cup onion, diced
1/4 cup carrot, peeled and diced
1 sprig fresh thyme, or 1/2 teaspoon dried
1/2 cup dried brown or green lentils, rinsed
2 tablespoons red wine you enjoy drinking (optional)
1 1/2 cups water
1/4 to 1/2 teaspoon salt
In a small saucepan, heat the oil over medium heat and add the onion, carrot, and thyme. Cook for about 5 minutes, until slightly softened.
Add the lentils and stir to coat. Add the red wine (if using) and bring to a lively simmer. The wine will reduce a bit.
Add the water, return to a lively simmer, then lower the heat, cover and cook until fork tender, 35 to 40 minutes.
Stir in 1/4 teaspoon of the salt, taste, and add the remaining salt, if needed.
Makes 1 1/2 cups. If you love these lentils, amounts may be doubled for a big pot that will keep for days and pair up seamlessly with your favorite grain.
3 tablespoons unsalted butter
2 cups sliced onions, cut into thin half-moons
1 or 2 sprigs fresh thyme
1 tablespoon balsamic vinegar
2 cups water
1 tablespoon cornstarch dissolved in 1 tablespoon water
1/2 teaspoon salt
Pinch of sugar
1 teaspoon soy sauce
In a deep skillet, melt the butter over medium heat and add the onions and thyme. With tongs, toss to coat the onions with the butter and cook over medium-low heat, until softened, reduced, and jam-like, about 25 minutes.
Add the balsamic vinegar, stir, and cook for an additional 5 minutes.
Add the water and bring to a lively simmer. Reduce by half, about 15 minutes. Stir in the cornstarch mixture and cook for an additional 5 minutes; the gravy will continue to reduce. Stir in the salt and sugar, and taste. Finish off with the soy sauce.
Turn off the heat, cover, and gently reheat at a simmer, just before serving with pie.