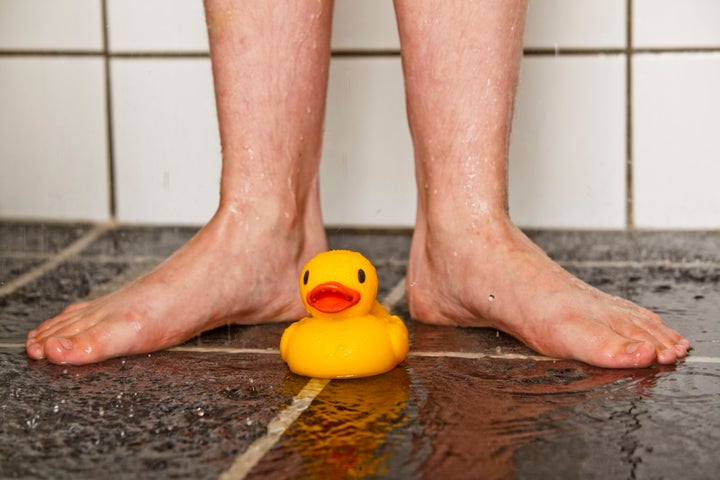 If you don't think American bathroom habits are gross or disgusting, you're in for a shock.
A whopping 61 percent admit they pee in the shower, and 41 percent admit pissing in swimming pools.
That's just one of the bodily function bits of info wiped up in a survey conducted on behalf of Abcotechbrand.com, makers of a wireless waterproof Bluetooth-enabled shower speaker.
Abco Tech founder Yossi Fisch figures there's a good reason why people are so willing to be gross in private.
"The bathroom is one of the few sanctuaries in your home where you can let your hair down, release the tensions of the day and just be yourself," Fisch said in a press release. "People cling to certain habits, whether while using the toilet or bathing, and music is often part of that routine."
But those aren't the only pieces of doo doo data soaked up in the survey.
50 percent of respondents said they fold their toilet paper before wiping themselves while

30 percent just wad it up.

60 percent

wipe front to back while

20 percent

go

against the grain and do it back to front.

60 percent believe a toilet paper roll should go over the top and in the front, but 13 percent prefer it rolling under and in the back.

43 percent admit to checking the contents of the bowl before flushing.

37 percent look at their toilet paper after wiping.
What Americans do in public toilets is slightly different, but no less weird.
45 percent say they cover the toilet seat with paper before doing their business.

36 percent use their foot to flush instead of their hands.
35 percent refuse to actually sit on public toilets, preferring to hover over the seat instead.
Support HuffPost
The Stakes Have Never Been Higher
Related
Popular in the Community