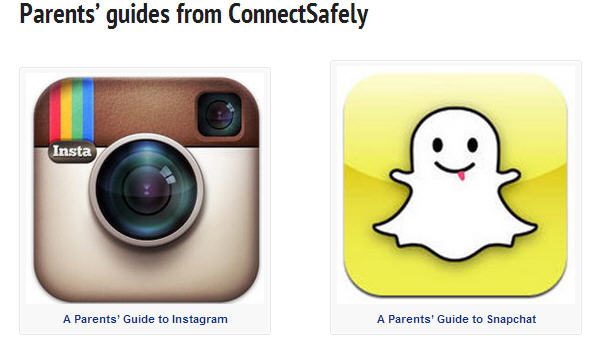 Two free Parents' Guides help parents demystify and take the fear out of popular photo-sharing apps
Kids are flocking to mobile photo-sharing apps and leading the way are Instagram and Snapchat. Kids love Instagram (now owned by Facebook) because it's an easy way to snap photos, enhance them with filters and quickly share them with friends. Snapchat is popular because photos self-destruct a few seconds after they're viewed, so kids don't have to worry about the long-term implications of having wacky or unflattering pictures permanently enshrined on the Internet. Of course, as we point out in A Parents' Guide to Snapchat, there are ways to capture the screen and even undelete pictures so kids need to still be careful not to post anything that can get them into serious trouble. Still, there are plenty of ways to have fun with your clothes on using Snapchat or Instagram.
Like Twitter, the default setting for Instagram is for photos to be public, but -- as we say in A Parents' Guide to Instagram, "you can easily change that." Parents are advised to talk with their children about how to use Instagram's privacy features and, of course, to be aware of what they post and how it affects their reputation.
Both Instagram and Snapchat require users be 13 or older but neither asks for date of birth. Parents are encouraged to talk about privacy and safety issues with children regardless of their age, but especially kids who are "too young," but using it anyway.
Though there have been some scary press reports about these and other apps, the vast majority of kids are using them smartly. And it's important for parents, educators and policy makers to understand that apps come and go but basic principles about safety, privacy and security remain constant. I'm not the first to point out that keeping kids away from such apps is like building a fence around a swimming pool. It might protect them from pool at that moment, but the best way to protect kids around all water is to teach them to swim safely. Our job as parents is to talk with (not at) our kids and help them develop life-time habits that will protect them in just about all situations online and offline.
What parents want to know
Each guide answers 5 top questions parents have covering:
Why kids love these apps
What the risks of each app are
How to help kids stay safe using the apps
How to report abuse and block problem users
How to use privacy settings
The free guides, which I co-wrote along with my ConnectSafely.org co-director Anne Collier, are available to view on screen or print to share with schools, parent groups and kids and teens.
Disclosure: In addition to being co-author of the guides, I'm co-director of ConnectSafely.org, a non-profit Internet safety organization that receives financial support from Faceook, Google and other technology companies.
Related
Popular in the Community