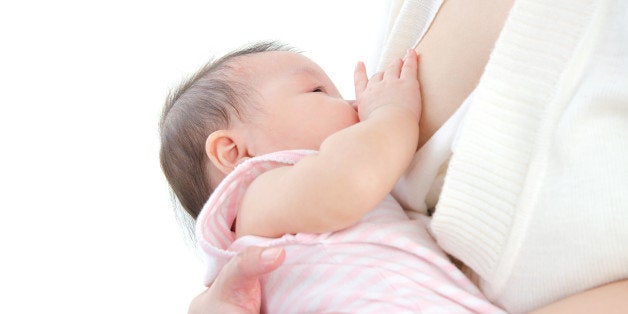 When I gave birth to my daughter in a Washington, D.C. hospital 20 years ago, I had spent years training health workers around the world on the importance of early initiation and exclusive breastfeeding. I thought breastfeeding would come naturally. Little did I realize just how tough it can be to nurse your baby, even when you have the "know-how" and the motivation.
Breastfeeding can be confusing and you can lose your confidence, especially when you are told your baby "is not getting enough," or when you are sent home with your newborn and gift samples of infant formula in hand. And without the proper counsel and encouragement it is difficult to know how to do it right.
So many mothers lack a baby-friendly, supportive environment in the hospital, at home or in the workplace and end up giving up on breastfeeding. Had I not known of the importance of breastfeeding and sought support, I too would have given up on one of the greatest gifts a newborn can get: exclusive breastfeeding for the first few months.
We have come a long way in our knowledge and understanding of the benefits of breastfeeding for the survival, healthy growth and development of all newborns irrespective of where they are born. Still, we have work to do to turn that knowledge into practice and make it easy for mothers to breastfeed in health facilities, in the community and to then continue to provide breast milk when they return to the workplace.
Breastfeeding could save up to 800,000 lives each year. It may seem counter-intuitive, but parents don't always know that "breast is best," and even if they know that it is good for their babies, they need support to exclusively breastfeed for the first six months and continue breastfeeding for up to two years. In some countries, lack of information about breastfeeding or long-held cultural beliefs lead to risky practices, such as feeding babies honey or other foods like sugar water and porridge in the first four months. The outcomes can be tragic. In communities where sanitation is poor and child mortality is high, infants who are not breastfed are twice as likely to get pneumonia and 15 times more likely to die of it as those who are exclusively breastfed.
We know breast milk is the best source of nutrition for all newborns, regardless of where they live. While global breastfeeding rates are lower than they should be, and have remained stubbornly flat, some countries--particularly in Latin America--have instituted progressive policies to support mothers, leading to higher breastfeeding rates.
In 2012, Venezuela passed a law establishing six and a half months of paid pre- and post-natal leave, requiring every employer to provide a nursery and center for early childhood education, as well as breastfeeding breaks for mothers. And Brazil launched the Breastfeeding Primary Care Initiative in Rio de Janeiro, which mandates training for health workers not just on breastfeeding techniques, but also on how to counsel women on balancing work and motherhood. The initiative increased rates of exclusive breastfeeding and breastfeeding rates overall.
Progress in the region, however, is uneven. Mexico has seen a historic drop in breastfeeding rates, and public awareness campaigns to improve nursing have not resonated with many Mexicans.
This October in Mexico City, the first Global Maternal Newborn Health Conference will take place. It is intended as a global forum to advance knowledge and share information on maternal and newborn health issues. We will look at new evidence highlighting models and practices for breastfeeding along with the importance of maternal and newborn nutrition across the continuum of care. Knowledge about these innovations will be taken back to countries around the globe to advance maternal health and newborn care.
Key to a comprehensive network of effective breastfeeding support is having a skilled attendant at a woman's side, teaching the importance of breastfeeding within the first hour of birth and exclusively breastfeeding for the first six months. Face-to-face breastfeeding counseling, which provides the skills and confidence to breastfeed, is one of the most effective ways to improve practices, increase breastfeeding rates that save lives, and contribute to healthy and productive lives beyond infancy. The time has come for family-friendly policies--including workplace facilities--that help women all over the world take advantage of one of the highest-impact and lowest-cost interventions available to help their newborns survive and thrive.
REAL LIFE. REAL NEWS. REAL VOICES.
Help us tell more of the stories that matter from voices that too often remain unheard.