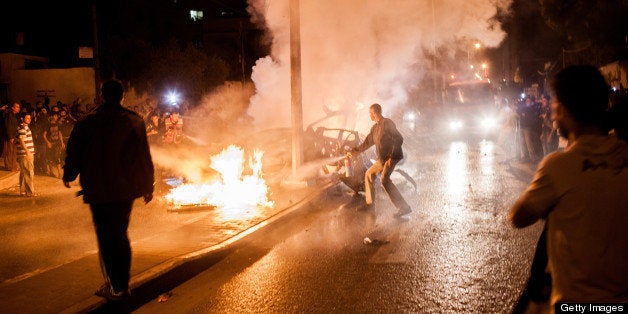 NEW YORK -- The Newseum announced Friday that it will continue with plans to honor two Hamas-linked Palestinian journalists killed during Israeli airstrikes last November, despite criticism from conservative outlets and a pro-Israel think tank over adding the names to the museum's Journalists Memorial.
On Monday, the Washington museum will recognize Hussam Salama and Mahmoud al-Kumi, two cameramen killed while working for Hamas-run Al-Aqsa TV, along with 82 other journalists who died in 2012.
A Newseum spokesman noted that their car was "clearly marked 'TV'" and explained the criteria by which the journalism museum honors those who've fallen in the field.
"The Newseum Journalists Memorial recognizes 2,246 journalists who died or were killed while reporting the news," a Newseum spokesman said in a statement. "To be listed on the memorial, an individual must have been a contributor of news, commentary or photography to a news outlet; an editor or news executive; a producer, camera operator, sound engineer or other member of a broadcast crew; or a documentary filmmaker."
The decision to include journalists working for Al-Aqsa TV, which, like Hamas, has been designated by the U.S. government as a terrorist organization, has drawn criticism from conservative circles.
While ample criticism came from the right, conservative journalists were not the only ones who took issue with the Newseum's choice. Rabbi Abraham Cooper, associate dean of the Simon Wiesenthal Center, a Jewish human rights organization, told the Free Beacon that the organization had made a "shameful decision." Adam Chandler, of Jewish online news and culture magazine Tablet, argued against describing the Al-Aqsa employees as journalists. And Aaron Keyak, executive director of the National Jewish Democratic Council, wrote in an email to HuffPost that "the Newseum has made a mistake here and I hope that they change their mind."
Cliff May, president of Foundation for the Defense of Democracies, a pro-Israel think tank, told BuzzFeed that he'd be putting in a call to the Newseum's CEO in hopes there had been "been a misunderstanding –- or a re-thinking once it became clear that these 'journalists' were members of designated terrorist organizations."
But the Newseum's statement Friday indicates there was no misunderstanding. A spokesman noted that the Committee to Project Journalists, Reporters Without Borders and The World Association of Newspapers and News Publishers "all consider these men journalists killed in the line of duty."
Human Rights Watch has also said that the two Al-Aqsa cameramen were journalists and therefore should not have been targeted.

"Just because Israel says a journalist was a fighter or a TV station was a command center does not make it so," Sarah Lee Whitson, the group's Middle East director, said in a December statement. "Journalists who praise Hamas and TV stations that applaud attacks on Israel may be propagandists, but that does not make them legitimate targets under the laws of war."
But CPJ has challenged the Israeli government to present evidence tying the journalists to terrorist activities since shortly after their deaths. In December, Joel Simon, the group's executive director, asked the Israeli government to explain the targeting of "individual journalists and media facilities in the Gaza Strip between November 18 and 20."
Aaron Sagui, a spokesman for the Israeli Embassy in Washington, responded in January, arguing that Al-Aqsa TV journalists should not be afforded the protections typically given to journalists in the field.
"Is it appropriate to classify employees of Al-Aqsa TV as journalists or even as advocates?" Sagui wrote. "Is glorifying death and advocating violence and murder merely reflecting an anti-Israel perspective? Should one who uses a camera, microphone, or stage to disseminate these messages be classified as a journalist?
Sherif Mansour, CPJ's Middle East and North Africa program coordinator, wrote that the Israeli response "provided general context on the war against Hamas and on the nature of programming at Al-Aqsa TV, Hamas's official television station, but did not specifically address CPJ's central question: how did Israel determine that those targeted did not deserve the civilian protections afforded to all journalists, no matter their perspective, under international law?"
When asked Friday about the Newseum's decision, Mansour reiterated CPJ's concern about the Israel's government, or any country's government, unilaterally making the decision to target and kill journalists. "Every government has the burden of respecting international law," he told The Huffington Post.
Generally speaking on the media environment, Mansour said that Palestinian journalists often find themselves in a "triple jeopardy situation" while covering the news, simultaneously facing pressures from Hamas, the Palestinian Authority and the Israeli government, each of which has competing interests.
This article was updated to include additional criticism leveled Friday against the Newseum.
Related
Popular in the Community