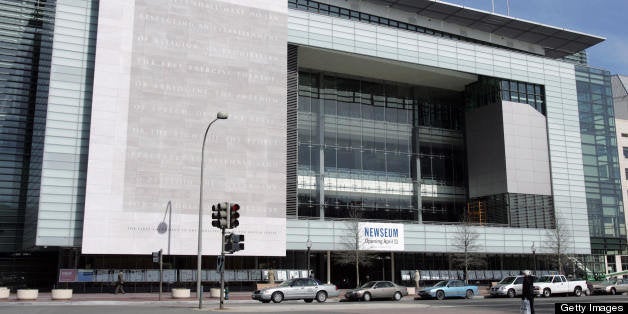 NEW YORK -– The Newseum announced Monday that it will not honor two cameramen killed while working for Hamas-run Al-Aqsa TV, reversing a Friday decision to include them on a memorial for fallen journalists following pressure from conservative media outlets and organizations supporting Israel.
"Serious questions have been raised as to whether two of the individuals included on our initial list of journalists who died covering the news this past year were truly journalists or whether they were engaged in terrorist activities," a Newseum spokesman said in a statement.
'We take the concerns raised about these two men seriously and have decided to re-evaluate their inclusion as journalists on our memorial wall pending further investigation," the spokesman said.
During a Monday morning rededication ceremony, the Newseum honored 82 other journalists who died in 2012 while pursuing the news, adding to a memorial that includes over 2200 names.
NBC chief foreign correspondent Richard Engel, who was captured and freed last year in Syria, gave the keynote address at the ceremony. He addressed the controversy over describing the Al-Aqsa employees as journalists and the difficulty, at times, in making distinctions between journalists and activists.
"I frankly agree there is a distinction and that several of the people on this list are not strictly journalists, but political activists who worked in the media," Engel said. "And just because you carry a camera and a notebook doesn't make you a journalist. A journalist has the responsibility to seek the truth no matter what it is, even if the story hurts your cause. Journalists shouldn't have causes. They should have principles and beliefs."
"This is where it gets tricky because who gets to draw the line?" Engel asked. "Several reporters on this list were Syrians who worked for media outlets that were actively trying to topple Bashar al-Assad's regime. Were they pure journalists? No. But they wanted to bring down a dictator with words and images and that dictator silenced them. They certainly died trying to do something noble. They were speaking out against oppression. They died trying to quench a thirst for freedom."
The Newseum reversed its decision after acknowledging Friday that several prominent organizations, including the Committee to Protect Journalists, Reporters Without Borders and The World Association of Newspapers and News Publishers "all consider these men journalists killed in the line of duty."
The Committee to Protect Journalists, in particular, has challenged the Israeli government to provide evidence showing the two men were engaging in terrorist activities. Following an exchange, Sherif Mansour, CPJ's Middle East and North Africa program coordinator, wrote in January that Israel still hadn't answered how it "determine[d] that those targeted did not deserve the civilian protections afforded to all journalists, no matter their perspective, under international law."
Human Rights Watch in December also questioned Israel's targeting of the Al-Aqsa cameramen.
"Just because Israel says a journalist was a fighter or a TV station was a command center does not make it so," Middle East director Sarah Leah Whitson said at the time. "Journalists who praise Hamas and TV stations that applaud attacks on Israel may be propagandists, but that does not make them legitimate targets under the laws of war."
Given that these groups have already looked into the matter and could not find evidence of the men engaging in terrorist activities, it remains to be seen what further investigation the Newseum will do. A Newseum spokesman did not immediately respond to a question about plans to investigate.
The Newseum broadly mentioned the issue of terrorism in its Monday statement:
"Terrorism has altered the landscape in many areas, including the rules of war and engagement, law, investigative and interrogation techniques, and the detention of enemy combatants. Journalism is no exception."

"To further our First Amendment mission to provide a forum where all may speak freely, the Newseum will establish a new initiative to explore differing views on the new questions facing journalism and journalists."
Critics of the the plan to honor the men pointed out in recent days that the U.S. Treasury department has designated Al-Aqsa a terrorist organization, given its ties to Hamas.

On Sunday night, Anti-Defamation League national director Abraham Foxman joined several other groups in condemning the plan to include the two men on the memorial wall. "It is a dark day when members of a terrorist organization advancing their agenda through murderous violence are honored as part of a tribute to journalists killed in the line of duty," Foxman said.
Related
Popular in the Community