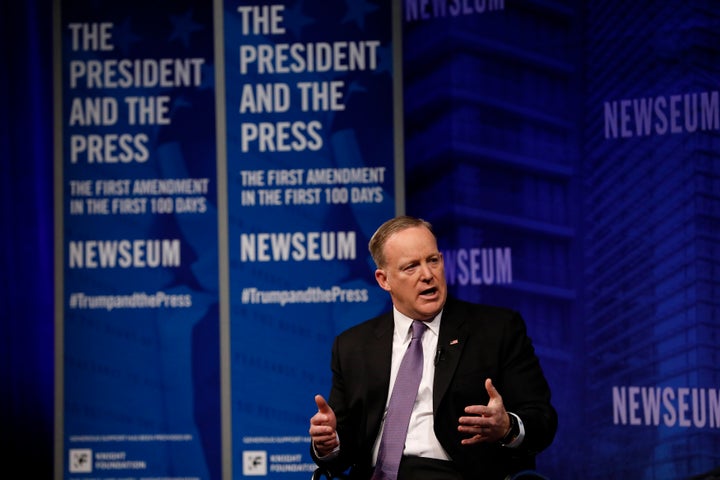 WASHINGTON ― On President Donald Trump's 83rd day in office, CNN correspondent Jim Acosta called for an easing of tensions between two warring factions.
"I think at some point we're going to need a détente between this administration and the news media, or else it's just going to get worse and worse and worse," he said.
Acosta appeared on stage Wednesday at the Newseum as part of a marathon session of speeches, panels and interviews tackling the fraught relationship between the president and the press.
There's always been an inevitable, and healthy, tension between the White House and the media, with disputes over access and differing views as to what information is truly in the public interest. Some of Trump's top aides appearing at the event cited grievances with the press that would have had Obama administration officials nodding in agreement. 
White House counselor Kellyanne Conway described the press' coverage as "incomplete." The media ignores stories the administration would like to have highlighted, she said, and focused on others, such as an "attenuated, unproven relationship from the campaign with a certain country" ― or, Russia. White House press secretary Sean Spicer questioned the press corps' "priorities" when it comes to "what gets covered, what doesn't get covered, and sort of the obsession with some of the process."
Trump's White House isn't the first to complain about so-called process stories, which may reveal closed-door wrangling over policies and "palace intrigue" ― the bickering and backstabbing ― inside the West Wing. Jennifer Palmieri, a top communications official for both former President Barack Obama and recent Democratic presidential nominee Hillary Clinton, said Wednesday that her old bosses also griped about reporters "dumbing down politics to just process."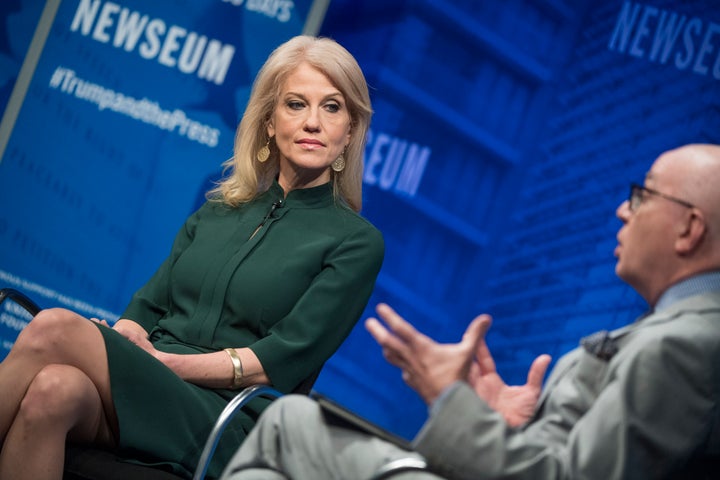 But the Trump team came to town promising the press that "business as usual is over," and the relationship between the two forces has been unusually hostile. 
"The tone was set the day after the inauguration when Sean Spicer came out and decided to berate the media about the crowd size at the inaugural," New York Times reporter Glenn Thrush said during a panel of White House correspondents.
"My problem with that is he came in, shouted at everybody, and refused to take questions," Thrush said. "To me that was a fundamental violation of the purpose of that room, which is not about questions. It's about answers."
Conway later came under fire for inventing a terrorist attack, and Spicer's briefing room tirades have been spoofed on "Saturday Night Live." He also spent the first couple of minutes during an interview on Wednesday apologizing again for claiming a day earlier that Adolf Hitler didn't use chemical weapons. "I screwed up," he said.
Spicer's Holocaust screw-up lasted barely a day, but Trump's missteps can drag on for weeks because of his unwillingness to apologize and move on. The president's baseless claim that Obama wiretapped his phones in Trump Tower led to weeks of Spicer wasting the press' time defending it and amplifying another baseless claim in the process (for which he also reportedly apologized).
What became even more apparent as journalists conversed with top officials of the past and present is that the biggest obstacle to returning the White House-press relationship to a normal level of combativeness is the president himself. The White House's war with the press has been fueled by defending the president's repeated falsehoods and attacking journalists in response to unflattering stories. 
"We need people to trust us," Acosta said. "And I think we have been acting in a way that garners that trust. But the president doesn't like bad stories about him and this is how he responds. We've got to figure out a way around it."
The president doesn't like bad stories about him and this is how he responds. We've got to figure out a way around it.

CNN's Jim Acosta
Trump has continued to use his Twitter account to vilify the press, as he did during the campaign ― but now he also wields the bully pulpit of the presidency. He has responded to scrutiny with cries of "fake news," adopted the language of tyrants in calling news organizations the "enemies of the people," and claimed journalists fabricate their sources.
Newseum CEO Jeffrey Herbst said as Wednesday's event began that he hoped it'd be possible to find "some solutions and common ground." And veteran media writer Michael Wolff, who interviewed Conway, likened their exchange to "a little family therapy."
But such conversations are unlikely to lead to any lasting peace when Trump can upend relations with a single baseless charge or a tweet about changing libel laws. These are the sorts of things that reporters are going to understandably view as an assault on free speech. 
Although the White House is still invited, Spicer signaled that the two sides are unlikely to meet up on April 29 in a cramped Washington ballroom. "I don't think we should fake it," Spicer said, suggesting it wouldn't be right to pretend like everyone gets along.
"If things get better," he said, "maybe we'll attend next year."
Calling all HuffPost superfans!
Sign up for membership to become a founding member and help shape HuffPost's next chapter
BEFORE YOU GO
PHOTO GALLERY
Newspapers React To President Trump