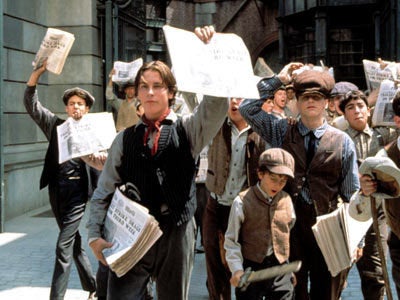 Jack "Cowboy" Kelly wanted to escape New York for Santa Fe. He'll have to settle for New Jersey.
"Newsies," the 1992 Disney musical movie about turn of the century orphan newspaper boys in New York City, is finally getting the long-discussed stage treatment. The New York Times reports that The Paper Mill Playhouse, a well-regarded off-Broadway theater, will stage a production of the musical in its 2011-2012 season, with music from its original lyricist and composer. Harvey Fierstein will help write the show.
The movie, which cost $15 million to produce, only made $3 at the box office as it was panned by critics. Since then, it's become a bit of a cult hit, performed in youth plays and inspiring Halloween costumes nationwide. Its star, Christian Bale, just won a Golden Globe and is an Oscar favorite for his role in "The Fighter."
Alan Menken, who wrote the music for the film, made sure that he got on board -- even if it wasn't going to mean much of a payday, something his agent made sure he knew.
"He told me: 'You don't have to get involved. They'll take your songs, and someone else will come and write new ones. I just want to let you know.' I said, 'Oh, no. No, no, no. It's my baby, no.' 'Alan, there's not going to be any money.' 'I don't care. I don't care, this is my baby.'"
This fall, it was reported that the show would be on Broadway. Of course, oftentimes it takes a successful run on a smaller stage to convince theaters to give it a shot in the bright lights, so that may still happen.
WATCH:
Support HuffPost
The Stakes Have Never Been Higher
Popular in the Community