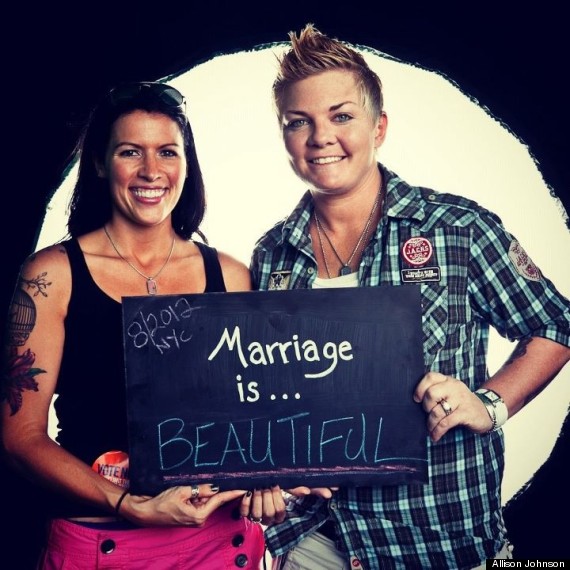 Like many soon-to-be wed couples, Kelsey Smith, 27, and Allison Johnson, 31, wanted to share the announcement of their upcoming nuptials with friends and family in their community of Fargo, N.D. So the two women, who are planning on getting married in a low-key ceremony in New York City on August 1, decided to place a wedding announcement in their hometown paper, The Forum.
"It was such a simple idea," Johnson told The Huffington Post in a telephone call. "[The announcement] was for Kelsey's family, that is all over the state. They all get the newspaper. They love us and support us and we wanted to be able to announce to them so they could they could see it and be proud."
North Dakota is one of 29 states to use its state constitution to explicitly ban gay unions, passing an amendment in 2004. And while Smith, a Fargo native, could not remember ever seeing a same-sex marriage announcement in the daily newspaper, the two said they were nevertheless shocked to be turned down Monday morning.
Celebrations Editor Dianna Baumann sent an email to Johnson which read simply: "I'm sorry, but at this time The Forum does not print engagement/wedding announcements for same sex couples. We will refund your $25 publication fee. Thank you."
Prompted by what the couple viewed as discriminating behavior, Johnson posted a screenshot of the email online. She also sent an open letter criticizing the newspaper's policy to the mayor's office and to the paper's opinion editor. The Forum's Facebook page received hundreds of negative comments, and a petition supporting the couple on Change.org had received nearly 3,000 signatures as of 2:00 p.m. on Wednesday.
"People may associate Fargo with conservative, small cities, maybe, with being small minded," Johnson told HuffPost. "But really it's not. It's a very young population. And at the end of the day, all of the comments and support we've received has shown it is really an awesome community that does support [a growing] LGBT community."
The Forum initially responded with a statement from editor Matthew Von Pinnon saying the paper would be reviewing the policy. But as the controversy gained steam on Tuesday following a write-up on Jezebel, Von Pinnon invited the couple to sit down for an interview in the paper's office, which was taped and later posted on the paper's website. The couple also sat down with the paper's publisher, Bill Marcil Jr. without the cameras.
"Marcil Jr. talked with us, and he really did instill hope that the policy would definitely be looked at thoroughly, not just put on the back burner," Johnson said. "Hopefully they are going to see that people don't mind same sex couples in Fargo, they don't mind same sex couple in North Dakota. I don't really think there's that much to look at. You just need to get on the right side of history."
The Forum's policy, based on the state marriage ban, is not shared by all North Dakota newspapers, or even by all papers owned by Forum Communications. The Grand Forks Herald, for example, allows same-sex announcements in its celebrations section.
Roger Bailey, executive director of the North Dakota Newspaper Association, was quoted in an article posted to The Forum's website as saying this is the first time in his 12 years with the association that he's had to deal with the issue. The NDNA said it does not provide policy recommendations.
"I'm fairly certain it has impacted other newspapers in the state, but this is the first one that has become public issue like it has, to my knowledge," Bailey wrote.
While still stunned by the amount of publicity their story has garnered, Johnson said the couple feels proud to be able to bring more awareness to the issue.
"Ive heard from hundreds of people from North Dakota that have told me that they are so happy and so proud of us and for bringing awareness to this issue," Johnson said. "Whether it is lesbians or gay men or straight grandmas, we're hearing that they are proud to call us North Dakotans. It may have been unfortunate for The Forum, but it was fortunate for North Dakota."
CORRECTION: A previous version of this article incorrectly stated that North Dakota banned gay marriage in 2012. It was banned in the state in 2004.

Popular in the Community