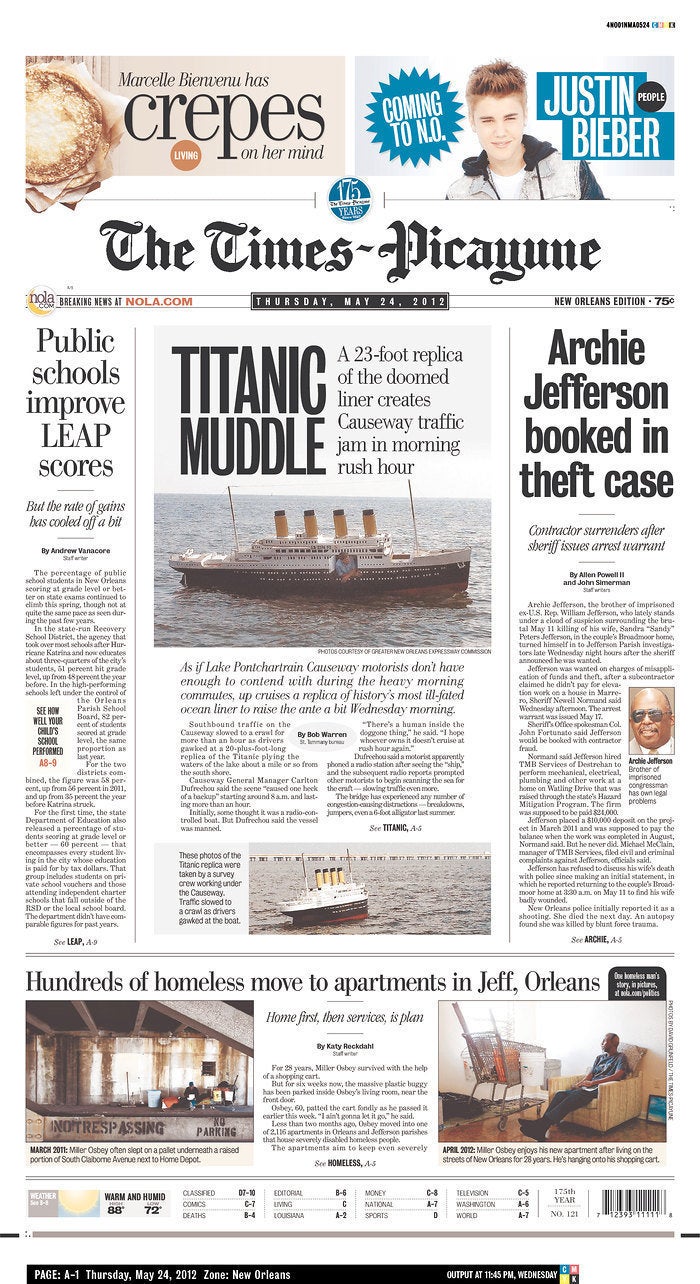 Kenneth Lewis sat in the Tout De Suite Cafe at Algiers Point with two copies of The Times-Picayune, his breakfast and his open laptop.
He's been reading the city's most recognized daily newspaper for 42 years. He said the idea of it shrinking to only three days a week to save money is not sitting well with him.
"If I'm going to read a newspaper, I'm going to read a newspaper," he said. "I'm not going to read it on a Kindle and I don't necessarily want to read it online."
This fall, New Orleans will be the only metropolitan city in the nation without a daily newspaper, said Nicondra Norwood, president of the New Orleans Association of Black Journalists.
On May 24 of this year, the paper announced that it would print on Wednesdays, Fridays and Sundays. Then on June 12, management announced 200 employees would be laid off.
Jim Amoss editor-in-chief of the Times- Picayune said the paper would continue the same commitment to covering the communities its served for 175 years.
"We will deliver our journalism in print through NOLA.com and on our mobile platforms 24 hours a day, 7 days a week," Amoss said. "We invite our readers to become a part of the conversation."
Errin Haines, NABJ Vice President of Print, said the organization condemns the layoffs, according to a June 13 news release.
"Even as we begin to see signs of recovery in our nation's economy, we continue to see dark days for our industry, and this is among the darkest," Haines said. "So many talented and dedicated journalists who have done their part to help sustain these companies are now faced with what to do next now that they have lost their jobs through no fault of their own. NABJ is here to listen, to help you regroup and try to find you another place in the profession you love."
Despite the newspaper's digital shift, Lewis, 50, isn't the only one not completely on board with the online world.
In 2011, 41 percent of senior citizens used the Internet compared to 94 percent of adults ages 18 to 29, according to the Pew Research Center's Internet & American Life Project.
Additionally, in 2000, adults 65 and older were less likely than others to be online. At the time, there also was a pronounced gray gap as young people move online and seniors shun the Internet, according to the report.
But Lewis' dismay, over the Times-Picayune's shifted focus to online, is not just a matter of preference. Lewis doesn't have Internet at home.
He bounces between Tout De Suite Café and a local Starbucks nearly every day to use the free wireless Internet access.
"We're in a recession, sometimes you have to go without," he said.
Eleven percent of residents living in New Orleans are 65 years and older, according to the U.S. Census Bureau.
Freddie Willis, who worked in Times-Picayune's sports department from 1993 to 2005, is concerned those same aging residents could be left behind in the digital dust.
"They're not [online] to consume the news," he said. "It's definitely going to change what is being covered."
Norwood said the newspaper is setting a digital precedent for the future and people will have to find new ways to get the news.
"This was the same way when radio was introduced as well as television, we're still recognizing this is going to take time," he said.
Councilman Jon Johnson, who represents District E encompassing the Ninth Ward, said he fears his constituents will be in the dark. According to the U.S. Census, people 65 and older make up 17.9 percent of his district.
"This change will negatively affect the people in this district," he said. "A lot of people here don't have a computer or they're not computer literate."
Back at Tout De Suite Cafe, Lewis finished his bacon and egg breakfast.He said he plans to keep getting news print on his fingers. He'll buy the Picayune regardless of how many times a week it's published.
"When you do anything you want to have the best thing available, and the Times-Picayune is the best," Lewis said.
Popular in the Community