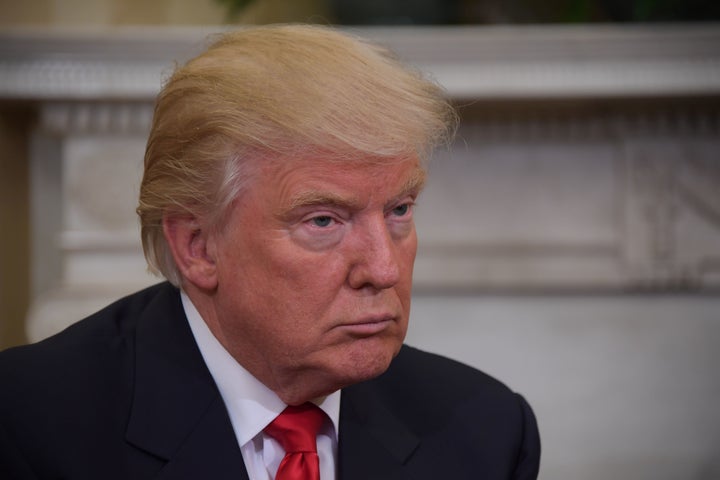 Donald Trump railed against the "failing" New York Times throughout the 2016 election, and days after winning the presidency claimed the paper was "losing thousands of subscribers" for its "very poor and inaccurate" election coverage.
Not so, says the Times. The paper has picked up new subscribers to both its print and digital editions at four times the normal rate, according to spokeswoman Danielle Rhoades-Ha.
In the week since the election, the Times has netted 41,000 new subscribers ― the largest one-week increase in readership since the newspaper began its digital pay model in 2011, the New York Times Company, which publishes the Times, said Thursday in a press release.  
On Election Day and the two days that followed, the Times website received record traffic, and readers spent five times longer on the site than they normally would, the company reported.
The Times is one of several publications to tout increased paid readership or donations in the aftermath of Trump's victory. The uptick in subscriptions is a bright spot amid a flurry of unflattering post-mortems on the media's role in propelling Trump to become the Republican nominee and general uncertainty about the industry's influence going forward.
The Wall Street Journal, another legacy newspaper known for its dogged reporting ― and a conservative editorial page that nonetheless excoriated Trump throughout the campaign ― reported a similar surge in readers and subscribers.
The day after the election, the Journal received three times the number of subscriptions it gets on an average Wednesday. The publication's website has a notoriously strict paywall, but its online traffic on Election Day and the day after was higher than it had been since February 2014. 
The Washington Post, which was responsible for some of the most influential coverage of Trump, did not indicate that it saw significant spike in subscriptions after the election specifically.
"We have seen a steady increase in subscriptions across the course of this year," spokeswoman Kristine Coratti said.
Public opinion of the news media has been declining for years, but Trump is the first presidential candidate in recent history to so openly foment this skepticism and disparage the press.  
Now that he has won, Trump has yet to allow a protective press pool to trail him during the presidential transition period.  
Even before Trump's election, political analysts opposed to his leadership blamed his rise for the deterioration of public faith in, and support of, the traditional news media. 
"What I'm asking you to do, and what I am asking your viewers to do, is not to join [Trump and his backers] and not to deride the detested mainstream media, but to buy a subscription to a newspaper and not to rely on Facebook," anti-Trump conservative writer David Frum said on HBO's "Real Time with Bill Maher" on Nov. 4. 
Facebook, which has supplanted newspapers and television as many Americans' go-to news source, has come under fire for allowing patently false content to spread on its platform. The company has announced efforts to prevent openly misleading websites and content generators from profiting from advertising on the site, but some critics say the move is too little, too late. 
Since the election, journalists have been appealing to the public to subscribe to their publications ― and even to competitors ― in an effort to support high-quality journalism at a precarious moment for the press.
Americans appear to be listening. And they're not just buying newspapers ― they're chipping in for magazines as well.
During an event honoring new Atlantic editor Jeffrey Goldberg on Monday night, publisher Hayley Romer told attendees that print subscriptions were up 161 percent in the five days since the election.
"Making America great again," Goldberg remarked. He wrote the first draft of the magazine's historic endorsement of Clinton, which referred to Trump as "the most ostentatiously unqualified major-party candidate in the 227-year history of the American presidency."
The rate of visitors to The Atlantic's site to purchase subscriptions has doubled since the election, according to a spokeswoman. 
The New Yorker, a storied, liberal-leaning magazine known for its long-form reporting, received more than 10,000 new subscriptions in the three days following the election ― breaking its record for a three-day period. The subscriptions it received for the day after the election alone set a single-day record for the magazine, according to a spokeswoman. 
Mother Jones editor-in-chief Clara Jeffery told HuffPost on Tuesday that her magazine, one of the most adversarial toward Trump's candidacy, sold 10 times the average number of subscriptions on the day after he was elected. 
People need to understand when they discuss the media's failings that there are 40 percent fewer reporters than 10 years ago.

Mother Jones editor-in-chief Clara Jeffery
That pace has continued, with Mother Jones selling 11 times the average number of subscriptions during the first week post-election, according to Jeffery. She said Mother Jones, which is a nonprofit publication, has also received 23 times the average one-time donations and 20 times the average sustaining donations of $15 a month.
"People are getting out their checkbooks because they appreciate the reporting we did on the rise of white nationalism and cronyism around the Trump campaign," Jeffery said. "People need to understand when they discuss the media's failings that there are 40% fewer reporters than 10 years ago." 
"If we want a fearless press, we're going to need lawyers and we're going to need money," she added. "We need vigorous, fact-checked reporting to combat the fake news and to cast light on those who would hijack our democratic system." 
ProPublica, a nonprofit investigative journalism operation, has also experienced a dramatic rise in donations since the election. As of Monday night, the organization had received $100,000 in one-time, online credit card donations since election night ― one of four ways people can contribute to the organization. By contrast, it raised $300,000 through all of its online donation channels ― including one-time credit card, recurring credit card and PayPal contributions ― in 2015.
The organization's president, Richard Tofel, estimated that gifts were coming in at a rate of about two per minute.
"What we are seeing here is that quite a number of people, in the aftermath of the election, feel strongly that they want to take some civic action," Tofel said. "One way to do that is by donating to places that they think play some role in our democratic system. We are very honored when people think of us in that context."
This article has been updated to reflect subscription and traffic figures released by the New York Times on Thursday.
CORRECTION: A previous version of this article said ProPublica raised $100,000 last year. It raised $300,000. 
Calling all HuffPost superfans!
Sign up for membership to become a founding member and help shape HuffPost's next chapter
BEFORE YOU GO
PHOTO GALLERY
Newspapers React To President Trump