The newsroom café concept was music to my ears when Journal Register Company's (JRC) Jonathan Cooper explained how his organization had taken the bold step of engaging its audience.
"The legacy definition of engagement is wrong," said Cooper, JRC's VP for content addressing participants at the 10th International Newsroom Summit in Zurich, Switzerland last week.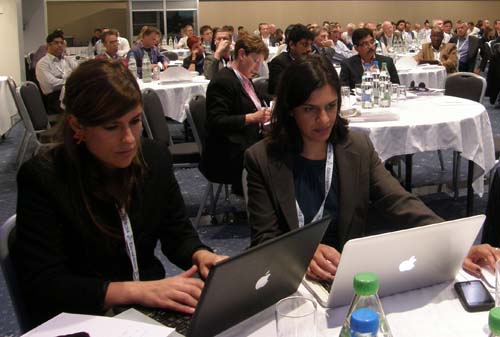 WAN-IFRA 10th International Newsroom Summit (Abu-Fadil)
He was referring to the public space the company created for citizen journalists in Torrington, Connecticut where members of the community could sip coffee, munch on pastries, and, "consume and contribute to local news."
It's an idea that has been catching on in countless communities where hyperlocal news is now king.
I was particularly enthralled with a similar initiative in the Czech Republic in 2009.
According to Cooper, traditional journalists are no longer the center of the conversation, and his audience picks the platforms of its choice to speak with whomever it wants, whenever it wants.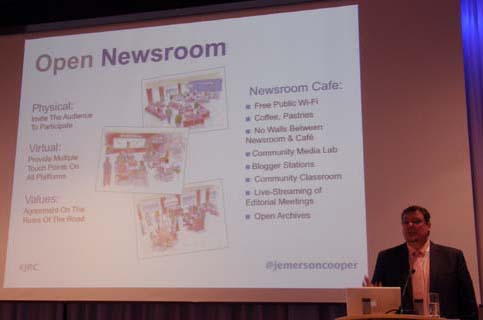 Jonathan Cooper on the JRC's open newsroom (Abu-Fadil)
Opening keynoter John Paton, JRC's CEO, recounted how he turned a bankrupt newspaper company around by thinking "digital first."
He added that U.S. business models were broken and that news organizations had created a myth about their value without establishing a true economic value.
"The crowd knows more than we do," he admitted. "The crowd can do what we do."
Putting the digital people in charge and turning the crowd from competitors into colleagues was a theme repeated throughout the conference.
In a session on innovative journalism, Norwegian VG Digital News & Media editor in chief Espen Egil Hansen said technical developers had never been more important, adding that the media industry was a result of the technical revolution.
"Journalism suffers from a fear of technology," Hansen said. "Technology is about relevance and this is about non-linear story telling."
So it's important to bring technologies and readers into the newsroom and to include programmers in all projects, he said.
Which is why Alan McLean, the assistant editor for interactive news at The New York Times, focused on the use of data and infographics, to produce compelling stories.
"It's our job to provide context," he said.
But doing what's necessary often requires re-engineering traditional newsrooms to embrace editorial and technical priorities.
Erling Tind Larsen, digital manager of Denmark's Berlingske Media detailed how his company planned to go fully digital by 2015 without completely abandoning print.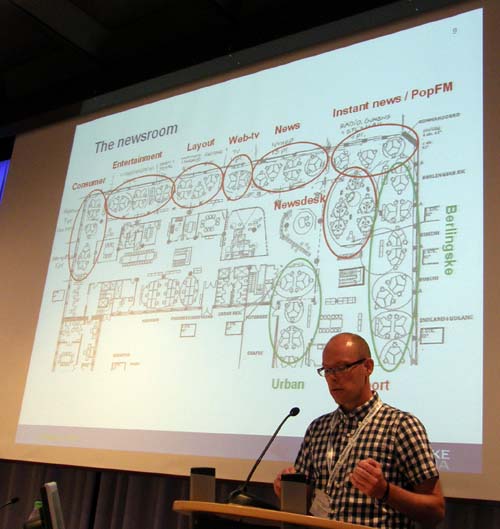 Erling Tind Larsen describes newsroom changes (Abu-Fadil)
"We have a challenging building," he said. "One of the first goals was to change the newsroom."
Moreover, for everybody to feel at home with new media, training was an essential component of the change.
So new templates were a must and change leaders had to make sure the content management system worked seamlessly.
He conceded there had been hitches in the process, with overlapping editors in charge of certain stories, or writers coached by too many people with a different focus.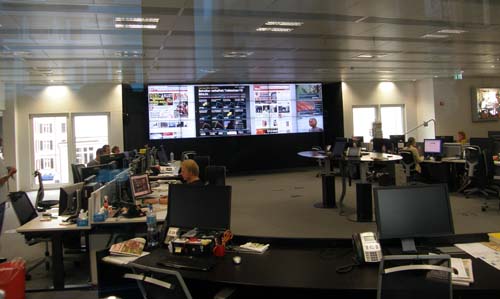 Ringier: integrated newsroom of Switzerland's Blick Group (Abu-Fadil)
Is it any different for news agencies (the wires) that feed newspapers and other organizations with content?
What's changed dramatically is living in a networked society, said Wolfgang Buechner, editor in chief of Germany's DPA agency.
Creating the news agency of the future and facing the challenge of shaping the digital future may be important, but, Buechner reminded participants: "It's all about good compelling journalism."
He said the traditional threat to journalism wasn't Google or Facebook, but complacency, and that news agencies had to improve their content to stay relevant.
Invariably, talk turned to tablet publishing with Matthias Kretchmer, CEO of Hamburg-based Xalmiento Web Services cautioning: "The first rule of forecasting is you must not extrapolate."

The iPad's meteoric rise to fame, and competition from an ever-expanding tablet market, presents yet another fundamental change for electronic content consumption, Kretchmer explained.
"Most of you are coming from a world focused on one product," he said. "Now you're facing chaos with different platforms."
To get the basics right, one shouldn't focus on fancy stuff since people don't value apps for having a lot of features, he said, but people also don't forgive media for lacking the basics.
So, media should consider having bug-free apps that perform well, should keep short download time in mind, should recognize social media and interaction with readers are here to stay, and, should provide more videos and pictures.
The summit also touched on new revenue models for newsrooms with Scott Anderson, Sr. of Canada's Postmedia group saying his organization had emerged from bankruptcy with a new mandate of digital first.
"We told reporters to stop writing for the newspaper," and start writing for their digital audience by tweeting, posting on Facebook, then blogging, he said.
To accomplish their goals and establish successful multimedia publishing operations, editors and publishers should also focus on the value of newsroom leadership.
"Most newspapers are like an all-you-can-eat buffet," said Robert Picard, director of research at Oxford University's Reuters Institute for the Study of Journalism , adding that the fundamental problems were not caused by the business model, but by the product.
So leaders must bring more transparency into newsroom and allow mistakes to happen.

Media futurist Gerd Leonhard said the trend was to go from broadcast to broadband and that the future of news wasn't about news distribution any more, but about attention, and that monetization was not achieved by owning distribution, but owning attention. "It's all about mobile."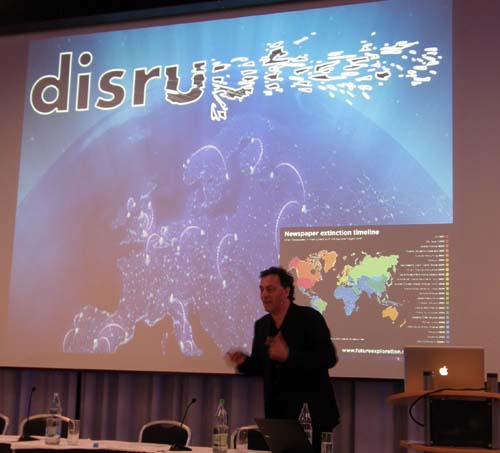 Gerd Leonhard: Disrupt or be disrupted (Abu-Fadil)
He urged participants to adapt or become irrelevant, to disrupt or be disrupted.
Leonhard said open formats would dominate, predicting a great future with "freemium" content.
It was preceded by a one-day workshop entitled "Resilience and Reorganization in Editorial" led by husband and wife team Dietmar and Sarah Schantin that examined workflows, structure, roles, responsibilities for editorial staff and change management.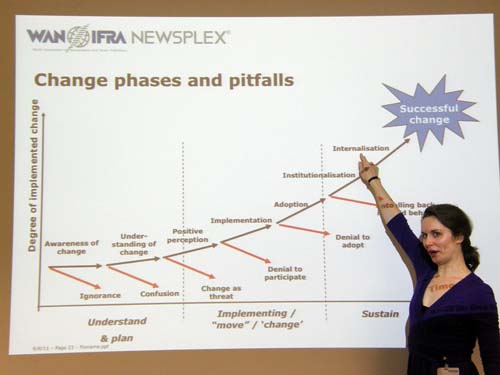 Sarah Schantin-Williams on change and newsroom resilience (Abu-Fadil)

Popular in the Community