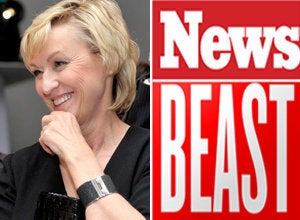 UPDATE, 11/12: In a pair of announcements posted Thursday night, The Daily Beast and Newsweek confirmed that they will be merging. In a press release, the two organizations said the new company will be a "50-50 merger" between them, and will be called The Newsweek Daily Beast Company. Barry Diller, who owns the Beast, and Sidney Harman, who owns Newsweek, will now each own half of the new venture.
In a separate post, Tina Brown also confirmed that she will be editor-in-chief of both titles. She said the final details of the merger were only completed on Wednesday. It marks her return to print after ten years away from the magazine world, and she will take on yet another struggling title, as she has so many times during her career. She wrote that the Beast will "raise the profile of [Newsweek's] bylines and quicken the pace of a great magazine's revival," and promised to "restore Newsweek to its glory days."
In an interview on NPR's "Morning Edition" on Friday, Brown said that the Beast will become "the digital operation of Newsweek." She told NPR's Steve Inskeep that magazines are in a "parlous condition," but that she had "never been someone who kissed off the world of print. I simply feel that it's a different medium, and has to be treated as a different medium." Brown also said that her time away from print has turned her into a sort of expatriate "who has been away and now can sort of look back and see something with [a] very different point of view...having done so much Web news now, I can actually see what a magazine can offer, which is unique in the marketplace, as a different kind of narrative rhythm. In a magazine you can be more reflective...it plays in a kind of great syncopated rhythm with the fast, furious instant take of the Web."
ORIGINAL POST: Newsweek and The Daily Beast are set to merge, according to several reports.
The deal, which is reportedly not yet finalized but expected to be completed, is described as a "50-50 merger of the two companies," with what the Observer describes as a "daily role" for new Newsweek owner Sidney Harman.
The Wrap and The New York Times both reported later Thursday that the tentative deal was set to be announced Friday, but was not yet finalized.
The Wrap reports that Brown would report to a board of directors composed of Harman and IAC chairman Barry Diller. IAC currently owns The Daily Beast.
Related
Popular in the Community