Newsweek Media Group on Monday fired multiple staffers from the publications it oversees.
Those fired include Newsweek Editor-in-Chief Bob Roe, executive editor Ken Li and reporter Celeste Katz, multiple sources told HuffPost.
Nancy Cooper, managing editor at the International Business Times, one of Newsweek's sister sites, has taken on the role of acting editor at Newsweek, according to an internal memo.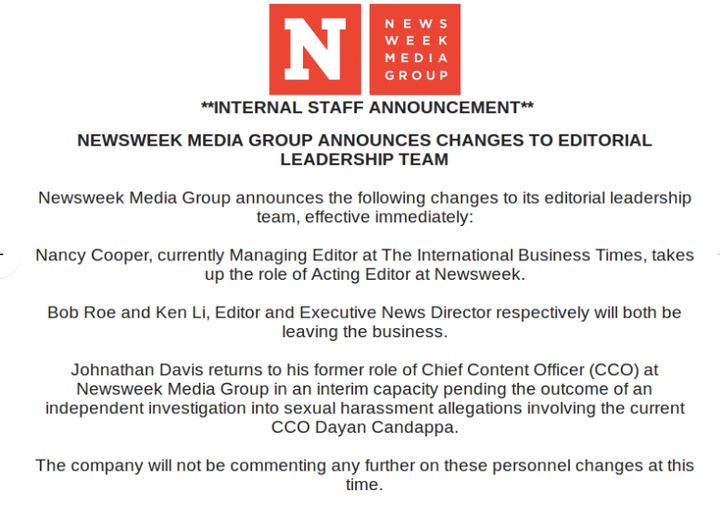 The company confirmed Roe and Li's firings in the memo but declined to comment on any other personnel changes. Katz confirmed her dismissal in a tweet.
Sources told the New York Daily News that Josh Saul, a reporter for Newsweek, was also fired, but HuffPost was not able to independently confirm this.
It was initially reported that Josh Keefe, a reporter for the International Business Times, had also been fired. However, multiple sources later told HuffPost that the company backed down after other employees threatened to quit if Keefe was dismissed.
Some staff members working under the parent company reportedly believe Monday's firings may be related to critical coverage of Newsweek Media Group that the fired staffers were involved in. Katz, Saul and Keefe had all reported about financial issues at the magazine and about a related investigation by the Manhattan District Attorney's office, which raided the company's servers in January.
Other staffers told HuffPost they suspect those employees were fired for investigating Olivet University, a California Christian college, and its financial ties to Newsweek Media Group.
"It's all the people who were investigating the church," said one staffer close to the situation. "So it's pretty clear."
The source added, "They fired the special counsel, essentially."
Katz alluded to the possibility of retaliation in a tweet Monday afternoon.
"My warmest thanks to the brave Newsweek editors and colleagues who supported and shared in my work — especially our recent, difficult stories about the magazine itself — before my dismissal today," she wrote.
Newsweek staffers gave Katz a standing ovation as she was escorted out of the offices, sources told HuffPost.
Last week, Etienne Uzac, the company's co-owner and chairman, and his wife, Marion Kim, the company's finance director, both stepped down amid the financial probe.
Their departures came after a report by the consulting firm Social Puncher, which found that Newsweek Media Group had fraudulently secured a major ad buy from the Consumer Financial Protection Bureau by purchasing "cheap junk traffic with a share of bots" to inflate the number of visitors to the International Business Times site. An investigation by BuzzFeed News corroborated the claims.
Newsweek Media Group released a statement saying the BuzzFeed report mischaracterizes its "business behavior as unethical and distorts the truth."
This story has been updated throughout.
Related
Popular in the Community