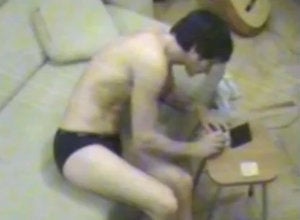 Newsweek Russia editor Mikhail Fishman has been caught on tape with what is said to be cocaine and hookers in a presumed organized smear campaign against the country's liberal opposition.
Michael Idov at The Daily Beast chronicles a recent spate of videos popping up on the internet involving cocaine, hookers, and members of the Russian opposition. One of those figures is Fishman, an award-winning journalist who is the editor of Newsweek's Russian edition (published in conjunction with Axel Springer).
Beginning at 3:37 in the below video, a clothed Fishman can be seen chopping up and snorting a white powder with a blurred out woman in the background; he later appears naked, and then in black briefs while he snorts more powder, presumed to be cocaine.
Another member of the Russian opposition, activist Ilya Yashin, has written (per Idov) that he recognizes the apartment the video was filmed in and knows the girl with Fishman, a Russian model nicknamed Moomoo. Yashin says that he had been lured there for a threesome, but realized something was amiss when one of the girls brought out sex toys and suggested he relax with cocaine. He says he got dressed and left.
Fishman, however, as seen below, was not as disciplined (or paranoid):
The Daily Beast's Idov says that the anti-opposition entrapment plot could mean that either Russian security forces are growing wary of Medvedev's liberalization efforts and are "wasting no chance to tar every possible breakout star of the opposition" or that "the smear campaign is the handiwork of an off-the-script underling."
Related
Popular in the Community