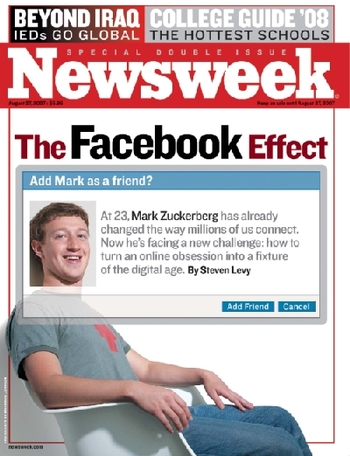 Breaking news from Newsweek: Facebook has grown beyond college networks! This week's cover story examines the "Facebook effect," the process by which everyone you know, especially those long past their college days, has joined the site over the past year. The article, part of a cover package featuring a "Why I Love It"/"Why I Hate It" tete-a-tete as well as a guide to Facebook etiquette - is essentially a profile of the social networking service for those who have never heard of it.

The only problem is, well, that by now, most people have heard of Facebook. And there's nothing in the cover package that's really newsworthy. The New York Times, over two months ago, looked at Facebook's emerging popularity among non-college students and hung it on the release of Facebook's new platform, which allows outside developers to host applications that tap into the site's powerful social graph. In June, Michelle Slatalla's column, 'omg my mom joined facebook!!' looked again at the growing presence of parents and grown adults on the site (while elsewhere Howard Kurtz was using his column to troll for friends), and just last month the Wall Street Journal discussed the dangers of accepting friend requests from your co-workers. (Ed. Danny, why haven't you friended me yet?) A comScore report from July showed that Facebook's highest growth rates were coming from the 25-34 demographic, and even last week CBS News' 20-year-old intern (and HuffPo contributor) Eric Kuhn published a Facebook Dos and Don'ts that sort of renders Newsweek's "Is It OK to Poke You?" irrelevant.

The irony, of course, is that the central question of the Newsweek article is whether Facebook can stay relevant as its demographics skew older and its newness wears off - a question that evinces the old media mentality of its asker, and forces me to wonder whether Newsweek itself can retain its relevance. The 24-hour news cycle dictates that the newsweeklies, especially Time and Newsweek, dig deeper and deliver thoughtful, nuanced analysis. An article about Facebook in August 2007 that delivers a history of the site without really considering, say, Facebook's role in the 2008 Presidential election or its unique ability to spring up a cottage industry of tech companies fails that basic test.

Danny Shea heads up Huffington Post's youth outreach effort and is well-versed in the ways of Facebook. Friend him!
(Ed. Note: ETP asked Newsweek whom of their staff was on Facebook, including top brass like editor Jon Meacham, but, alas, their spokesperson was not sure who was on (other than Kurt Soller and Sarah Kliff who wrote the "Why I Love/Hate Facebook", and said she didn't think there was a profile for the magazine (there doesn't seem to be, but there is a Newsweek network with a number of younger staffers but also including Steven Levy, who wrote the cover story, and just a few days ago was "suddenly desperate to hear the Carole King version of 'You've Got a Friend'" (Aug. 11 at 2:42pm). Steve, best we can come up with is James Taylor singing it live with Carole here, and this version of Carole singing it with Celine Dion, Gloria Estefan and Shania Twain (50% of those friends are Canadian, incidentially, like Facebook's fastest-growing contingent). Anyhow, enjoy — winter, spring, summer or fall, all you gotta do is call, etc. Though soon ETP won't be knocking upon your door, because that would be weird. But we might poke you!)
Calling all HuffPost superfans!
Sign up for membership to become a founding member and help shape HuffPost's next chapter