Newsweek's latest issue is all about food. The lead feature, "101 Best Places to Eat in the World," includes restaurant recommendations from 53 of the world's most famous chefs, including Anthony Bourdain, David Chang, Anita Lo, Lidia Bastianich and more.
Every "best of" list is bound to have its shortcomings and readers may notice a lot of major restaurant players missing from the list. There's no particularly methodology for designating these the "best places to eat in the world"; it's a collection of restaurants that this group of chefs might spend their money at.
Momofuku chef David Chang suggests that we "order blindly" at Golden Century, a seafood restaurant in Sydney, Australia. The specialty there, by the way, is steamed barramundi.
Travel Channel's Andrew Zimmern offers up praise for Yu's Family Kitchen in Chengdu, China:
"Some of the best Chinese food on the planet—innovative, but within a classical Szechuan framework. Located on Kuanzhai Street, it has six tables in a courtyard setting. Most of the ingredients are grown or foraged on chef Yu Bo's family farm. The elegant surroundings make you feel like a VIP, and the prices make you think you just got the bargain of the century."
Meanwhile, Le Bernadin's Eric Ripert points us toward something a little closer to home for most Americans, the chef's table at Brooklyn Fare. Ripert calls it the "Western version of omakase."
You can check out the full list here, but we'd be remiss not to mention what the eagle eyes at Eater discovered. It turns out the issue's cover is a stock image that we've seen before on the UK's Observer Food Monthly in 2008. Is hiring a photographer for new photos too much to ask these days?
Newsweek is also taking some heat for the pointless sexual innuendo of the cover. Dylan Byers at Politico argues, "Tina Brown's shock-and-awe approach to Newsweek covers is so familiar now it hardly warrants mention," but, "the latest Newsweek cover is really bad."
Check out Newsweek's cover below.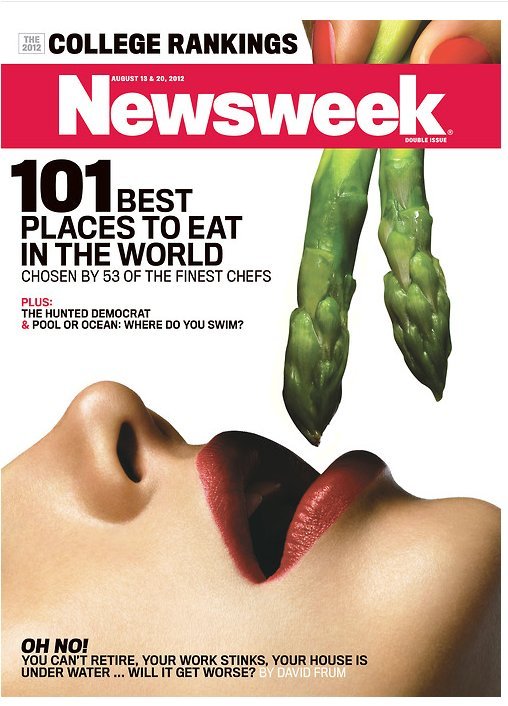 Calling all HuffPost superfans!
Sign up for membership to become a founding member and help shape HuffPost's next chapter