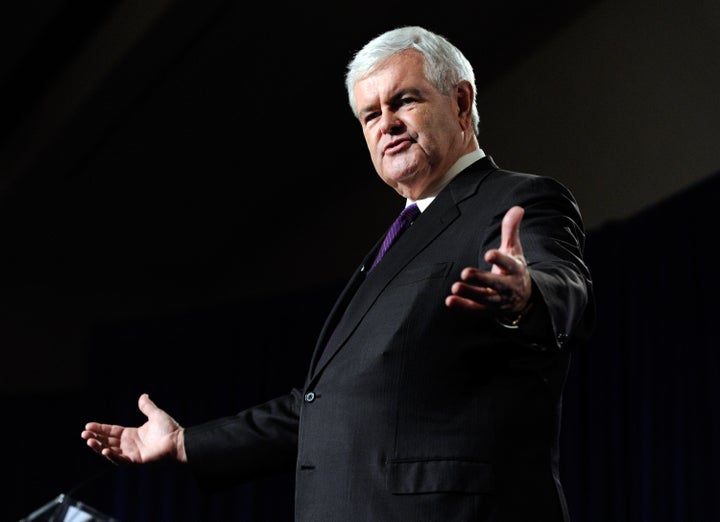 Newt Gingrich went on a publicity tour Wednesday, advertising his master plan to achieve total "replacement of the left."
The Former Speaker of the House spoke at the American Legislative Exchange Council's annual conference Wednesday and unveiled his program, which he has neatly packaged into 12 steps.
CNN got a copy of his prepared remarks and broke down the key principals of his proposed system:
Among them, he takes aim at unemployment benefits and proposes that unemployment benefits be turned into a fund to require training programs for the unemployed, illustrates a plan replacing health care reforms enacted by the Obama administration through limiting Medicaid, and spells out the need to develop "benchmarks for helping businesses and entrepreneurs create high paying jobs in competition with China, India, and Germany..."

In his 12th and final step, Gingrich sounds a rallying cry to public schools from K-12 to the collegiate level. He will encourage them to insist on an annual course covering the Declaration of Independence, affirming that "The time has come to reassert that we are Americans, and America is a learned civilization."
In a meeting with Republican Governors last month, Gingrich, a potential 2012 presidential contender, teased his grand scheme for conservative dominance.
"The great victories of 2009 and 2010 are only the beginning," Gingrich said. "The elections of 2011 and 2012 must create a Republican majority large enough and durable enough to replace the increasingly leftist political system which has dominated America since 1932."
Gingrich is expected to clarify on an upcoming program of five internet seminars that will educate state lawmakers across the country about how to catalyze his blueprint for a complete GOP takeover going into the 2012 elections.