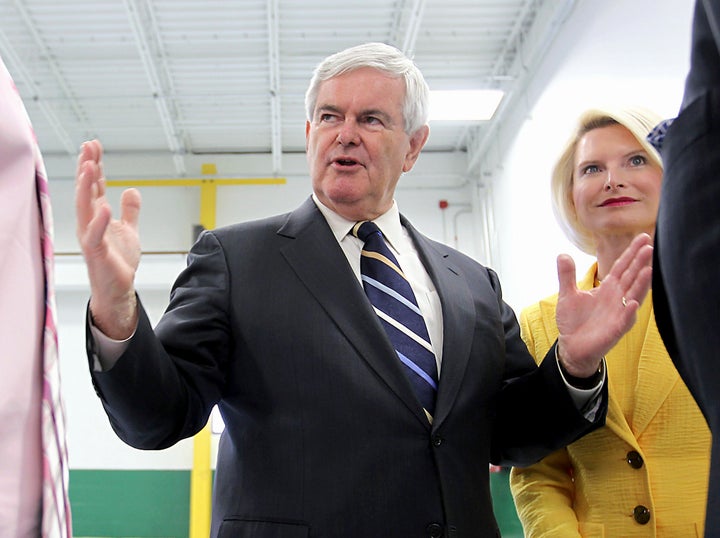 ATLANTA — Former House Speaker Newt Gingrich is blaming a mass resignation from his presidential campaign on a "strategic difference" concerning what strategy to employ in the race for the 2012 Republican nomination.
Speaking outside his house in suburban Virginia a day after several key aides quit, Gingrich said he's determined to stay in the race and that he won't be deterred by the instability in his campaign operation.
Gingrich said the differences involved campaign strategy. He told reporters, in his words, "There is a fundamental strategic difference between the traditional consulting community and the kind of campaign I want to run." He also said that "we'll find out over the next year who's right."
The Republican hopeful said in an interview with ABC News, "I'm prepared to go out and to campaign very intensely but I want a campaign on ideas and on solutions and I want to do it in a way that brings Americans together into a large movement."
But whether the former House speaker remains a viable candidate is now in serious doubt.
Already, his opponents in the Republican field are scrambling to capitalize on the upheaval, courting disillusioned Gingrich donors and picking off key campaign supporters.
News of the Gingrich staff exodus had barely registered Thursday before former Minnesota Gov. Tim Pawlenty was trumpeting word that one of Gingrich's national co-chairmen – former Georgia Gov. Sonny Perdue – had jumped ship and joined Pawlenty's White House campaign. Two top staffers who fled Gingrich's campaign – including campaign manager Rob Johnson – have close ties to Rick Perry, ramping up speculation that the brash Texas governor could jump into the unsettled GOP race.
In a statement, Gingrich maintained he's still in the contest.
"I am committed to running the substantive, solutions-oriented campaign I set out to run earlier this spring," he said shortly after word broke of the mass staff exit. "The campaign begins anew Sunday in Los Angeles."
He is set to deliver what is billed as a major foreign policy address to the Republican Jewish Coalition in Los Angeles and is then scheduled to attend a Republican debate Monday in New Hampshire.
But political strategists said the 67-year-old Gingrich – already mounting an uphill fight for the Republican nomination – now faces nearly insurmountable obstacles.
Rich Galen, a former Gingrich aide, said he doesn't believe his old boss can recover.
"It is coming to a quick and merciful end," Galen said, comparing Gingrich's comeback bid to "watching a really great prize fighter come back for one last fight that he never should have."
A political campaign in disarray will struggle to raise money and attract talented staff. On Thursday, Gingrich appeared to be leading a campaign without an infrastructure.
To be sure, presidential campaigns have gotten past staff shake-ups before.
Republican John McCain survived the resignation of several key staffers in 2007 and went on to win the Republican nomination the following year. Democrat John Kerry fired his campaign manager late in the 2003 race and locked up his party's nod in 2004.
But the sudden void in camp Gingrich cuts wide and deep. In addition to losing his campaign manager, senior adviser and longtime press aide, he also saw key staff in the pivotal early primary and caucus states of Iowa, New Hampshire and South Carolina head for the exits.
Perhaps most problematic for the former Georgia congressman is that the internal tumult laid bare on Thursday feeds into what many had already believed to be his Achilles' heel: that he lacks the discipline to make a serious run for the White House.
His campaign has suffered from a rocky rollout.
Within days of formally announcing he would run, he blundered on NBC's "Meet the Press" by suggesting he supported an individual mandate for health insurance coverage and criticizing a plan to remake Medicare that Republicans pushed through the House. Under attack from conservatives, Gingrich telephoned the author of the plan, Rep. Paul Ryan of Wisconsin, to apologize.
Fresh off a public relations brouhaha over news that he had a $500,000 line of credit at the upscale jeweler Tiffany's, Gingrich embarked on a long-planned cruise in the Greek Isles with his wife, Callista, aboard a luxury ship where former supermodel Twiggy reportedly was among the passengers.
He raised eyebrows by skipping the Faith and Freedom Conference in Washington, opting to send a video message instead. Making inroads with evangelical voters is a key a challenge for the thrice-married Gingrich, who has admitted to adultery.
And at the core of the dispute with aides was a sharp disagreement over strategy.
Gingrich is intent on using technology and splashy appearances at debates and national television programs to boost his prospects. His senior team argued he must still do the grass-roots appearances in key states.
"The visions were different and they were incompatible," said his longtime spokesman, Rick Tyler, who was among those who left.
In a meeting and conference call with his senior staff, aides said Gingrich refused to hand over his private schedule or to commit to spending the necessary time on the ground in pivotal states.
"You need to be here. You need to spend the resources here," said Craig Schoenfeld, Gingrich's Iowa director, explaining why he and five other full-time staff in the state stepped down. "The commitment wasn't there."
The disagreement reinforces Gingrich's image as a campaign dilettante, only in the race to promote his private mini-empire. Gingrich's campaign appearances have often coincided with screenings to promote documentaries he and his wife have produced. He has a new book on American exceptionalism set to hit bookstores on Monday.
Some say that while his prospects as a legitimate contender for the GOP nomination have dimmed, he still could have an outsized role in pushing the agenda and the debate.
"If he's running as provocateur in chief, this could actually help him," observed Dan Schnur, a former Republican strategist who now runs a political think tank at the University of Southern California.
And not everyone was running for the hills.
"Of course I'm not leaving him," former Georgia Gov. Zell Miller, a maverick Democrat and national co-chairman of Gingrich's campaign, said in an interview. "I'm as strong for him as ever, and that's strong."
Below, video of the interview Gingrich conducted with ABC News.
Popular in the Community