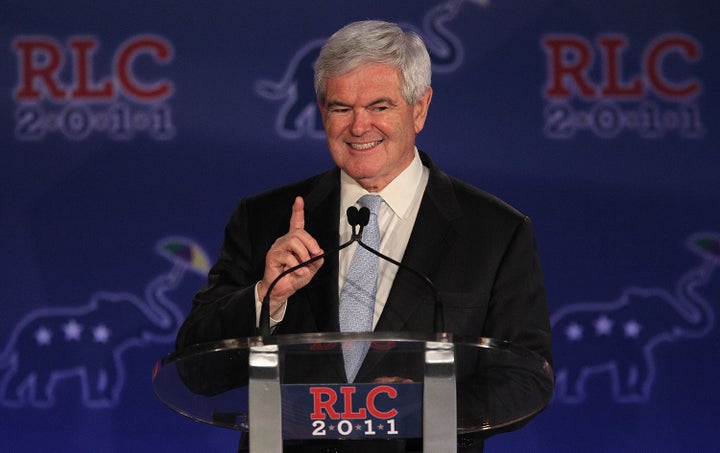 WASHINGTON--Not many Republicans play up their academic credentials. Count former House Speaker and struggling presidential candidate Newt Gingrich as one of the few who do. But has Gingrich emphasized his scholarly cred a little too much?
As of yesterday morning, Gingrich's biography on his campaign's website included this curious resume stuffer:
"He is also the longest-serving teacher of the Joint War Fighting course for Major Generals and taught officers from all five services as a Distinguished Visiting Scholar and Professor at the National Defense University."

Before Gingrich entered politics, he taught at West Georgia College. He has also long promoted his academic or pseudo-academic hobbies through his vast network of nonprofits and his production company which churns out a seemingly endless supply of remainder-ready tomes and glossy DVDs that appear to have all the production and education value of commemorative plates.
The Huffington Post called up National Defense University hoping to scoop up his curriculum, reading lists, and whatever else he produced as a "professor."
It turns out, according to NDU spokesperson David Thomas, Gingrich has never been a professor at the university. He taught no courses, kept no office hours, graded no papers. Thomas explained that Gingrich has simply guest lectured at the university for years. The school's president some time ago honored this volunteer work and issued Gingrich with the honorary title of "Distinguished Visiting Professor" and presented him with a certificate.
"I'm not going to quibble with the title in the speaker's bio," Thomas told HuffPost. "I would like to note the honorific carried with it no rights or benefits other than an indication of the university's gratitude for service over the years."
For several days, Joe DeSantis, Gingrich's campaign spokesperson, continued to claim the candidate's bio was correct. Tuesday morning, DeSantis sent an email saying that the campaign "decided to note the honorific nature of the title in his bio."
But DeSantis added: "We believe that to 99% of those reading, this is a distinction without a difference, but we are happy to add this for the sake of specificity. The change will be made today." The revised version does indeed include the change.
The campaign flack said that his boss lectured four times a year since the mid-1990s for one course at NDU; he also lectured during another course and as part of a lecture series. He stopped his guest lecturing last year to prep for his presidential run.
DeSantis also passed along a handout from one Gingrich lecture at NDU. It contained a bibliography that included five Gingrich books. At the top of the handout, there was a shout-out to Gingrich Communications. The spokesperson said that the campaign had no record of the actual speeches. Gingrich, he said, talked without notes.
Support HuffPost
The Stakes Have Never Been Higher
Popular in the Community