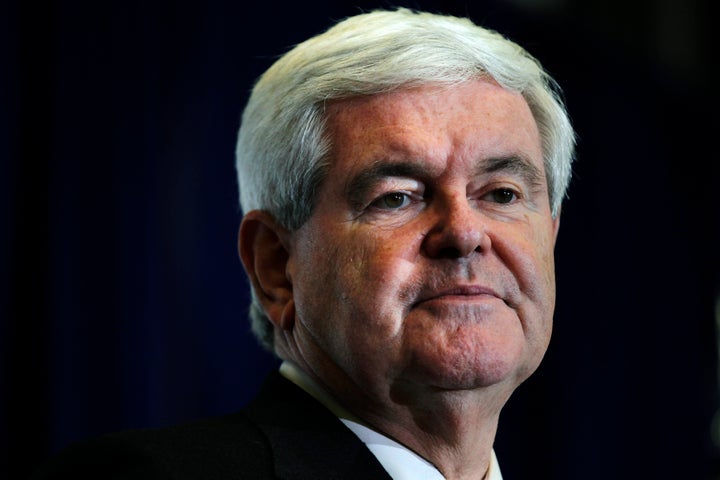 WASHINGTON -- When CNN's John King asked Newt Gingrich about his past infidelities during a South Carolina debate last week, Gingrich's thunderous response helped him win that state's primary.
The former House speaker dismissed the question, decrying media bias. But it turns out that for all his theatrics, he lied when attacking ABC News for reporting on allegations by his second ex-wife, Marianne Gingrich, that he asked her for an "open marriage."
"Now, let me be quite clear. Let me be quite clear. The story is false," Gingrich said last Thursday night in the debate. "Every personal friend I have who knew us in that period says the story was false. We offered several of them to ABC to prove it was false. They weren't interested, because they would like to attack any Republican."
Yet King reported Wednesday night that the Gingrich campaign had acknowledged that it had not offered ABC News interviews with anyone beyond the candidate's two daughters from his first marriage, Kathy Lubbers and Jackie Cushman. Lubbers and Cushman sent an open letter to ABC News on Thursday before the report with Marianne Gingrich aired, decrying the timing of the story. But they were also interviewed
by ABC that same day and their comments were included in ABC's report.
Gingrich, in fact, made his false allegation against ABC more than once, repeating it just hours before his campaign acknowledged to CNN's King that it was not true. During an interview with Univision's Jorge Ramos on Wednesday morning, Ramos pressed Gingrich about the allegations from Marianne Gingrich.
"You blamed the media for posing the question. Isn't that a fair question about your character?" Ramos asked.
"Sure," Gingrich said, in an answer that was newsworthy all by itself, since he avoided the same question from The Huffington Post in South Carolina last Friday. "And the answer is, it's not true. We offered several witnesses to ABC who said it was not true. ABC did not want any of the witnesses."
"ABC did a one-sided story, wanted no rebuttal, wanted to run it two nights before a primary, and we fought with them for several days over it, and just said, 'Look, give us equal time.' Okay?" Gingrich said. "Because it's a lie; it's not true."
Calling all HuffPost superfans!
Sign up for membership to become a founding member and help shape HuffPost's next chapter
BEFORE YOU GO