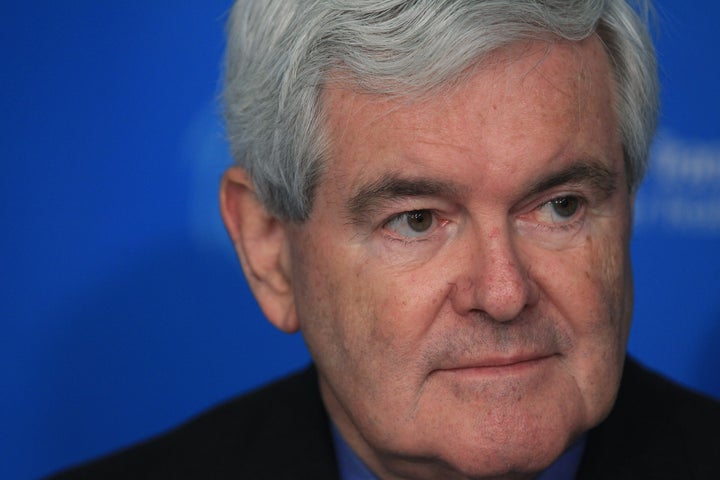 WASHINGTON –- Newt Gingrich spokesman Rick Tyler confirmed to The Huffington Post Thursday that he and other top aides to the Republican presidential candidate have quit, but said it was over a difference of campaign philosophies and not because they questioned his commitment to running an all-out campaign.
"It's not laziness," Tyler said by phone. "He's the hardest working person I know. It's just, I'll just leave it at our paths to victory are different."
"There were two visions, two paths to victory, and Newt's path and my understanding of the path to victory were different, and when that happens, then the candidate's vision has got to prevail," he added.
After nearly a dozen aides and staffers left Gingrich's campaign, he was also abandoned by former Georgia Gov. Sonny Perdue, who had been his national campaign co-chair. Perdue switched his support to another candidate, former Minnesota Gov. Tim Pawlenty.
"Tim Pawlenty is a great man, he was a phenomenal governor, and he is the person I now believe stands the greatest chance of defeating President Obama," Perdue said in a statement released by the Pawlenty campaign. The release noted that "until today, Gov. Perdue was Newt Gingrich's national campaign co-chair."
The colossal implosion pushed Gingrich's candidacy to the brink of collapse, though he maintained he will continue his campaign.
Less than an hour after news broke of the mass departure, Gingrich wrote on his Facebook wall, "I am committed to running the substantive, solutions-oriented campaign I set out to run earlier this spring. The campaign begins anew Sunday in Los Angeles."
Gingrich will speak to the Republican Jewish Coalition Sunday in Los Angeles, and he will presumably take part in the second GOP primary debate on Monday in Manchester, N.H.
Gingrich aides were quoted as saying that the former House speaker from Georgia's decision to go on a cruise to the Mediterranean over the last two weeks was the final straw for them. Tyler said he understood that the timing looked bad, but said the major cause of discord was over how to run the campaign.
"The expectation of what a candidate is was a little different, and the expectation of the time commitments," he said. "I don't want this to be misinterpreted. Newt is the single most energetic person I've ever met in my life. He will wear out staffers three years younger than he is."
Craig Schoenfeld, who quit his post as Gingrich's executive director in Iowa, was more explicit in comments to the Des Moines Register about the candidate's lack of commitment to fundraising and retail politics.
"You have to be able to raise money to run a campaign and you have to invest time in fundraising and to campaign here in the state and I did not have the confidence that was going to be happening," Schoenfeld said. "I've seen the schedule for June and July going into the straw poll. It's clear there wasn't a path to success."
But Gingrich's problems with fundraising likely also prompted his aides to jump ship.
"Money's been the problem since day one because the announcement was flawed, the mistakes were big, and then he went away for two weeks," said a veteran Republican consultant who knows many of the Gingrich players well. "There hasn't been one big money person who has committed to raise money for him."
After Gingrich criticized Rep. Paul Ryan (R-Wis.)'s plan to overhaul Medicare in May, donations to his campaign dried up, making his already difficult path to the nomination even more problematic.
Politico reported that Gingrich wanted to communicate from more of a pedestal, through debates and other more visible forums, while his aides wanted him to focus more on meeting voters personally.
Tyler declined to discuss those details, and also did not want to discuss how Gingrich reacted when he and other top aides broke the news that they would no longer be working for him.
"I don't want to get into that," he said.
Other national aides to leave Gingrich Thursday include campaign manager Rob Johnson, strategists Dave Carney and Sam Dawson, as well as his state directors in Iowa, Craig Schoenfeld, and South Carolina, Katon Dawson.
The Register reported that several Iowa aides quit as well: deputy director Katie Koberg, coalitions director Page Thorson, and field staffers Daniel Weiser, Ryan Kelle and Joe Heuertz. The state political director in Iowa, Will Rogers, departed more than a week ago on May 31, the paper said.
Joe DeSantis, who previously worked for Gingrich at his American Solutions PAC, is remaining with the candidate to handle communications. "I am absolutely still on this campaign and looking forward to a fresh start," he said.
Tyler, who worked for Gingrich for 12 years, said he remains on good terms with the candidate.
"I have great admiration and deep respect for Newt," Tyler said. "I hope he does well and I think he'd make a good president and I hope he finds, you know, the path forward and I hope he finds people who can get him there. I really do. I wish him the best."
This article has been updated to include comments from Joe DeSantis and Sonny Perdue.
Popular in the Community