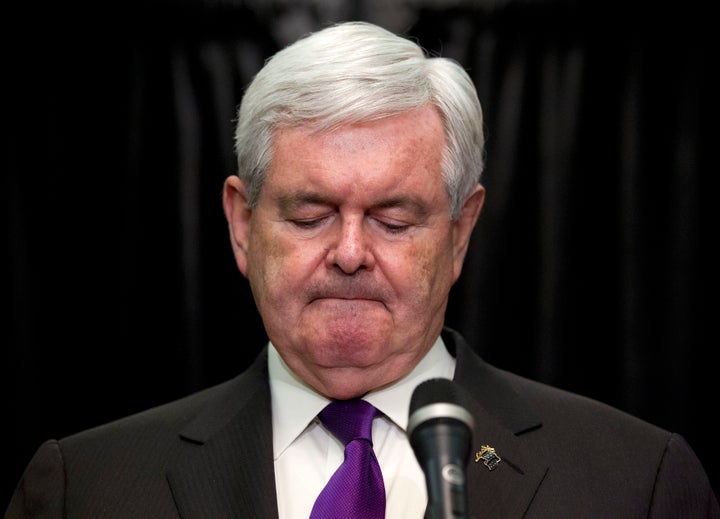 May 22 (Reuters) - ATLANTA - When he entered the race for the Republican presidential nomination in May 2011, Newt Gingrich was the prosperous head of a small empire commonly known as Newt Inc, which included both for-profit consultancies and nonprofit foundations. Altogether, these entwined ventures pulled in more than $110 million over the past decade. Now the vestiges of this empire are mired in debt, as is Gingrich's campaign fund. A bankruptcy proceeding under way in Atlanta will determine whether the one company still owned by Callista Gingrich, Gingrich Productions, will lose an expected payout that now constitutes the bulk of the Gingriches' net worth.
The bankrupt corporation is the Center for Health Transformation, whose revenues came from the hefty dues paid by corporations for assistance in formulating and promoting certain healthcare policies.
By the time Gingrich sold his majority stake in the center to three associates last May, it had been hemorrhaging clients and facing "cash-flow issues" for roughly a year, according to testimony on May 9 before a U.S. bankruptcy trustee in Atlanta. With the candidate poised to sever ties with the center for the sake of his run for office, it faced an even less certain future.
Nonetheless the three longtime colleagues agreed to pay Gingrich $6.4 million for his stake in the center.
The purchase of Gingrich's share was made with a promissory note to be paid in monthly installments of $100,000 over six years. Little of that debt had been paid when the center declared bankruptcy last month. As an unsecured debt, the note, it now appears, is likely to go unpaid.

SPOOKED BY PUBLICITY PROSPECT
The Gingrich Group bankruptcy proceedings spotlight the remarkable reversal of fortune of the half-dozen organizations associated with Gingrich. The presidential contender recently ended his campaign $4.8 million in debt. A political nonprofit he headed, American Solutions for Winning the Future, which raised $52 million between its founding in 2007 and its dissolution last July, also ended in debt.
The decline of the health policy center began earlier than previously realized. When Gingrich began considering a presidential bid in early 2010, "the membership began to drop off," according to Nancy Desmond, who served as managing partner of Gingrich Group LLC, which did business as the Center for Health Transformation. She was one of three owners of the company, but as the managing partner she alone testified at the May 9 meeting of creditors on the third floor of the Richard B. Russell Federal Building.
Opened in 2003, the center pulled in $59 million over nine years from more than 300 companies, some of which paid as much as $200,000 in dues. Among its activities, the center and Gingrich helped push a mandate requiring everyone to carry health insurance. At the time, the position was beneficial to the center's healthcare industry members, but Gingrich later repudiated it as a candidate.
Desmond said revenues fell from just under $7 million in 2010 to $4 million in 2011 and then to less than $300,000 in the first quarter of this year. Some $1.2 million in dues that had been expected earlier this year never materialized because those members also decided not to renew. By March the center was no longer able to pay the rent on its suite of offices in Atlanta and Washington.
In April it declared bankruptcy, leaving almost $600,000 in debts to outside vendors, half of it to Chain Bridge Bank, a boutique lending institution in McLean, Virginia, headed by former Republican Senator Peter Fitzgerald of Illinois. The company also owes the $6.4 million to Gingrich and his wife, Callista, neither of whom could be reached for comment.
During the creditors' meeting, bankruptcy trustee Barbara Stalzer noted that the center's tax returns showed it had been solvent as recently as the end of 2011. "How did it go from a 2011 tax return that seemed like everything was up to date and three months later it filed bankruptcy?"
Desmond replied that corporate members who were attracted to Gingrich as a policy promoter were worried about getting caught in the glare of the presidential campaign. "There were a lot of stories that began to appear in the paper, and (members) didn't necessarily want to be mentioned in a political story because they weren't political people. They were business people."

Once Gingrich decided to run for president early in 2011, he legally unwound a cluster of for-profit and nonprofit entities.
The biggest transaction of this overhaul was the $6.4 million sale of Gingrich's 63 percent stake in the center to its three minority owners: Desmond, longtime Gingrich staffer Joe Gaylord and Steve Hanser. All three have been in Gingrich's orbit for decades.
Hanser taught history with Gingrich at the University of West Georgia in the 1970s. Desmond was his congressional chief of staff from 1993 to 1998. Gaylord's role in that office became part of the investigation that led to Gingrich's 1997 reprimand as House speaker for providing inaccurate information to the ethics committee. "Other than his wife and family, Joe Gaylord is the most important person in Newt's world," Frank Luntz, a pollster who has worked with both men, was quoted as saying in 1995.
In a financial disclosure report filed last July in connection with his presidential campaign, Gingrich's net worth was between $6.7 million and $30.1 million. By far his largest asset was the promissory note, which he valued at between $5 million and $25 million, selecting from the broad ranges provided on the disclosure form.
Reuters called several of the attorneys representing creditors at the May hearing. They either declined to comment or didn't respond to phone calls. Stalzer, the trustee, also did not return phone calls, along with Desmond and Gaylord. (The latter took control of American Solutions when Gingrich severed his ties to the organization last May.) George Geeslin, the bankruptcy attorney representing the center, declined to be interviewed for this story.
Hanser, who has a 19 percent stake in the company, said the center made no profit over the last two years and that all he got during that period was $17,500 in board fees - $2,500 each quarter.
Asked what happened to the $11 million the center took in during 2010 and 2011, Hanser, an 80-year-old retired history professor who lives in Ashville, North Carolina, said, "That's a very interesting question. I hope you get an answer. I really don't know."
Prior to the May 2011 sale, Hanser had a 7 percent stake in the Center for Health Transformation, and Desmond and Gaylord each had 15 percent. The remaining 63 percent belonged to Gingrich Holdings, wholly owned by the former House speaker. After the sale, Desmond and Gaylord each owned 40.5 percent of a new company called Gingrich Group Inc. Hanser had 19 percent.

Hanser explained that when he, Desmond and Gaylord agreed to buy the center, they expected to sell it the same year, with the new buyer picking up the payments on the promissory note to Gingrich Productions and each of them getting something for their stake in the company. But negotiations with a buyer broke down, he said, declining to say who it was.
Membership had fallen off because Gingrich was less involved, he added. "Newt was the attraction"; he had "a big, magnetic personality, especially in the board room."
Lawyer Stefan Passantino of Atlanta's McKenna, Long & Aldridge LLP designed the overhaul of "Newt Inc" a year ago and has represented most of the entities associated with it at one time or another. Today he represents Gingrich Productions and McKenna Long as creditors in the bankruptcy.
At the time the note was made, he said, all parties believed that despite the dwindling revenue and collapsing membership, somehow the Center for Health Transformation would emerge as a profitable enterprise and the note would be paid off.
"The anticipation was that Gingrich Group might have to go through something of a transformation process of its own, but there was a significant amount of optimism that it would be successful in doing so," Passantino said.
The terms of the sale called for the center to pay Gingrich Productions, owned by Callista Gingrich, $100,000 a month for six years. The payments covered the $6.4 million promissory note plus interest charges.
But the center paid Gingrich Productions only $250,000 before cash-flow problems made it impossible to continue. Desmond told the bankruptcy trustee that $100,000 of that was for management fees prior to the sale, and $150,000 went toward the promissory note after the sale. Because all of the $150,000 was applied to interest on the loan, she added, the balance owed to Gingrich Productions remains $6.4 million.
Robert Bartlett, a bankruptcy attorney representing the center's Atlanta landlord, noted at the hearing that the $6.4 million price tag for 63 percent of the company put the company's overall valuation in excess of $10 million.
How did they arrive at that figure, he asked? Gingrich Holdings set the price, Desmond replied. "They were the managers at that point."
The center also owes creditor McKenna Long $84,000. The firm has represented many of the Gingriches' political, for-profit and nonprofit enterprises.
Private jet charter company Moby Dick Airways Ltd of Sterling, Virginia, is owed $31,000. Separately, Gingrich's campaign - which is deeply in debt - owes Moby Dick $1 million, according to Federal Election Commission records. A Gingrich nonprofit political group, American Solutions for Winning the Future, paid Moby Dick Airways $6.5 million for private jet travel before it closed its doors last year.
Court documents list 64 creditors in the Center for Health Transformation bankruptcy, including the state of Missouri for income taxes ($894) and two Atlanta hotels - the St. Regis ($46,000) and Ritz Carlton ($8,500).
Benjamin Carlsen, an Atlanta attorney representing Chain Bridge Bank ($283,000), asked Desmond about the hotel expenditures.
"We had quarterly member meetings we tended to hold in very nice places," she explained.
The May 9 meeting is just the first step in the process of sorting out which creditors are likely to be repaid and how much. Court records show the company has about $78,000 in assets, including furniture and unsold self-published books and self-produced videos. (Additional reporting by Lisa Schwartz; Editing by Lee Aitken and Prudence Crowther)

Popular in the Community