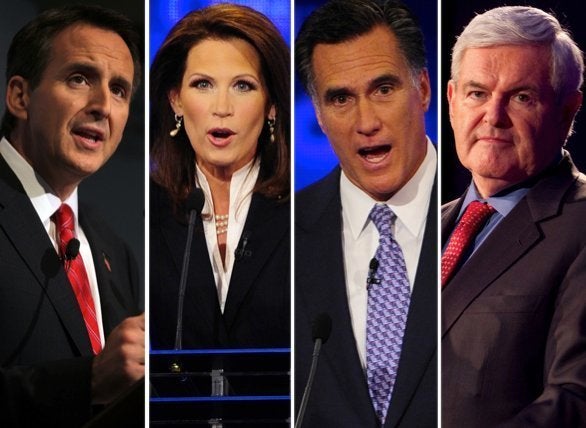 WASHINGTON – All the 2012 Republican presidential candidates have said they disagree with the Dodd-Frank legislation, and that sentiment has only hardened as the law has slowly taken shape over the past year.

But only one candidate -- who is ridiculed as a non-factor in the race -- is actually saying anything of substance about it: former House Speaker Newt Gingrich (R-Ga.).
Gingrich stands alone as the sole 2012 hopeful to level specific criticisms at the law on a regular basis. He published a 924-word broadside against the bill on Wednesday morning for Human Events, a conservative publication.
"Dodd-Frank is crippling any recovery in the housing market with overly strict requirements on lenders combined with uncertainty for community banks," Gingrich wrote on the Human Events website. "By cementing the two main roadblocks to recovery, uncertainty and low consumer spending, Dodd-Frank has done exactly what Republicans predicted it would."
Gingrich's candidacy is weighed down by $1 million in debt, and the shadow of an exodus in June by most of his top aides still hangs over him. His poll numbers have remained respectable, but many observers question his ability to continue the campaign due to financial constraints.
If Gingrich does drop out, he may leave behind a road map for his fellow Republicans to follow if they want to show more chops in their criticisms of Dodd-Frank.
Gingrich wants to repeal the entire law. But that is where the similarities between him and the rest of the field begin, and end. The other candidates either say they want to repeal it because it's burdensome regulation, or -- like former U.S. Ambassador to China Jon Huntsman -- they say it's bad but they don't know if it should be repealed or not.
Former Massachusetts Gov. Mitt Romney is in the minority of candidates who say the law should be "overhauled" rather than repealed.
"Governor Romney believes the Dodd-Frank legislation will lead to more bureaucracy, more red tape, and more uncertainty, which places the American economy at a competitive disadvantage, and it needs to be overhauled," Romney spokeswoman Andrea Saul told The Huffington Post.
But Romney himself did not name any specific provisions of the law when he was asked why he opposed it at a July 6 press availability in New Hampshire.
"I'll give you more detail as the campaign goes on, but this bill was too overreaching and too massive and has contributed to a slowdown in lending," he said.
Rep. Michele Bachmann (R-Minn.) and former Minnesota Gov. Tim Pawlenty both want, like Gingrich, to repeal the Dodd-Frank legislation in one stroke.
One private equity executive who is intimately familiar with the details of Dodd-Frank scoffed at the level of the conversation among the GOP candidates.
"They haven't been told what to say yet," he said, noting that as the campaign heats up, certain "buckets" of the law, such as the Consumer Financial Protection Bureau, might come into the candidates' crosshairs.
Jim Rickards, an investment banker and risk manager at Omnis Inc., agreed.
"Most of Dodd-Frank is a little too technical for the candidates at this stage," Rickards said by email. "It's the ultimate insider game and does not really resonate in terms of the presidential race."
So for now, most of the artillery aimed at the sweeping law is coming from Capitol Hill and K Street.
There are currently about two dozen laws under consideration in Congress to dismantle parts of Dodd-Frank, Republicans are holding up nominations to agencies with key roles in implementing the law and trying to withhold federal funding for those purposes, and as much as $50 million in lobbying fees has been spent so far this year to change or influence the law, according to The New York Times.
"The Hill action has been driven by lobbyists and revolves around highly arcane things like swipe fees and consumer regulation (important financially but way too inside for national politics) or even more technical things like proprietary trading, swap risk, etc," Rickards wrote.
Treasury Secretary Tim Geithner wrote in a Wall Street Journal op-ed Wednesday that "many of those who fought reform during the legislative process are now trying to slow down and weaken rules, starve regulatory agencies of resources, and block nominations so that they can ultimately kill reform."
"We will not let that happen," Geithner wrote.
Gingrich's argument against the bill focuses on two key components: lending standards and mortgage requirements.
The attempt by Dodd-Frank's authors to prevent another systemic financial collapse led to "too big to fail" rules that classify the largest banks as "systemically important." Gingrich has said this will create "two classes of banks." The largest banks will be seen by investors as having an implicit federal guarantee and will soak up the majority of the cash and equity. Smaller banks, meanwhile, will suffocate under the raft of new regulations, according to Gingrich.
As for mortgages, lenders and originators have an incentive to push for qualified residential mortgages, which are federally guaranteed. Otherwise the lenders have to retain 5 percent of every loan sold to the second market, which helps them alleviate the cost of business. But new rules require homebuyers to put up 20 percent of the sale price as a down payment for any qualified residential mortgage. That is something that is out of reach for many middle class homebuyers.
So, Gingrich and some others say, the law is retarding loans and slowing down any improvement on the demand side of the housing market, which contributes to sustained low prices.
As for the other Republican presidential candidates, their diagnoses have been either simplistic or noncommittal.
"Congress must protect the taxpayers, instead of handing out favors to Wall Street," Bachmann said while introducing her legislation in January to fully repeal the bill.
Huntsman, in a June 15 phone conversation with college students supporting his candidacy that was recorded and provided to HuffPost, said he does not know whether he thinks the bill should be repealed or not.
"It does in fact hinder business and that needs to be quantified, particularly for small and medium size businesses, and out of that then you get an answer on whether or not it should be repealed or whether or not you can work with it in its current context," Huntsman said. "I just don't have an answer on that because I don't have enough data on whether you can actually rebuild it from within."
A Huntsman spokesman did not respond to questions about whether Huntsman has made up his mind on the issue since then.
Popular in the Community