WASHINGTON -- Newt Gingrich walks into a room, still short of breath from the three-flight walk-up that leads to the National Review Washington bureau, and sits down next to bureau chief Robert Costa.
Former House Speaker Gingrich, 69, briefly shakes hands with the small group of reporters invited to the early morning session Thursday. Then almost immediately, he launches into a soliloquy on how his grogginess is caused by his favorite TV show -- which just so happens to be an apt metaphor for why the Republican party is in trouble.
"I have to tell you, I'm slightly not awake yet because once again last night we watched an additional episode of 'Downton Abbey,'" Gingrich says. "One night last week we were up until two in the morning because it was one of those, 'We have to see the next one.'"
"We're trying to finish it this week," he adds. (Gingrich's obsession with the show was evident even a year ago when he released a photo of his campaign advisers that looked similar to the show's promotional materials).
Downton, he says, is "a great study in plot."
"We'll get back to Republicans in a second, because there's actually a lesson in this -- 'Downton Abbey' is about 15 subplots, plus four or five that come and go," he continues. "At any given moment, you could list all these different developments going on with these different personalities, and then occasionally someone will come in and go out again.
"I mean it's just sort of MTV designed into long form," he says. "They have enough different things going on that your mind never gets bored."
He then launched into his love of James Bond movies, saying, "We saw 'Skyfall' recently and I was very impressed with how well it was done, so I went back and looked at a couple of the early Bond films which I love because they're part of, you know, my life."
Gingrich pauses for effect, then says with emphasis: "They're really slow."
Next he brings it home, in classic Gingrich style. "This is part of the Republican Party's problem, is that it's kind of a silent film, black-and-white short, in an age when people are used to quadraphonic sound, jump cuts, full color and HD," he says.
Gingrich exhales a bit, finally having caught his breath from the stairs, and remarks slyly: "How's that for a start?"
The Republican from Georgia never lacks self-regard. He can't help being a little impressed with himself, but it's more than that. He is genuinely interested, fascinated even, in the subject matter he chooses to delve into. And so for nearly 20 minutes, Gingrich talks without taking a question about his current obsessions: driverless cars, Google glasses, fracking, making college education accessible online, Gavin Newsom's book on a digital reinvention of government and the Republican National Committee's recent "Growth and Opportunity" report. He calls the report a "very good first step" but says that real change "requires a resetting of the Republican party."
When the conversation turns to pure politics, Gingrich tunes out a bit. Asked to comment on reports that he and former Sen. Rick Santorum (R-Pa.) had been in talks to form a unity ticket during the 2012 Republican primary, but that he insisted on being at the top of the ticket, Gingrich shrugs off the question.
He acknowledges that "there was a serious effort to find an alternative to [Mitt] Romney," and for a moment delves into talk at the time of dividing up states between he and Santorum to try to prevent Romney from winning the nomination. But when Costa presses him on wanting to be in the number one spot, with Santorum as the number two, Gingrich shows no more interest in discussing the idea.
"It was a joke," he says.
One of the topics that does draw a more sober tone from Gingrich is the gay marriage debate. Back in December, Gingrich took much more affirmative tack on the topic in an interview with The Huffington Post, saying that "the reality is going to be that in a number of American states -- and it will be more after 2014 -- gay relationships will be legal, period."
After watching the debate take shape over the last few months, however, Gingrich's focus now is on religious liberty, and he has extremely strong words to describe the danger he sees from gay marriage proponents.
"The great danger, I think today, is that you're going to see a real drive to outlaw and limit Christianity, to limit it, to say, 'It's ok to be a Christian as long as you're not really Christian.' It's a very serious problem," he says. "You look at the various hate language arguments, you look at [how] the Catholic church cannot have an adoption service that obeys Catholic law. So you can't actually have an adoption service that's run by Catholics unless they're willing to be not Catholic." (This is a reference to developments over the past several years in Massachusetts, Illinois and D.C.)
"And I think that should bother people, that you're now seeing a secular tyranny begin to set in that is very dangerous, and we need to have a national debate about it," he says.
Gingrich's view of who has the momentum in the gay marriage debate also seems to be in a different place now than it was a few months ago.
"I'm actually intrigued as a historian for how long this cycle will last, because if you look at the long history of Christianity and the long history of traditional religions, you know, things come and go. Overall, betting on the historic survival of the Bible has been a reasonably good bet now for several thousand years," he says. A few moments later he describes the gay marriage debate as "one more fight in the long struggle between paganism and Christianity."
Gingrich moves back to politics. He mentions he is going to give a speech in May in South Carolina, the state that he won in the 2012 primary, shocking the Romney campaign. And he doesn't rule out another run for president in 2016.
"I don't rule it out, but we're not spending any energy on it," he says. He adds: "My instinct is that there will be a new generation of ideas, and a new generation of candidates. That's my instinct. But, you know, I would like to be somebody who plays a role in developing a new generation of ideas."
As the session wraps up, Gingrich accepts a compliment about how much fun his campaign was to cover in 2012, and adds a note of agreement to it.
"Right after I stepped down as speaker I was up here one day doing something," he recounts, "and this one reporter looked up and said, 'We miss you so much. It was so much easier to figure out stories to write when you were here.'"
Before You Go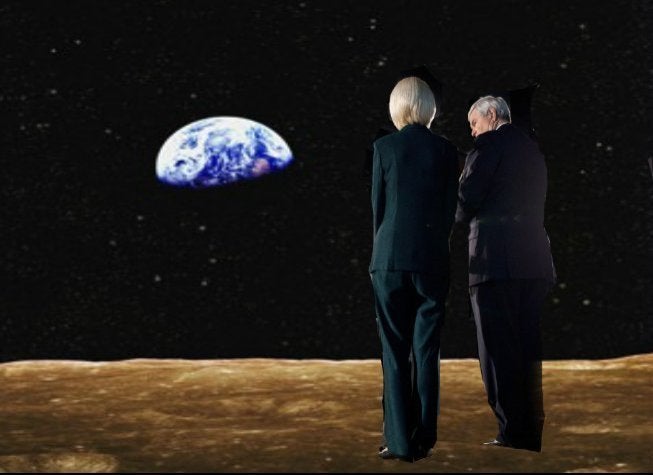 Newt's Vision For Life On The Moon
Popular in the Community