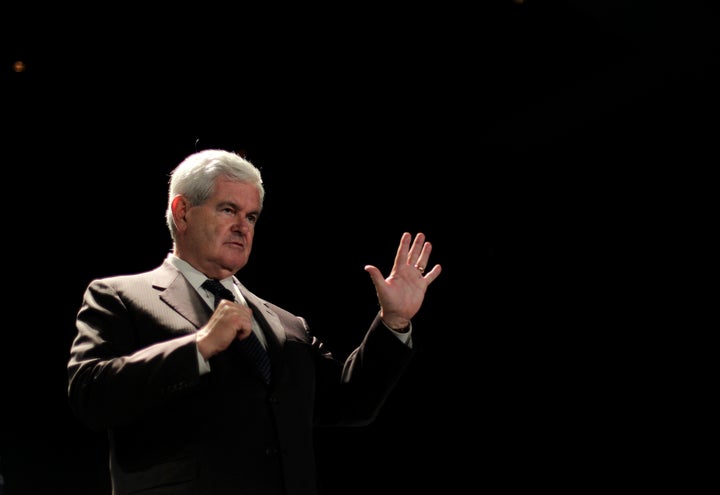 WASHINGTON -- Long before he was a GOP presidential candidate, Newt Gingrich knocked the Bush administration for its effort to ensure all workers -- regardless of immigration status -- were paid for their work in the aftermath of Hurricane Katrina.
"The government of the United States is currently insisting that everybody in the Katrina recovery make sure they pay all of their illegal workers," he said in an April 2006 speech at the American Enterprise Institute. "Now again, I am not for cheating anybody who came here, but I just want to suggest to you, this is so out of touch with reality, that it's baroque. It makes no sense at all. In a country which wants to crack down on illegality, the United States government is helping it."
Gingrich's position in 2006 doesn't necessarily jibe with the statements he has made during the Republican presidential debates, many of which have prompted his opponents to brand him as a supporter of some type of amnesty. But the truth of the matter is that those debates have left many questions unanswered about the immigration reform policies he would pursue as president. A review of his past speeches and policy pronouncements offers more specifics, filling in details about how he would deal with the estimated 11 million undocumented immigrants living in the United States.
On border enforcement, Gingrich has joined with other candidates who insist a fence along the U.S.-Mexico border is the first step toward solving the problem of unauthorized immigration. He signed a pledge earlier this month to build a double fence along the border within his first year as president. The pledge has only been signed by one other candidate, immigration hardliner Rep. Michele Bachmann (R-Minn.), and allows the two to tout themselves as the toughest on border security.
In fact, Gingrich's 2006 policy position on the border specifically says that a full fence along the border is unnecessary. Instead, he said the government should "pick some easy wins" in high-traffic areas and build fences there, using technology to detect illegal border-crossers elsewhere.
"I think where there are large concentrations of people, you have fences," he said in his 2006 American Enterprise Institute speech. "Where there are not large concentrations of people, you have electronic devices. I think you apply the amount of manpower you need to do the job."
For those undocumented immigrants already living in the country, Gingrich's tone has remained consistent over the past five years. In 2006, he said, "running around trying to deport people ... is not a sustainable policy. I think it is an anti-human policy." In 2011, he has said undocumented immigrants should be treated in a "humane" way, advocating legalization -- though not citizenship -- for some long-time immigrants.
"If you've been here 25 years and you got three kids and two grandkids, you've been paying taxes and obeying the law, you belong to a local church, I don't think we're going to separate you from your family, uproot you forcefully, and kick you out," he said on a recent CNN debate.
In a June 2007 document entitled "Ten Simple, Direct Steps to a Legal American Immigration System," Gingrich wrote that he wanted to send all undocumented immigrants home before allowing some to return with legal status, rather than allowing some to remain in the United States at the discretion of citizen review boards as he advocates now.
"[T]hey should be required to go home and get the visa at home," he wrote. "This way they are beginning their new career in America by obeying the law."
Gingrich is a long-time supporter of some type of immigration reform, but he insists the 2006 bill put forward by Sens. John McCain (R-Ariz.) and Ted Kennedy (D-Mass.), and supported by then-President George W. Bush would legalize too many undocumented immigrants.
He offered up support in 2010 for an immigration reform plan by the president's brother, former Florida Gov. Jeb Bush, who is considered a moderate on immigration among Republicans. The Bush plan calls for comprehensive immigration reform including legalization for some undocumented immigrants already in the United States. That plan is largely similar to the one Gingrich is touting during his campaign, recommending a major reform of the employer-based visa system, increased border enforcement and crackdowns on employers who hire undocumented workers.
Gingrich's 2010 statements point to a consistent view that some of the country's undocumented immigrants should be given a chance to stay, a position that has put him at odds with a current GOP field that largely stresses deportation over fixing the immigration system.
"I am for immigration reform and the person who I think has had the most courageous position in this is Jeb Bush," he told Univision's Jorge Ramos in October 2010. "Jeb Bush is co-author of a report on immigration reform, which is much bolder than the Republicans will be ready to be in Washington, but he moves us in the right direction."
Calling all HuffPost superfans!
Sign up for membership to become a founding member and help shape HuffPost's next chapter