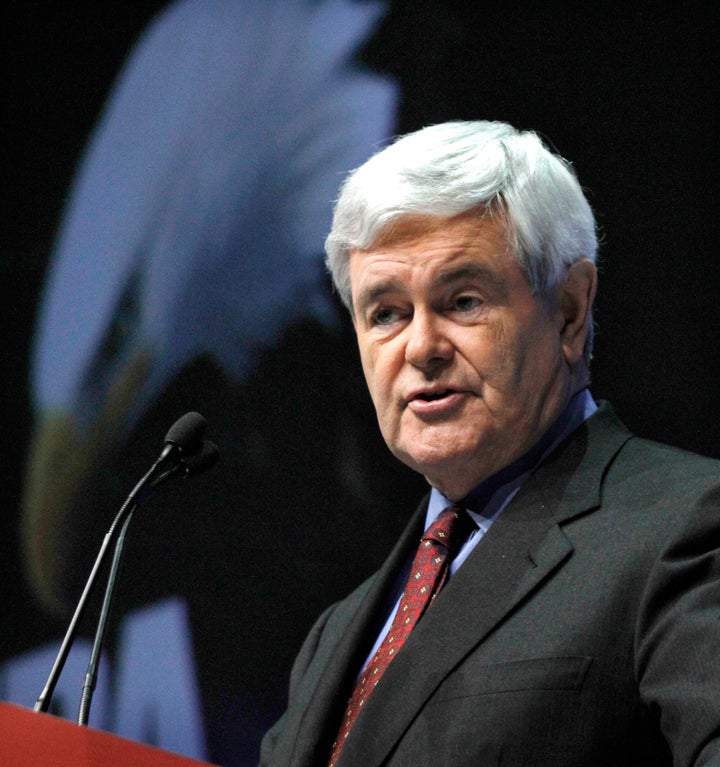 WASHINGTON -- Former Massachusetts Gov. Mitt Romney (R) is set to defend his state's health care law from conservative critics in a high-profile speech on Thursday. But Romney is far from being the potential 2012 Republican presidential contender with the most politically problematic record on health care.
In his post-congressional life, Gingrich has been a vocal champion for mandated insurance coverage -- the very provision of President Obama's health care legislation that the Republican Party now decries as fundamentally unconstitutional.
This mandate was hardly some little-discussed aspect of Gingrich's plan for health care reform. In the mid-2000s, he partnered with then-Sen. Hillary Clinton (D-N.Y.) to promote a centrist solution to fixing the nation's health care system. A July 22, 2005, Hotline article on one of the duo's events described the former speaker as endorsing not just state-based mandates (the linchpin of Romney's Massachusetts law) but "some federal mandates" as well. A New York Sun writeup of what appears to be the same event noted that "both politicians appeared to endorse proposals to require all individuals to have some form of health coverage."
Neera Tanden, an aide to Clinton at the time who went on to help craft President Obama's law, said she couldn't recall exact speeches, but "strongly" believed that the both Clinton and Gingrich backed the individual mandate. Either way, she added, "Gingrich has been known as a supporter" of the idea for some time.
A simple newspaper archive search bears this out. At an Alegent Health event in Omaha in 2008, Gingrich said it was "fundamentally immoral" for a person to go without coverage, show up at an emergency room and demand free care.
During the keynote address to the Greater Detroit Area Health Council's annual Health Trends Conference in April 2006, Gingrich said he would require Americans earning above a certain income level to buy health insurance or post a bond, the Detroit Free Press reported.
In a June 2007 op-ed in the Des Moines Register, Gingrich wrote, "Personal responsibility extends to the purchase of health insurance. Citizens should not be able to cheat their neighbors by not buying insurance, particularly when they can afford it, and expect others to pay for their care when they need it." An "individual mandate," he added, should be applied "when the larger health-care system has been fundamentally changed."
And in several of his many policy and politics-focused books, Gingrich offered much the same.
In 2008's "Real Change," he wrote, "Finally, we should insist that everyone above a certain level buy coverage (or, if they are opposed to insurance, post a bond). Meanwhile, we should provide tax credits or subsidize private insurance for the poor."
In 2005's "Winning the Future," he expanded on the idea in more detail: "You have the right to be part of the lowest-cost insurance pool and you have a responsibility to buy insurance. ... We need some significant changes to ensure that every American is insured, but we should make it clear that a 21st Century Intelligent System requires everyone to participate in the insurance system."
"People whose income is too low should receive Medicaid vouchers and tax credits to buy insurance," he continued. "Large risk pools (association health plans are one model) should be established so low-income people can buy insurance as inexpensively as large corporations. Furthermore, it should be possible to buy your health insurance on-line to lower the cost as much as possible."
It wasn't just insurance coverage mandates that Gingirch supported. According to a July, 21 2005 Gannett News Service article, the Georgia Republican also said that he would have Congress mandate physical education five days a week for all elementary and high school pupils as a way of combating obesity and diabetes. Such a vision of health care reform seems drawn from the same philosophical threads as the plan that President Obama signed last spring -- as well as from the first lady's campaign to improve children's health.
But Gingrich has joined his Republican colleagues in harshly criticizing the work of the current president, calling the Affordable Care Act "madness" and "indefensible," pressing for it be repealed and defunded and praising the efforts of several state attorneys general who are challenging the constitutionality of the individual mandate.
Spokesmen for Gingrich did not return an email request for comment on his support for federally-applied, individual mandates.
Ed Haislmaier, a health care policy expert at the Heritage Foundation (the conservative think tank that first championed the mandate), said he did not have enough information to comment on Gingrich's past approach to health care reform. Haislmaier did, however, note that there is a distinction between taxing individuals for not buying insurance and requiring them to post a bond, as Gingrich proposed. While the former is a penalty for not getting coverage, "what [the latter] is saying is you have to pay your bills if you get care," he said.
A bond, as Haislmaier noted, is exactly what Romney initially proposed while he was governor of Massachusetts. Romney ended up signing off on a more traditional mandate only after it was passed by the state legislature.
For that signature, Romney now faces a major trust deficit among conservatives. In advance of his Thursday speech, the Wall Street Journal ran an editorial calling him Obama's "running mate," a candidate who was at once "compromised and not credible."
The speech is, if nothing else, a testament to how far the conversation over health care has moved in such a short period of time. When Romney signed his bill into law, the Associated Press published a story titled " Mass. Health Care Plan Riles Some Liberals." In it, John Sweeney, the then-president of the AFL-CIO -- the labor federation which has become a defender of the individual mandate -- decried the idea that "workers were being forced to purchase health care coverage or face higher taxes."
Romney, Sweeney added, was taking "a page out of the Newt Gingrich playbook."
Popular in the Community