 The wave of ads left Gingrich complaining on Sunday that he had been "Romney-boated" and suggesting that his main rival would "buy the election if he could."
How much impact did the negative ads have? The answer is difficult to quantify, since news coverage that repeated and added validity to many of the attack lines helped cut Gingrich's support nationwide. But the sheer volume of attacks advertising aired against Gingrich is staggering.
An analysis shared with the The Huffington Post by Kantar Media's Campaign Media Analysis Group, a company that monitors all television advertising, found that nearly half of the political advertisements aired in Iowa since December 1 were anti-Gingrich.
CMAG's Ken Goldstein told HuffPost via email that more than half (51 percent) of all the political ads aired in Iowa in December focused on Gingrich. "Unfortunately for him," Goldstein wrote, "most of the ads have been aired by his opponents -- with fully 45 percent of all advertising in Iowa attacking Gingrich."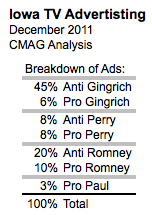 Perhaps even more telling: The negative spots attacking Gingrich amounted to more than twice the number of positive ads run on behalf of Mitt Romney, Rick Perry and Ron Paul combined.
How many ads did Iowa television viewers see? The CMAG analysis did not provide dollar amounts or estimates of the ads reach. However, a compilation of records from local television stations in Iowa's two largest media markets produced by the website IowaPolitics.com, helps put the CMAG results into context.
An analysis of those records by The Huffington Post shows that the candidates and their allied Super PACs spent nearly $3 million on television in the two markets in December alone: $1.4 million on Des Moines television stations and $1.5 million on stations in the Cedar Rapids and Waterloo market.
Those dollars purchased 3,095 airings of individual advertisements in the Des Moines market and 3,931 in Cedar Rapids/Waterloo (The state of Iowa is served by stations in seven media markets; except for one additional station in the Davenport market, the IowaPolitics.com analysis focused on only two).
So if anti-Gingrich ads were 45 percent of that much advertising, how many ads did a typical television viewer see? "Those are big numbers," according to Jon Hutchins, president of Media Strategies and Research, a firm that buys television time for Democratic candidates.
Assuming that 45 percent of the ads run in two markets were anti-Gingrich, and using the statistics we provided from the IowaPolitics records, Hutchins estimated that the average television viewer in those two markets would have seen anti-Gingrich ads roughly 60 to 80 times in December. More specifically, in the metrics of television advertising, Hutchins estimates that the anti-Gingrich spots add up to roughly 5,900 gross ratings points in Des Moines and 7,900 gross ratings points in Cedar/Rapids Waterloo.
Hutchins warned that his estimates are only approximate, since the dollar amounts available provided no information about the specific programming on which anti-Gingrich ads aired. "Regardless," he wrote via email, "[Gingrich] still is getting creamed, even if my estimates are 25% too low.  This is a lot of throw weight against one guy."
So did the negative ads accelerate Gingrich's fall in the polls in Iowa? They did to some degree, but Gingrich's Iowa plunge parallels an only slightly less severe decline nationwide. The chart below (compiled from HuffPost Pollster charts based on all public polls) compares the Gingrich trend lines in Iowa to those nationwide.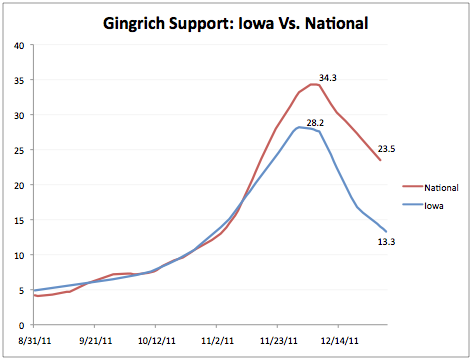 On the Iowa polls as of Sunday, Gingrich's support had declined to 13.3 percent, approximately 15 percentage points, from a high of 28.2 percent on November 30. Gingrich's national peak of 34.3 percent occurred a few days later, on December 5, and has declined approximately 11 percentage points since, to 23.5 percent.
According to CMAG's Goldstein, none of the Republican candidates or their Super PACs aired advertising nationally, either on broadcast or cable television, so the national decline resulted from media coverage that echoed many of the same criticisms delivered in the paid ads in Iowa (and even some of the ads themselves).
Of course, the vote preference numbers alone may not reveal impressions that the volume of advertising deepened. Republican pollster Alex Lundry noted via Twitter, for example, that on the latest Des Moines Register Iowa Poll, Gingrich went from 9 percent describing him as the candidate they liked least in October, to 6 percent in November to 23 percent after the ads ran in December. "Those negative ads," Lundry wrote, "just decimated Gingrich."
But Gingrich was also clearly hurt nationwide by media coverage of the race. "Gingrich was the subject of a ferocious assault via paid ads in Iowa and from Republican leaders in the national media," wrote Democratic pollster Mark Mellman via email. "Both hurt him and he needed to deal with both. If he had just responded in Iowa though its possible he would be doing better there than in the rest of the country, instead of slightly worse."

Calling all HuffPost superfans!
Sign up for membership to become a founding member and help shape HuffPost's next chapter