WASHINGTON -- Former House Speaker Newt Gingrich (R-Ga.) sharply criticized Karl Rove Tuesday for speculating that Hillary Clinton may have brain damage, saying he was "deeply offended" by his remarks.
The GOP strategist made his comments last week during a discussion on the 2016 presidential race, suggesting that the former Secretary of State may have sustained brain damage after suffering a blood clot in her skull in 2012.
"Thirty days in the hospital?" Rove said, according to The New York Post's Page Six. "And when she reappears, she's wearing glasses that are only for people who have traumatic brain injury? We need to know what's up with that."
i am totally opposed and deeply offended by Karl Rove's comments about Secretary Clinton. I have many policy disagreements with Hillary but this kind of personal charge is exactly whats wrong with american politics. he should apologize and stop discussing her health. i was angry when people did this to Reagan in 1980 and I am angry when they do it to her today.
Rove appeared on Fox News Tuesday to clarify his remarks, saying he never specifically said the words "brain damage." But he doubled down on his position that Clinton should have to answer questions about her health if she runs for president in 2016.
"When you go through a health incident like this," he said, "any presidential candidate has to ask themselves, 'Am I willing to do this for eight years of my life, to serve, to run for two years and then serve for eight?'"
Nicolle Wallace, who worked with Rove in President George W. Bush's administration, went on MSNBC Tuesday and said the "attack seemed out of place, out of time and some of the basic facts seemed to be wrong."
Indeed, Clinton's doctors said she did not suffer any neurological damage from her fall.
"From the moment this happened seventeen months ago, the Right has politicized her health," said Clinton spokesman Nick Merrill in a statement. "First they accused her of faking it, now they've resorted to the other extreme -- and are flat out lying. Even this morning, Karl Rove is still all over the map and is continuing to get the facts wrong. But he doesn't care, because all he wants to do is inject the issue into the echo chamber, and he's succeeding. It's flagrant and thinly veiled."
"They are scared of what she has achieved and what she has to offer," he added. "What he's doing is its own form of sickness. But she is 100%, period. Time for them to move on to their next desperate attack."
White House Press Secretary Jay Carney mocked Rove on Tuesday, pointing out that he was also wrong when he questioned the results of the 2012 election.
"Dr. Rove might have been the last person in America on election night to recognize and acknowledge that the president had won reelection," Carney said.
Before You Go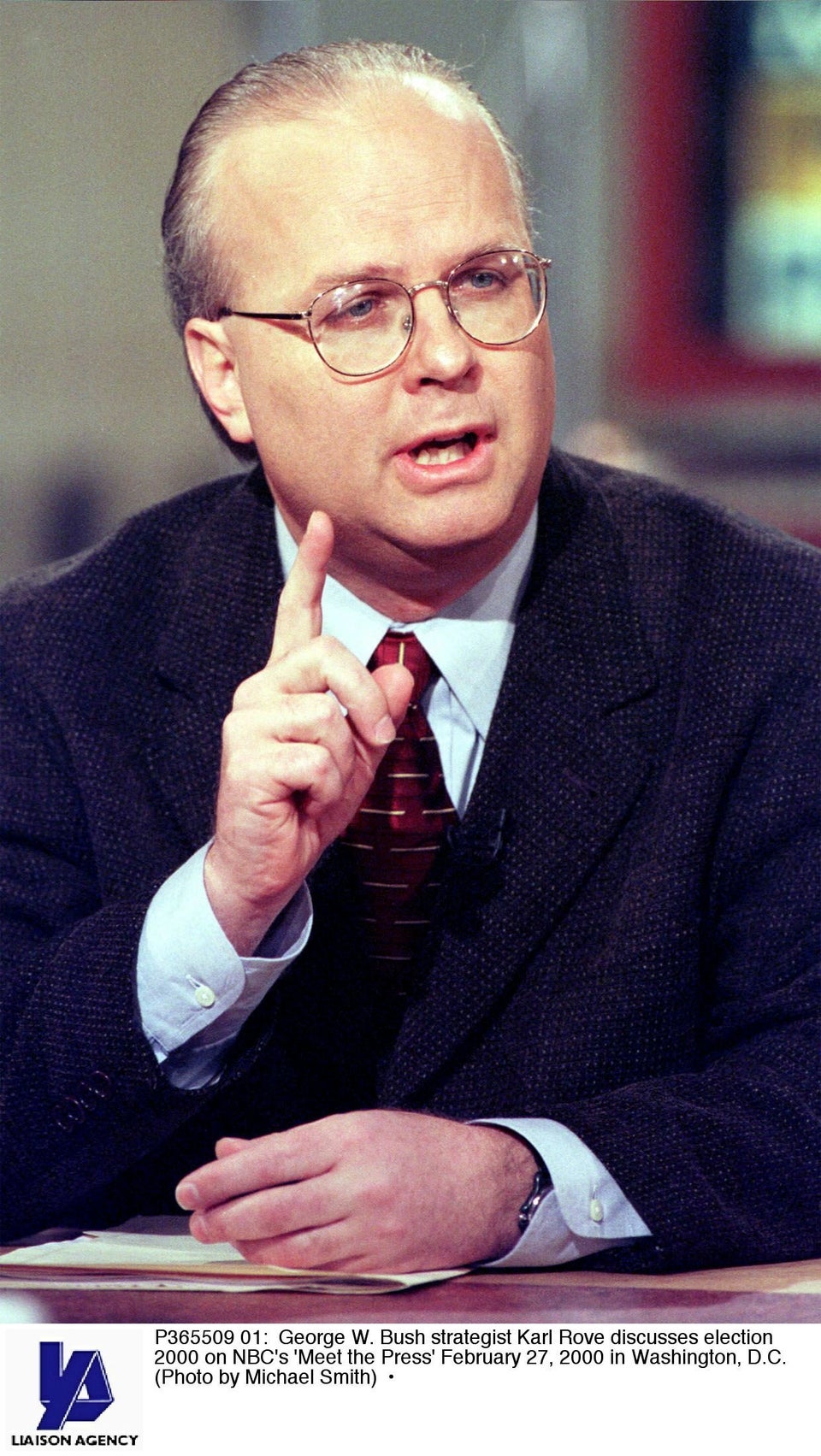 Karl Rove Through The Years
Popular in the Community