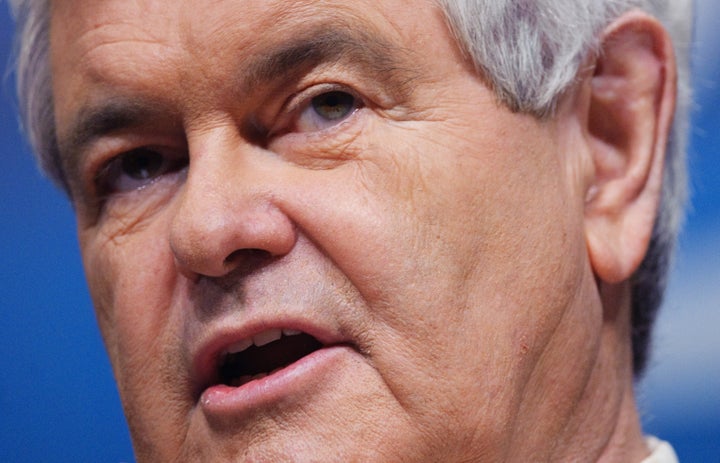 Newt Gingrich is attempting to revive his faltering campaign for president by attacking President Barack Obama's energy policy.
In a column in the conservative blog Human Events Wednesday, the former House speaker urged the approval of the Keystone XL pipeline project, the expansion of domestic oil and gas drilling, and the elimination of the Environmental Protection Agency, in order to help drive gas prices down to $2.50 per gallon.
"The Obama administration's ideological refusal to expand American energy production continues to block the development of resources which could lower gasoline prices dramatically," Gingrich wrote. "As we saw most recently with the administration's rejection of the Keystone XL pipeline, the president is more interested in playing favorites with environmental extremists rather than embracing the 'all-of-the-above' strategy that could achieve energy independence and help all Americans now."
High gas prices are especially likely to resonate in Michigan, whose GOP primary is set for Feb. 28.
The Keystone XL pipeline, which would transport oil from Alberta, Canada's tar sands to Texas refineries along the Gulf Coast, has been harshly criticized by environmental groups, who view it as a threat to the Ogallala Aquifer, one of the largest sources of fresh water in the world. Last month, Obama denied the TransCanada Corporation's proposal for the pipeline, saying that congressional Republicans had not allowed enough time for a full review of the pipeline's potential environmental impact.
Gingrich continued his campaign against Obama's energy policy by creating a Facebook petition aimed at pressuring the president to authorize the Keystone pipeline and to embrace his plan.
"$2.50 a gallon gas is not a dream. It's achievable with the right policies, and that starts with a president who will stop bowing and start drilling," Gingrich said. "If we take the right steps, we can quickly and dramatically reduce the price of gas by tapping America's incredible oil and gas resources to increase supply," Gingrich wrote.
In his column, Gingrich also called for the replacement of the EPA with "a new economically rational Environmental Solutions Agency." He also suggested condensing regulations that would make it easier to build new oil refineries.
Calling all HuffPost superfans!
Sign up for membership to become a founding member and help shape HuffPost's next chapter
BEFORE YOU GO