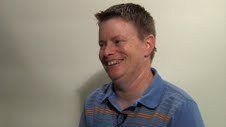 WASHINGTON -- Former House Speaker Newt Gingrich's lesbian half-sister, once one of his most outspoken critics, defended her brother after the mass resignation of his presidential campaign staff, saying those who write off his chances or blame his wife underestimate the both of them.
"He doesn't give up that easily," said Candace Gingrich-Jones, in an exclusive interview with The Huffington Post. "Just because some staff members weren't with his strategy isn't going to make him quit. If anything, I can imagine that strengthening his desire and his resolve to do good."
As for his wife, Callista Gingrich, whom staffers blamed for making him go on a two-week cruise of the Mediterranean when they say he should have been raising money and shaking voters' hands, Gingrich-Jones offered a more personalized defense.
"She probably is concerned about his health and his state of mind," she said. "They're looking from here on out at campaigning like crazy people, so it might make sense to rest up."
"Behind every strong man is a woman," added Gingrich-Jones, who insisted that Callista is more "politically savvy" than critics think. "I don't think she has any more or any less influence than most wives do."
As Gingrich-Jones spoke, her half-brother was pledging to chart out what would be a Lazarus-like political comeback, starting with a campaign appearance in Los Angeles on Sunday. But whether the mass exodus of nearly all his top aides marked the end, or a new beginning, to his presidential prospects, this will be, she said, a mellower Gingrich.
In a separate interview with The Huffington Post the day before her brother's campaign imploded, Gingrich-Jones painted a portrait that might surprise the Christian conservative voters who will help decide the GOP presidential nomination. In her first extended interview in more than a decade, the gay rights activist said her brother had changed. The credit, she says, may go to his third wife, whom he married in 2000 after carrying on an extramarital affair with her and who is now bearing the brunt of the criticism aimed at his campaign.
"When he was speaker, he had no qualms about talking about why workplace protection is a bad idea and how gays aren't families" said Gingrich-Jones. "It is possible that Callista has had a moderating effect ... she's possibly gotten LGBT issues to no longer be a red meat issue for him politically."
Speaking for two-and-a-half hours at the headquarters of the Human Rights Campaign -- the gay advocacy group where she went to work soon after Gingrich led the Republican Revolution in the House -- Gingrich-Jones described a less strident older brother.
She said Gingrich has gone to Green Bay Packers football games with a lesbian couple who are longtime friends of Callista, who hails from Wisconsin. The couple's social circle includes Steve Gunderson, an openly gay former Republican congressman for whom Callista once worked. And Gingrich recently attended a matinee of a play based on the true story of a child custody dispute between two former lesbian lovers, one of whom became an evangelical Christian and declared she was straight. That play, "She Said/She Said," was a thesis project written by Rebecca Gingrich-Jones, who married Candace Gingrich in Boston in August 2009. At a lunch after the play, Gingrich "was very complimentary," though he ultimately turned down an invitation to Rebecca's graduation, which took place two months later.
Shortly after announcing he was jumping into the crowded Republican field for president, Gingrich began trying to shore up his possible shortcomings with the religious base.
The recent convert to Catholicism went on the Christian Broadcasting Network to appeal to social conservatives hesitant to forgive him his old trespasses, which include pressing his first wife to sign divorce papers while she was still in the hospital recovering from cancer and cheating on his second wife with his current one, then a congressional aide 23 years his junior.
If his personal life wasn't enough of a political liability, candidate Gingrich soon picked up a few more.
He got in trouble for deeming Rep. Paul Ryan's (R-Wis.) plan to turn Medicare into a voucher system "radical" and "right-wing social engineering." Then there was the revelation that he had, at one point, owed an eye-popping $500,000 to Tiffany & Co.
With pundits already writing off his candidacy less than a month in, he left for a two-week jaunt to the Greek Isles.
"That was the smart thing to do," Gingrich-Jones said the day before her brother's staff quit, in part over the decision to take the cruise. She viewed the trip as "a really good opportunity to regroup and to refocus his campaign" after a rocky start. Gingrich himself has said the trip was necessary to clear his mind and formulate innovative policy prescriptions.
Gingrich-Jones, who at 45 is the same age as her sister-in-law Callista, sounds more sympathetic to her brother these days after years becoming wise to the ways of Washington. Her words are more measured than they were when an Associated Press reporter first revealed the House speaker had a lesbian sister living in Harrisburg. Pa., and she used her sudden celebrity to attack the Republican conservative agenda. Today, she says, she understands why Newt does the things he does.
"The bottom line," she says, "is he is human."
There are, to be sure, moments that try Gingrich-Jones' empathy. Like when her brother funneled $350,000 to anti-gay groups to help them oust three Iowa Supreme Court justices who ruled in favor of same-sex marriage.
"I'm pissed but I get it," she said. "I don't think that there is anything that he does that isn't well thought-out and doesn't have a purpose behind it. It's Iowa. The first caucus state."
Though she used a 2008 HuffPost column to scold Gingrich, telling him to "stop being a hater," Gingrich-Jones insists that she has not, recently, "seen him be proactively anti-gay."
Callista has been a "real positive influence on Newt," she said, adding her sister-in-law encouraged "more of a relationship" between the siblings, who were never close because of their age difference
Fifteen years ago, Gingrich said on NBC's "Meet the Press" that if his sister married another women he wouldn't go to the wedding. Two years ago, when Candace and Rebecca held a wedding celebration in Rebecca's home state of Kentucky, Newt and Callista were away on an extended African safari.
"He knew we were engaged so it wasn't something out of the blue," Gingrich-Jones said. She declined to speculate whether his absence was calculated, as to avoid a politically compromising situation that could be used against him later on. But, she noted, Newt and Callista did send a set of crystal as a wedding gift.
Gingrich-Jones worried that some in the gay community might view her as naive for speaking positively about her brother. She stressed that she would campaign for President Barack Obama in 2012 if she were asked to do so -- even if Gingrich became the GOP nominee. But she said she is rooting for him to overcome his most recent trying moments.
"I intend to send a 'Don't let the bastards wear you down' email," she said. "Nothing long. Just sort of a sibling familial support kind of thing."
UPDATE: A spokesman for Newt Gingrich's campaign, Joe DeSantis, disputed the widely reported story that the candidate pressed his first wife to sign divorce papers while she was still in the hospital recovering from cancer. He said it was "absolutely untrue" and pointed to a recent column by Newt's daughter, Jackie Gingrich Cushman, addressing this "scurrilous rumor."
DeSantis argued, in a follow up email, that the news reports from the time never implied or noted that Gingrich was "pressing" his wife to sign divorce papers, merely discussing the matter with her.
Popular in the Community