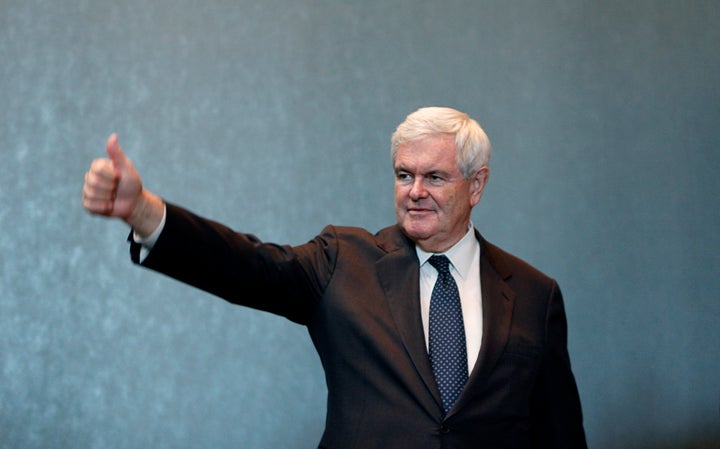 WASHINGTON -- On Monday, radio host Rush Limbaugh railed against big-time columnists and TV pundits who've been attacking Newt Gingrich. But it wasn't just the standard "drive-by liberal media" that had Limbaugh fired up. It was his own team.
"At National Review, at the Weekly Standard, George Will, they're all saying the same thing about Gingrich, for whatever reasons," Limbaugh said. "The reasons run the gamut. He's undisciplined, he's self-educated, he's inside Washington, he's not the outsider, he's a phony, he's been all over the ballpark, he's not a conservative, he misleads people. You've heard the laundry list of criticisms about Mr. Newt."
For Limbaugh to push back against conservative critics on Gingrich's behalf was an act of political charity. The former speaker, after all, hasn't always done the same. When the radio host was in hot water for declaring that he hoped the newly-elected Barack Obama would fail as president, Gingrich made sure to distance himself.
"I don't think anyone should want the president of the United States to fail," he told Meet the Press in 2009. "I want some of his policies to be stopped, but I don't want the president of the United States to fail." He proceeded to compare Limbaugh's influence within the GOP to Chris Matthews' influence inside the Democratic Party.
"The fact is he has a large audience, the audience believes him, the audience calls their members, the audience has an effect," he said. "He's not the leader of the Republican Party."
The firebrand talk show host and equally outspoken GOP presidential candidate may not be simpatico at this juncture. But the fact that Limbaugh is arguing that Gingrich isn't getting a fair shake from conservatives in the media is hardly an insignificant development. It also underscores one of the more peculiar aspects of Gingrich's rise to the top of the Republican primary polls: he's done it all with a conservative press corps that's either torn or bearish about his prospects.
Gingrich's well-publicized triumphs and equally well-publicized failures over the years -- along with his ideological shifts and infidelities -- has led to a complicated relationship with conservative commentators. Some who rallied around the '94 revolution have been let down in the years that followed. And over the past few days, several of the right's more influential writers and pundits have dug through Gingrich's decades worth of political baggage in making their case that he shouldn't be the Republican nominee.
The Gingrich campaign doesn't mind the criticism, to the extent that it can use it to frame the former House Speaker as a candidate outside the political establishment.
"Newt has made a career out of proving the pundits wrong," said Gingrich spokesman R.C. Hammond. "And I don't think there is much that can change that."
Nevertheless, the list of conservative commentators who have penned anti-Gingrich tomes in recent days is lengthy and impressive.
Ramesh Ponnuru, a senior editor at the National Review, endorsed Mitt Romney on Friday while knocking Gingrich as "a constant reminder that political leaders can have too much, as well as too little, imagination." On immigration, for instance, Ponnuru wrote that Gingrich's proposals are "innovative-sounding, accompanied by high-tech gadgetry, and wholly absurd."
That same day, Will wrote that Gingrich is the "least conservative candidate" in a Republican field that he's now leading. It only got worse from there. Gingrich, he wrote, "embodies the vanity and rapacity that make modern Washington repulsive" and even "would have made a marvelous Marxist."
Columnist Charles Krauthammer has also called into question Gingrich's conservative bona fides. He recently described Gingrich as "a man more conservative by nature but possessed of an unbounded need for grand display that has already led him to unconservative places even he is at a loss to explain, and that as president would leave him in constant search of the out-of-box experience -- the confoundedly brilliant Nixon-to-China flipperoo regarding his fancy of the day, be it health care, taxes, energy, foreign policy, whatever."
Joe Scarborough, a former Republican representative from Florida who swept into office during the 1994 Gingrich-led GOP takeover of the House, now routinely criticizes the former Speaker on MSNBC's "Morning Joe." In a Monday Politico column, Scarborough described Gingrich's leadership skills as "deplorable" and said he found his "ideological inconsistency to be even more troubling."
Erick Erickson, the influential editor-in-chief of RedState.com, has found it difficult to talk himself into the Newt campaign, despite being vehemently anti-Mitt Romney. "Are Conservatives Ready to Forgive Newt Gingrich His Sins?" he titled a recent post, without subsequently answering the question.
Even on Fox News -- where Gingrich worked as a political analyst for a decade -- there's been a bit of "Newt-bashing," as "Fox News Sunday" host Chris Wallace recently observed.
But Newt isn't one to back away from a rhetorical fight, and over the years, he's shown a willingness to drop bombs himself. When Glenn Beck took repeated shots at him for endorsing the more moderate Dede Scozzafava over her more conservative rival in a special congressional election in upstate New York, he responded in kind.
"I just find it fascinating that my many friends who claim to be against Washington having too much power, they claim to be in favor of the 10th Amendment giving states back their rights, they claim to favor local control and local authority, now they suddenly get local control and local authority in upstate New York, and they don't like the outcome," he said.
Then there is his relationship with Fox. On stage in South Carolina last week, after Gingrich told an audience member that he'd have to get back to her regarding a question on Obama's AIDS policy, he took a shot at his former employer.
"One of the real changes that comes when you start running for president -- as opposed to being an analyst on Fox -- is I have to actually know what I'm talking about," Gingrich said.
Fox hasn't exactly been hostile turf for Gingrich. Since June 1, he has he has made 50 appearance on the network, trailing only a few other candidates. But there is still friction there. Former Alaska Governor Sarah Palin, appearing on the network last week, declined to get on the Gingrich bandwagon, choosing instead to laud Rick Santorum for his consistency. Glenn Beck, no longer on Fox, did the same thing recently on his radio show.
That Gingrich has ascended up the polls without the firm backing of the national conservative press makes his rise all the more remarkable. But the campaign argues that these commentators are not actually as influential among Republican primary voters as they are generally perceived to be.
"For us, the real weathervanes are people who don't really write about politics but choose to write about Newt or the campaign," said Hammond, who listed Craig Robinson of the Iowa Republican and Charlie Arlinghaus of the Josiah Bartlett Center for Public Policy in Concord, N.H. as people whose opinions the campaign values. "If for whatever reason we enter into the world, we value that much more than the formal noise machine."
UPDATE (12/7/11, 12:00 p.m. ET): Limbaugh noted the conservative media attacks on Tuesday, saying that there seemed to be a "coordinated" effort to tarnish Gingrich. For more, click here.
Calling all HuffPost superfans!
Sign up for membership to become a founding member and help shape HuffPost's next chapter