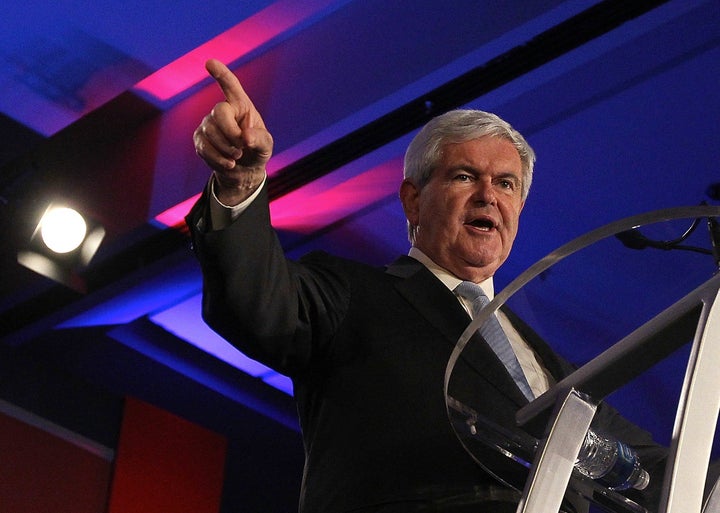 After hitting some bumps in the road during the frist months of his presidential campaign, former House Speaker Newt Gingrich says that his political operation isn't going anywhere ahead of 2012.
"I took about two months of the elite media explaining I was dead," explained the Republican contender in an interview that aired on Fox News' "The O'Reilly Factor" on Monday night. "And, I'm still here. The polls have started back up. We got many new donors coming out of Thursday night who went to Newt.org and gave money voluntarily. And, frankly, that's all been very helpful in rebuilding the campaign."
At the end of the second fiscal quarter of this year, campaign finance filings to the Federal Election Commission showed Gingrich's operation to be carrying significant debt.
Former Minnesota governor Tim Pawlenty abandoned his bid for the White House on Sunday, one day after the Ames Straw Poll in which he came in third place and finished ahead of Gingrich. A senior adviser to Pawlenty told The Huffington Post that the Minnesota Republican "just wasn't willing to risk debt to soldier on -- part of why he would have been a good president."
Gingrich addressed Pawlenty's decision to drop out of the race for the GOP presidential nomination on Monday night.
"[W]e made a decision early on we weren't -- we didn't pay for a single ticket and we got the number of votes we got, which was comparable to McCain -- actually, more than McCain got in 2007," he said, referring to the straw poll. "Our commitment was to compete in January, when there are delegates being picked. We had a great reaction."
U.S. Rep. Michele Bachmann (R-Minn.): 4,823 votes
U.S. Rep. Ron Paul (R-Texas): 4,671 votes
Former Minnesota governor Tim Pawlenty: 2,293 votes
Former U.S. Senator Rick Santorum (R-Pa.): 1,657 votes
Former Godfather's Pizza CEO Herman Cain: 1,456 votes
Texas Governor Rick Perry: 718 votes
Former Massachusetts governor Mitt Romney: 567 votes
Former House Speaker Newt Gingrich: 385 votes
Former Utah governor Jon Huntsman: 69 votes
U.S. Rep Thad McCotter (R-Mich.): 35 votes
Calling all HuffPost superfans!
Sign up for membership to become a founding member and help shape HuffPost's next chapter