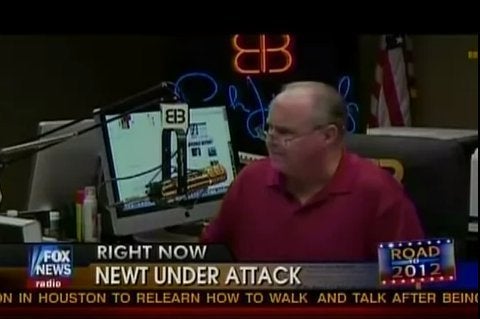 The Democratic National Committee is out with a new web ad taking aim at the fallout from critical remarks presidential candidate Newt Gingrich recently made about a controversial plan to reform Medicare put forth by U.S. Rep. Paul Ryan (R-Wis.).
Last weekend, Gingrich criticized the House Budget Committee Chairman's proposal as "radical."
"What you want to have is a system where people voluntarily migrate to better outcomes, better solutions, better options, not one where you suddenly impose it," he said during an appearance on NBC's "Meet the Press." "I am against Obamacare imposing radical change, and I would be against a conservative imposing radical change."
After sparking conservative backlash with the remarks, Gingrich said in an attempt to do damage control, "Any ad which quotes what I said Sunday is a falsehood and because I have said publicly, those words were inaccurate and unfortunate."
The new spot rolled out by the DNC features the harsh words the former House Speaker initially used in taking issue with Ryan's plan, as well as additional clips highlighting criticism from the right ignited by the remarks.
During a stop in the key primary state of Iowa on Thursday, Gingrich acknowledged himself that it's been a rocky week since he first announced the launch of his presidential campaign.
"Any of you who are willing to do just a brief video with him [an Iowa campaign staffer] of why you're for me it would be very helpful 'cause we have to sort of convince the Washington news media that actually the voters will decide when this election is over, not five or six pundits," he said, according to the Des Moines Register.
HuffPost's Jon Ward reported on Wednesday that the series of missteps exercised by Gingrich over the past week could have longterm implications on his ability to fundraise and conduct a competitive campaign.
Popular in the Community