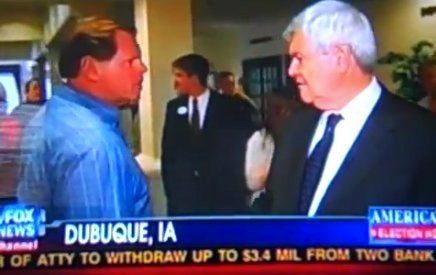 During a trip to the key early primary state of Iowa, newly-minted Republican presidential candidate Newt Gingrich was confronted by a voter unhappy with critical remarks he recently made about a controversial plan to reform Medicare put forth by U.S. Rep. Paul Ryan (R-Wis.).
IOWAN: What you just did to Paul Ryan is unforgivable.

GINGRICH: I didn't do anything to Paul Ryan.

IOWAN: Yes, you did. You undercut him.... you're an embarrassment to our party.

GINGRICH: I'm sorry you feel that way.

IOWAN: Why don't you get out before you make a bigger fool of yourself?
Last weekend, Gingrich suggested Ryan's proposal is "too big a jump" for the American people.
"What you want to have is a system where people voluntarily migrate to better outcomes, better solutions, better options, not one where you suddenly impose it," said the former House Speaker during an appearance on NBC's "Meet the Press." "I am against Obamacare imposing radical change, and I would be against a conservative imposing radical change."
In an interview with the New York Times last month, Gingrich warned Republicans to exercise caution in pursuing entitlement reform.
"I think it is a dangerous political exercise," he said. "This is not something that Republicans can afford to handle lightly."
Ryan said Monday that Republican presidential candidate Newt Gingrich does not fully understand a GOP proposal to turn Medicare into a voucher system, dismissing criticism from the former House speaker that the plan would be a radical change.

"I just think he's missing the mark on what our plan actually does," Ryan, chairman of the powerful House Budget Committee, told reporters after a speech to the Economic Club of Chicago. "Our plan is one of the most gradual things one could do," because it would not affect people over age 55 and would not kick in for 10 years.
South Carolina Governor Nikki Haley, a Republican, told CNN in an interview that Gingrich's criticism of Ryan's plan "was absolutely unfortunate."
"Here you've got Representative Ryan trying to bring common sense to this world of insanity, and Newt absolutely cut him off at the knees," she said. "When you have a conservative fighting for real change, the last thing we need is a presidential candidate cutting him off at the knees."
HuffPost's Sam Stein reported on Monday on an attempt from Gingrich's camp to do damage control on the remarks:
"There is little daylight between Ryan and Gingrich," Rick Tyler, a spokesman for Gingrich, wrote in an email to The Weekly Standard. "But look how it gets reported. Newt would fully support Ryan if it were not compulsory. We need to design a better system that people will voluntarily move to. That is a major difference in design but not substance."

Gingrich is also expected to denounce the idea of an individual mandate requiring people to buy health care coverage, a provision that he has touted -- in various forms -- for several years as a critical component of reform.
Addressing allegations of flip-flopping, Gingrich reportedly said, "The challenges that we face are so big, that no one has the solutions." According to the Des Moines Register he added, "And we're going to have to run a campaign where ideas keep evolving."
ThinkProgress relays additional remarks Gingrich made on the issue of position-switching. "Were in a phase here where, if you are a conservative, you better expect gotcha press and they took dramatically out of context what I said and tried to make it dramatically a fight between me and Paul Ryan," he said.
Calling all HuffPost superfans!
Sign up for membership to become a founding member and help shape HuffPost's next chapter